Harvard Squared
Extracurriculars
Events on and off campus during March and April

From left: Courtesy of ICA Boston / Courtesy of Harvard Museum of Natural History / Courtesy of Mel Kendrick and the David Nolan Gallery © Estate of Käthe Kollwitz, Artists Rights Society (ARS), New York / VG Bild-Kunst, Bonn
Nature and Science  |  Lectures  |  Music  |  Exhibitions and Events  |  Theater  
Nature and Science
The Trustees
thetrustees.org
Join Muddy River Herbals owner Jenny Hauf for an outdoor workshop on infusions, muddling, and shrubs (as in "drinking vinegars") geared to Mom's Day Herbal Mocktails and Cocktails, at the Francis William Bird Park, Walpole. (May 8)
Head to the Stevens-Coolidge House and its grounds, in North Andover, for All In Bloom Garden Tours. (June 26)
Mass Audubon
massaudubon.org
The conservation organization is celebrating its centennial. Check the website for hikes, outings, and discussions throughout the region. Examples include: Sunday Morning Bird Walks, Wachusett Meadow Wildlife Sanctuary, in Princeton (May 30); family fun during Animal Olympics Field Day, at the Boston Nature Center and Wildlife Sanctuary (June 5); and wetland walks for Turtle Time, at the Ipswich River Widlife Sanctuary, in Topsfield (June 12).
Lectures
Urbano Project
urbanoproject.org
The Boston-based nonprofit arts organization brings local residents and a diverse group of artists together through multidisciplinary socially engaged projects. The spring online discussion series "Create, Connect, Catalyze," curated by Harvard Graduate School of Education doctoral candidate Raquel Jimenez, explores civic change. Tune in to "Restorying Public Life," an evening of creative writing and conversation with artists Gabriel Sosa and Sara Rivera (May 11) and "Creative Youth Development," with artist and educator Cierra Kaler-Jones (May 25).
Cape Ann Museum
capeannmuseum.org
Gloucester artist Loren Doucette looks at "Contemporary Plein Air" through an online discussion highlighting such works by Marsden Hartley, Nell Blaine, and Aldro Hibbard, among others. (June 11)
Spotlight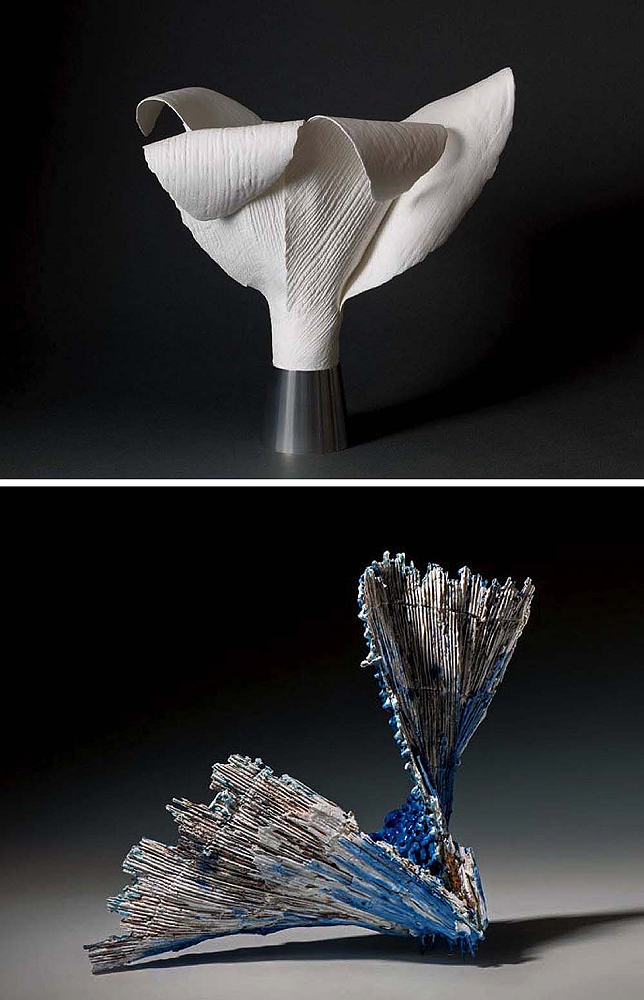 Images courtesy of the Fuller Craft Museum
"Particle & Wave: Paper Clay Illuminated," at the Fuller Craft Museum through June 6, showcases the growing use of this versatile substance through works by 45 artists from around the globe. The term "paper clay," also called fiber clay, is any kind of clay—porcelain, stoneware, earthenware—to which cellulose fiber, like paper, has been added. Depending on the amount of fiber introduced, the resulting substance is lighter or heavier, more or less translucent, and so on.
From the asteroidal Tarball: Refugio 1 (2018) by Susan Whitmore, to the figurative Missing Pieces (2018) by Lorri Acott and the botanical Unfurled Light (2018) by Angela Mellor (shown above), these sculptures stretch traditional conceptual frameworks for both ceramics and fiber art. In creating Stalactites & Stalagmites (2018), above, Danish artist Mette Maya Gregersen hung a bamboo window blind in her studio and each day applied a new layer of wet porcelain containing its own oxides. Over time, the sculpture's shapes and colors shifted, the same way organic formations morph. In this sense, as in her other works reflecting the energy of waves and the layered history of geodes, she intends to evoke the fluid landscape of emotions. ~n.p.b.
Music
Boston Early Music Festival
bemf.org
This year's event, "Music of Solace & Joy," all online, features new broadcasts from archived operatic videos, recorded concerts by leading early-music artists, master classes—and more. (June 6-13)
Los Lobos
concerts50.com
Zydeco, R&B, country, and Latin soul? This veteran American band from East Los Angeles rocks it outside at Boarding House Park, in Lowell, Massachusetts. (June 24)
Exhibitions & Events
Harvard Museums of Science and Culture
www.hmsc.harvard.edu
The Museum of Natural History offers online tours of gallery exhibits and specimens of multitudinous creatures great and small.
World Bicycle Day. Join fellow pedaling enthusiasts online to learn about New England rail-to-trail endeavors, along with the health benefits of human-powered transportation. (June 6)
The virtual Summer Solstice Celebration offers art projects, musical performances, and exhibits that reveal the season's cultural and scientific significance. (June 20)
Currier Museum of Art
currier.org
Roberto Lugo: Te traigo mi lo lai ("I bring you my joy") features the Philadelphia-based artist, social activist, and poet whose traditional porcelain forms depict figures like Sojourner Truth and Angela Davis amid design motifs associated with street art. (May 6-September 26)
Bruce Museum
brucemuseum.org
Borrowing the opening line of an Emily Dickinson poem, "She Sweeps with Many-Colored Brooms": Paintings and Prints by Emily Mason examines the artist's early experiments with oil paints on paper. (Through May 23)
Photographers Claudia Jaguaribe and Daniel Beltrá have captured scenes of both devastation and potential rebirth in The Amazon Rainforest: Beauty, Destruction, Hope. (June 12-October 10)
Wadsworth AtheneumMuseum of Art
thewadsworth.org
Henri de Toulouse-Lautrec, Jane Avril Leaving the Moulin Rouge celebrates his cabaret-star friend, along with Parisian nightlife and artistry at the fin de siècle. (Through August 29)
Goya, Posada, Chagoya: Three Generations of Satirists includes Enrique Chagoya's 2003 etchings "Homage to Goya II: Disasters of War," inspired by Francisco Goya's powerful originals. (Through November 7)
deCordova Sculpture Park and Museum
thetrustees.org/place/decordova
What We Do in the Shadows looks at post-war American countercultures, and the ways that artists have pushed for peace and equity. (Through September 12)
Addison Gallery of American Art
addisongallery.org
Mel Kendrick: Seeing Things in Things. More than 60 sculptures, along with prints, photographs, and drawings, illuminate Kendrick's decades of work delving into the essential properties of wood, rubber, and concrete to mine the boundaries of representation and abstraction. (Through October 3)
Institute of Contemporary Art (ICA)
icaboston.org
Eva LeWitt features one large-scale hanging sculpture by the New York-based artist:Untitled (Mesh Circles) (2021). The colorful work is made of bands of fabric interconnected to create subtly shifting lines and circles. It hangs on the gallery wall, commanding the space, like a joyful planetary constellation. (Through October 23)
Museum of Fine Arts
mfa.org
Select works in Weng Family Collection of Chinese Painting: Travel and Home offer scenes and calligraphy of the Ming and Qing dynasties, such as Wang Hui's 53-foot scroll Ten Thousand Miles along the Yangzi River (1699) and Luo Pin's Sites of Su Shi's Travels (1780). (Through March 6, 2022)
Spotlight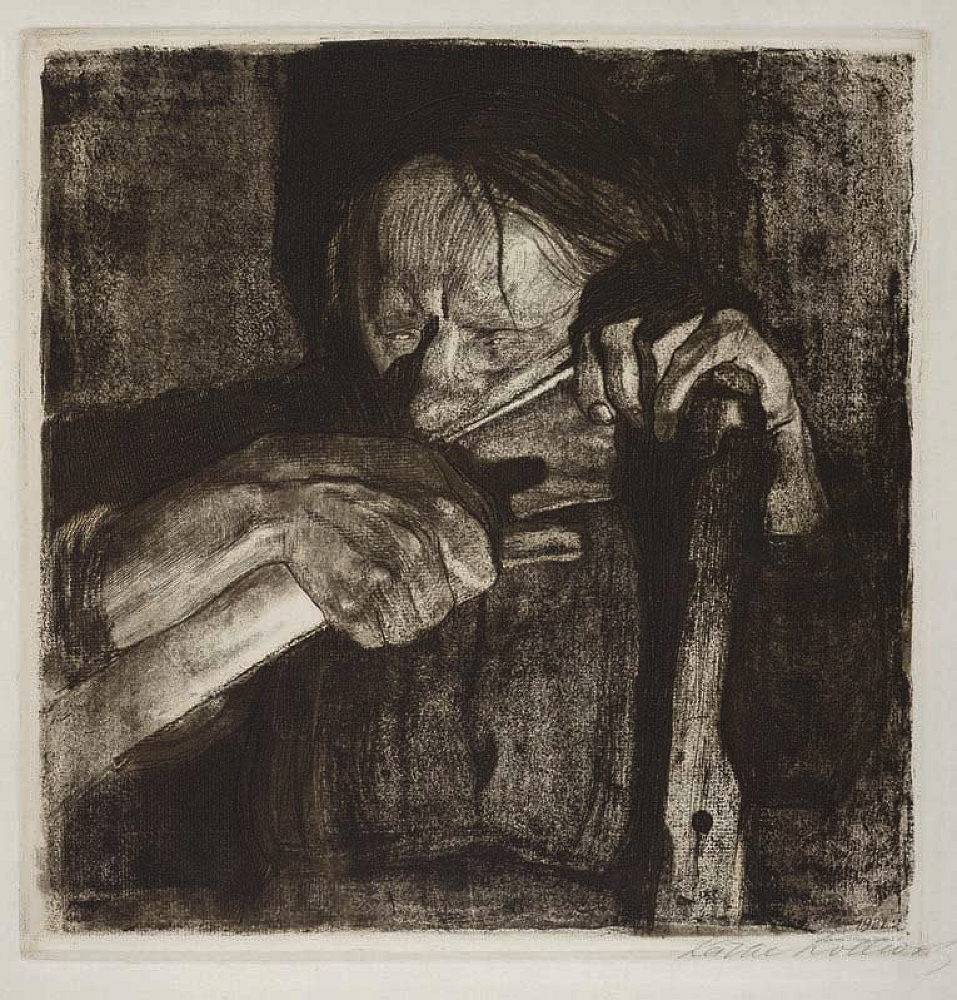 Image courtesy of the Harvard Art Museums
German artist Käthe Kollwitz, a painter, sculptor, and printmaker who died in 1945, produced a body of deeply emotional, socially conscious work. The print cycles A Weavers' Revolt and Peasants War, among her best-known works, depict the struggles experienced by poor and working-class people, as in the latter cycle's Whetting the Scythe, plate 3, 1905 (above). To elucidate these historic prints, the Harvard Art Museums is hosting the online "Art Talk Live: Käthe Kollwitz and the South African Left," by graduate student in the history of art and architecture Jessica R. Williams. She explores how exiles fleeing Nazi Germany introduced Kollwitz's haunting prints to South Africa, and what effect that had on that country's young, politically minded modernists. (June 1, at 12:30 p.m.) To register, visit harvardartmuseums.org, and click on "Events."
Theater
Wang Theatre
bochcenter.org
An Evening with Eckhart Tolle. The popular spiritual leader, author of The Power of Now and A New Earth, espouses a mix of Eastern and Western religious/philosophical teachings, as in last year's Apple podcast: "How to Find a New Spiritual Awakening During the Pandemic." (June 15)