Harvard Squared
Extracurriculars
Events on and off campus during November and December


From left to right: a cosmonaut ornament, at the Museum of Russian Icons; celebrating dancer and ballet choreographer Victor Marius Alphonse Petipa, at Houghton Library; and House of Pencils on a Band Wheel, by Richard Shaw, at the Fuller Craft Museum
From Left: Museum of Russian Icons; Harvard Theatre Collection; Fuller Craft Museum
Seasonal | Theater | Film  | Exhibits and Events | Lectures  | Nature and Science | Poetry
Seasonal
Diwali: Festival of Lights
www.mfa.org
Celebrate the age-old tradition through music and dance performances (by the Chhandika Institute of Kathak Dance and South Asian Nation), an open-mic session with Subcontinental Drift Boston, and tours of the MFA's South Asian galleries with artist Sunanda Sahay. (November 7)
The 135th Game
www.gocrimson.com/sports/fball/index
The annual competition—and the fiftieth anniversary of the legendary showdown between Harvard and Yale (that 29-29 Game)—takes place this year neither in Cambridge nor in New Haven, but at Fenway Park. (November 17)
Night Lights: Winter Reimagined
www.towerhillbg.org
Tower Hill Botanical Garden, in Boylston, Massachusetts, explores "patterns in nature" through enchanting light displays, decorations, and botanical forms. Kids are welcome; drinks and treats will be available. (November 24-December 30)
Harvard Wind Ensemble
https://harvardwe.fas.harvard.edu
The student group performs its annual Holiday Concert. Lowell Lecture Hall. (November 30)
Harvard Glee Club and Radcliffe Choral Society
www.harvardgleeclub.org
The celebrated singers join forces for Christmas in First Church. First Church in Cambridge. (December 7)
The 109th Annual Christmas Carol Services
www.memorialchurch.harvard.edu
The oldest such services in the country feature the Harvard University Choir. Memorial Church. (December 9 and 11)
The Christmas Revels
www.revels.org
A Finnish epic poem, The Kalevala, guides "A Nordic Celebration of the Winter Solstice." Sanders Theatre. (December 14-29)
Theater
Huntington Theatre Company
www.huntingtontheatre.org
Man in the Ring, by Michael Christofer, dramatizes the true story of six-time world champion boxer Emile Griffith, from his early days in the Virgin Islands to the pivotal Madison Square Garden face-off. (November 16-December 22)
Spotlight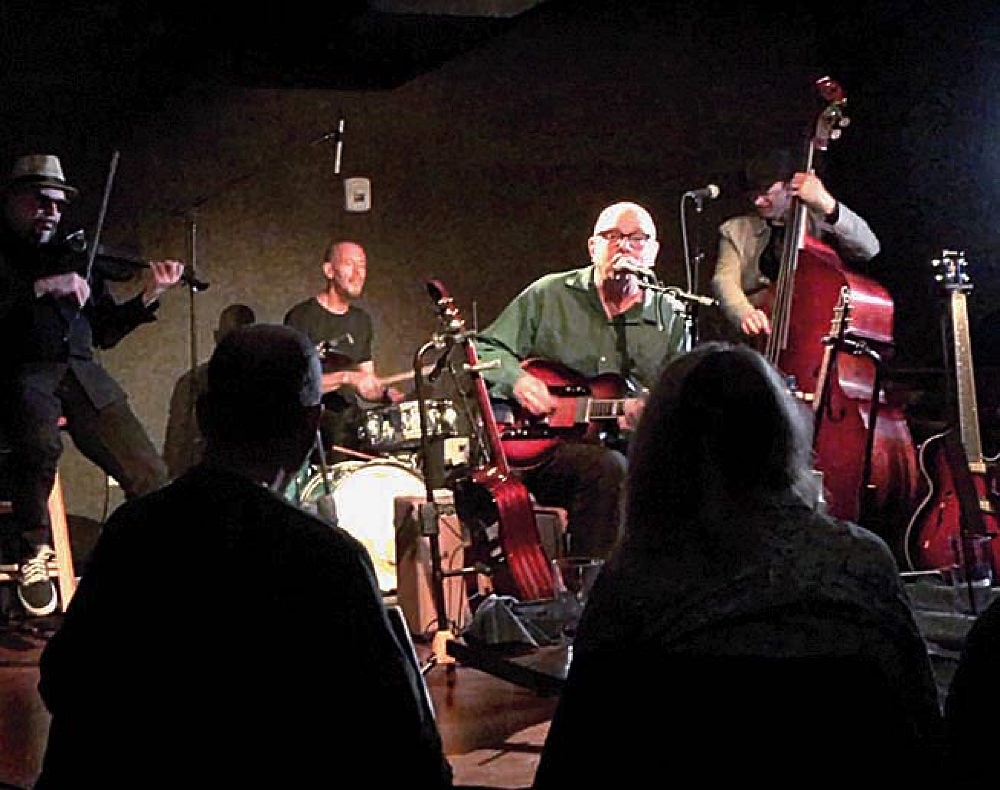 Courtesy of Tarbox Ramblers
The Tarbox Ramblers mark the holiday season with their distinctively raw mix of Appalachian music and old-soul blues. They perform on December 21 as part of a music series being hosted by the Charles River Museum of Industry & Innovation, in Waltham. The original band, formed in Cambridge in 1994 with a fresh jug-band-oriented ethos, has since cultivated a fan base of all ages attracted to the innovations and Delta blues incantations of the band's gravel-voiced leader, the guitarist and songwriter Michael Tarbox. 
Charles River Museum
www.charlesrivermuseum.org
December 21
Film
Harvard Film Archive
www.hcl.harvard.edu/hfa
On Performance, and Other Cultural Rituals: Three Films By Valeska Grisebach. The director is considered part of the Berlin School, a contemporary movement focused on intimate realities of relationships. She is on campus as a visiting artist to present and discuss her work. (November 17-19)
Jiří Trnka, Puppet Master. A pioneer of stop-motion puppet animation, the influential Czech filmmaker was also a puppet-maker and a children's-book illustrator. The series screens nearly all of his films, such as his adaptation of A Midsummer Night's Dream and his subversive trilogy The Good Soldier Švejk. (November 24-December 7)
Exhibits and Events
Radcliffe Institute
www.radcliffe.harvard.edu
Measure. Anna Von Mertens employs drawing and quilting to explore the life and work of astronomer and 1892 Radcliffe graduate Henrietta Leavitt, whose findings influenced current views on the shape of the cosmos. Johnson-Kulukundis Family Gallery, Byerly Hall. (November 9-January 19)
Peabody Museum of Archaeology & Ethnology
www.peabody.harvard.edu
A pilot program enables visitors to look at artifacts while listening to recordings from the Native American Poets Playlist, drawn from New Poets of Native Nations (2018), edited by Heidi E. Erdrich. (Through November 30)
Houghton Library
https://library.harvard.edu
Step Back: Seeing Ballet's Future in the Past. Photographs, books, dance notations, and other items from the Harvard Theatre Collection reveal the influence of dancer and choreographer Victor Marius Alphonse Petipa, creator of Swan Lake, Don Quixote, and The Nutcracker, among others. (Through December 18)
Spotlight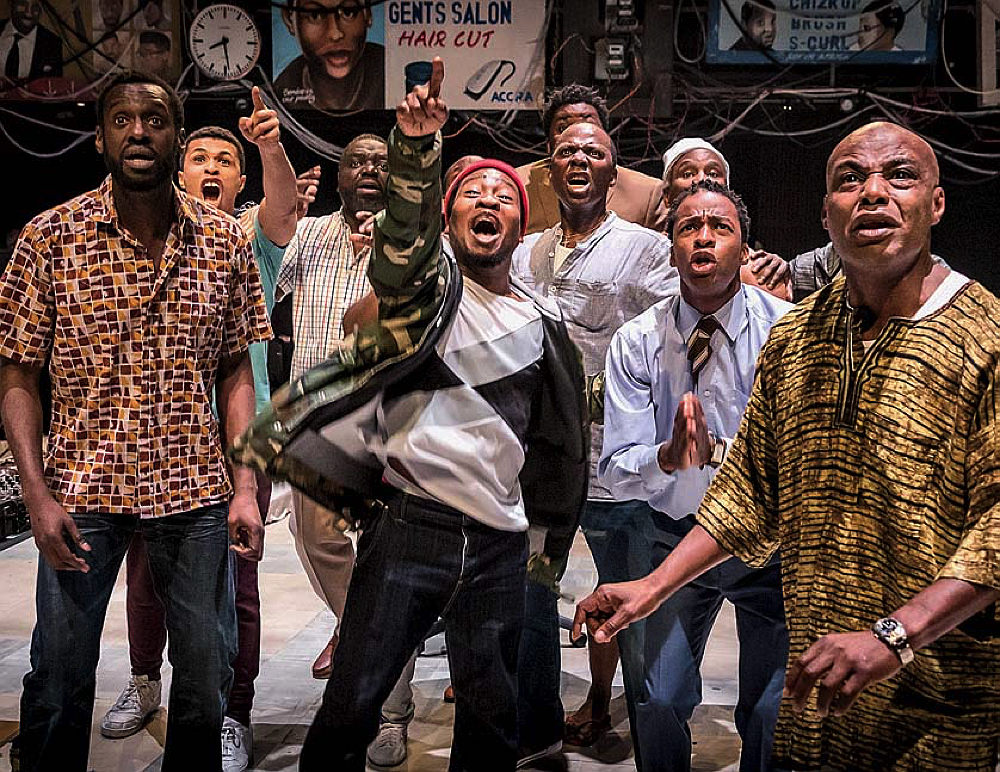 Photograph © Marc Brenner
Mining the badinage common within tonsorial realms, Barber Shop Chronicles reflects facets of African maleness and the diaspora—along with the merits of a clean cut and other timely matters. The Nigerian-born playwright and poet Inua Ellams weaves together personal and political ruminations in a drama that takes place all in one day, but across six cities. The scenes jump from a trim and a shave in London to African urban centers, with the shops linked by a global soccer match playing on TV. It's a perfect set-up for barber-chair philosophizing, boasts, hurts, arid complaints, and vivid storytelling—all of which occur. Acclaimed during its run at London's National Theatre, Barber Shop Chronicles stops at the American Repertory Theater during its premier United States tour.
Loeb Drama Center
December 5-January 5

Fuller Craft Museum
www.fullercraft.org
Tricks of the Trade: Illusions in Craft-Based Media is a contemporary look at the long tradition of trompe l'oeil and poses questions about what we see, or think we see, and why. (Through November 18)
Museum of Russian Icons
www.museumofrussianicons.org
Corncobs to Cosmonauts: Redefining the Holidays During the Soviet Era. Ornaments, toys, books, and cards that extol productivity. (November 9-January 27)
Museum of Fine Arts
www.mfa.org
What is the enduring appeal of a honey-loving bear and his friends? Winnie-the-Pooh: Exploring a Classic offers 200 works, mostly from the Victoria and Albert Museum, that trace the stories' origin and impact. (Through January 6)
Lectures
Radcliffe Institute
www.radcliffe.harvard.edu
"Midterm Elections Discussion Panel." Academics, activists, journalists, and political consultants analyze the November results. Knafel Center. (December 4)
Nature and Science
The Arnold Arboretum
www.arboretum.harvard.edu
Jazz clarinetist, author, and professor of philosophy and music at New Jersey Institute of Technology David Rothenberg '84 explores "What Nature Sounds Are Music?" (November 17)
Poetry
Woodberry Poetry Room
www.hcl.harvard.edu/poetryroom
Deaf Republic: A Performance features award-winning, Odessa-born poet Ilya Kaminsky, who lost much of his hearing as a boy yet went on to become a lawyer, editor, translator, and co-founder of Poets for Peace.
(December 4)