Main Menu · Search · Current Issue · Contact · Archives · Centennial · Letters to the Editor · FAQs

---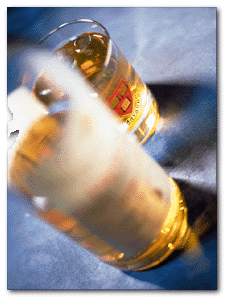 What distinguishes the Harvard alcoholic from the underprivileged, inner-city, problem drinker? The working-class stiff is twice as likely to get on the wagon and stay there.
In a paper published this spring in Archives of General Psychiatry, professor of psychiatry George E. Vaillant '55, M.D. '59, reports the results of a long-term study of male alcohol abusers. Vaillant, who directs psychiatric research at Brigham and Women's Hospital, is the author of The Natural History of Alcoholism Revisted (1995). His subjects were 268 former Harvard College students, selected 55 years ago for a study of "normal" development, and 456 inner-city men, picked in 1940 as a nondelinquent control group for an analysis of delinquent behavior but repeatedly studied for other reasons thereafter.
At some point in their lives, 21 percent of the college men and 33 percent of the inner-city men were alcohol abusers. The inner-city drinkers got in trouble with the bottle about a decade earlier in life than the college men, and were more apt to progress from alcohol abuse (binging but able to stop drinking for periods of time) to alcohol dependence (bigger trouble, when they couldn't stop drinking without experiencing withdrawal symptoms). Yet their long-term prognosis was better than the college men's. They were twice as likely to achieve stable abstinence, says Vaillant, "probably because of the early onset of severe alcohol dependence." Hitting bottom may be helpful. The college men, "with excellent social supports, high education, good health habits, and late onset of minimal alcohol abuse," were more likely "to maintain a pattern of life-long intermittent alcohol abuse." Rather than being inexorably progressive, their chronic alcohol abuse often appeared merely to fluctuate in severity. They reported continued alcohol-related problems with their health, self-esteem, and families, but they seldom lost a job, became alcohol dependent, or needed detoxification.
Men in both groups fared similarly when they tried to stop drinking altogether. Short-term studies often speak of recovery after six months or a year of sobriety. Vaillant concludes that abstinence must be maintained for five years before a relapse is unlikely. Moreover, if an abuser gets off the wagon for a little controlled social drinking, a relapse into serious boozing is likely whether he went to Harvard or not.
Christopher Reed
---
Main Menu · Search · Current Issue · Contact · Archives · Centennial · Letters to the Editor · FAQs

Harvard Magazine · 7 Ware Street · Cambridge, MA 02138 · Phone (617) 495-5746