Main Menu · Search ·Current Issue ·Contact ·Archives ·Centennial ·Letters to the Editor ·FAQs



---



To date, Harvard's Cambridge campus has been refreshed, but not transformed, by the $2.1-billion University Campaign. The remaking of Memorial Hall, the Harvard Union, and the Law School's Langdell Hall have renovated existing structures, not built new ones.
Now that is about to change. Two large gifts this fall will usher in an academic-building boom. (The athletic complex is changing, too.)
On October 29, the University announced a $25-million gift from William H. Gates III '77 and Steven A. Ballmer '77--chairman and chief executive officer, and executive vice president, respectively--of Microsoft Corporation. Ballmer is also a Harvard Overseer and an active fundraiser. Of the gift, $20 million is for a new facility for research and teaching in computer sciences and electrical engineering. The rest will endow a professorship and support research.
On November 14 came word that Sidney R. Knafel '52, M.B.A. '54, a New York venture capitalist who chairs the Overseers' visiting committee to the Center for International Affairs, had made Harvard a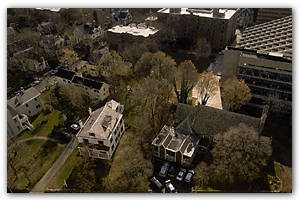 The Knafel Center for Government and International Studies will sit in the block bordered by Cambridge, Sumner, Kirkland, and Quincy streets, rubbing shoulders with the Design School's Gund Hall and a church. Some frame houses on the site will be moved or razed.Photograph by Jim Harrison

$14-million gift. That money, combined with $1 million that he gave earlier in the Campaign, represents half the total cost of the future Knafel Center for Government and International Studies, now in the planning stage. When all the related construction is complete, the social-sciences departments of the Faculty of Arts and Sciences (FAS) will be reconfigured in new or renovated spaces within a wedge-shaped piece of real estate between the Law School and science complex on one side, and Harvard Yard.

The new projects advance two of the faculty's highest academic priorities. As part of the University Campaign, FAS seeks to create 40 new faculty positions, one-third of them in the applied sciences, with a special emphasis on electrical engineering and computer science. The Gates-Ballmer gift will pay for new laboratory, office, and teaching space, which is tentatively planned as a replacement for the present Aiken Computation Laboratory building.

The gift naturally provoked a round of cybercomment. An electronic column from The Tech, MIT's student paper, begged Gates to direct his charity farther down the Charles River, where for a donation the math department "can make your name a new integer or something." It was a reminder of the donors' relative youth that the new building will be named Maxwell Dworkin, for their mothers' maiden names.

The Knafel Center recognizes several decades of evolution in scholarship. Provost Albert Carnesale says that, before World War II, academic work on "international affairs" used to mean a humanities scholar examining the language and literature, history, or culture of another nation. Later, "international studies" began to incorporate regional perspectives and much more work in the social sciences. Today, he says, "virtually everything is transnational, and many of the same problems occur in many parts of the world." With information, goods, labor--just about everything except "political power and sometimes the rule of law"--crossing national boundaries, he adds, scholarship has become both international and interdisciplinary.

The Knafel Center, based in FAS but operating across the University, will allow faculty members working in regional studies "to be near each other, to interact with one another," says FAS dean Jeremy R. Knowles. Besides offices and classrooms, the center will include a below-grade library, data center, and café. After government faculty members are relocated, plans call for renovating Littauer Center and bringing together the economics faculty, thus unifying in their own buildings the two departments with the most undergraduate concentrators.

When the new buildings are occupied, Harvard will have, in effect, a social-sciences campus extending from Littauer to the Knafel Center, with the Gunzburg Center for European Studies and the departments of psychology, sociology, anthropology, and East Asian and Near Eastern studies nearby. The result will be similar to the gathering of humanities disciplines around Widener Library and the Yard, including Romance languages and literatures, philosophy and history, and those to be housed in the new Barker Center for the Humanities.

In both cases, faculty and tutorial offices and informal meeting places will once again be in proximity to one another, creating the physical and social conditions for interaction. They will be places where, says Knowles, "undergraduates en route to see their tutors can bump into their professors as well."
---