Main Menu · Search · Current Issue · Contact · Archives · Centennial · Letters to the Editor · FAQs

---

The Berlin of 1928, as described in Barry Paris's biography of silent- film actress Louise Brooks, who was there to star in Pandora's Box, a film based on the play by Frank Wedekind: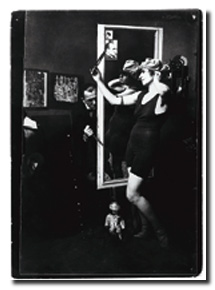 The painter George Grosz poses as Jack the Ripper in Self-Portrait with Eva Peter in the Artist's Studio (1918). Model Eva Peter married Grosz two years later.Photograph by George GroszSTIFTUNG ARCHIV DER AKADEMIE DER KÜNSTE/BERLIN
Sex was the business of the town. At the Eden Hotel, where I lived, the café bar was lined with the higher-priced trollops. The economy girls walked the street outside. On the corner stood the girls in boots, advertising flagellation....The nightclub Eldorado displayed an enticing line of homosexuals dressed as women. At the Maly, there was a choice of feminine or collar-and-tie lesbians. Collective lust roared unashamed at the theater. In the revue Chocolate Kiddies, when Josephine Baker appeared naked except for a girdle of bananas, it was precisely as Lulu's stage entrance was described by Wedekind: "They rage there as in a menagerie when the meat appears in the cage."
"Weimar has always been seen as wonderfully decadent, interesting, exotic," says Maria Tatar, professor of German. "But scholarship on Weimar never saw the sinister side of its high culture. I myself studied this period for 10 years before I asked why there were so many pictures of mutilated prostitutes and serial killers." In her book Lustmord: Sexual Murder in Weimar Germany (Princeton), Tatar argues for the continuities between Weimar culture and the Nazi era that followed. Diverging from other humanities scholars, she connects the secret pathologies of the Weimar era to the fascistic rage that became public policy under Hitler. In this regard, she paraphrases the German sociologist T.W. Adorno, to the effect that the private vices of one era become the public virtues of the next.
In Weimar, those private vices included a demonization of "anyone seen as feminine or feminized," Tatar asserts. This meant not only women in general, but also homosexuals, Jews, and prostitutes. "Once you have pathologized anything that represents 'otherness,' any group can be put into that slot," she argues. Using diaries, newspapers, novels (Döblin's Berlin Alexanderplatz), film (Fritz Lang's M), paintings, drawings, and other cultural artifacts, Tatar explores the "huge anxiety and hysteria" that accompanied several highly publicized cases of serial murder--or of sexual murder, Lustmord--in Weimar Germany. The "sexual" homicides often took that label mainly from their systematic choice of victims, such as women or homosexuals. Like Jack the Ripper, who preyed on London prostitutes, the German killers often seemed to be enacting a vendetta against "those who were seen as different."
Tatar suggests that German artists' preoccupations reflected the cultural anxieties that roiled Weimar. In a chapter on painter Otto Dix, she quotes his explanation of why he painted murdered prostitutes: "I just had to get it out of me." Dix's 1923 painting Two Victims of Capitalism portrays a prostitute whose syphilitic facial scars mimic bullet holes, posed alongside a soldier whose grotesque war injuries resemble female genitals. Indeed, Tatar traces much of Weimar's "gender trouble" to Germany's unprecedented defeat in World War I. In the 1920s, German males felt emasculated by their military subjugation and invented a "stab in the back" theory to explain it, she says. "The rank-and-file soldiers positioned themselves as victims or martyrs who sacrificed for the fatherland and then were betrayed by the women who stayed home and supposedly took over the labor force," Tatar says. "Women became the enemy. You repair the trauma by killing the feminine."
~ Craig Lambert
---
Main Menu · Search · Current Issue · Contact · Archives · Centennial · Letters to the Editor · FAQs