Main Menu · Search · Current Issue · Contact · Archives · Centennial · Letters to the Editor · FAQs
---
Porter University Professor Helen Vendler, Ph.D. '60, ranks among the preeminent contemporary critics of poetry. Her subjects range broadly, from The Odes of John Keats to a widely acclaimed study of Wallace Stevens's longer poems, On Extended Wings. Vendler's work is also distinguished by her focus on poetic form, perhaps reflecting her studies in chemistry before she turned to literature. "The first thing to ravish me in a poem," Vendler told writer Janet Tassel in a profile published in the March-April 1990 issue of this magazine, "is structure." She continued, "How does it do what it does? How does it manage to be compelling and wield such power? I was always lucky in being able to understand easily what a poem said. My interest has been on how it achieves its purpose, which is foremost and always aesthetic: to provide pleasure."

All those attributes of Vendler's criticism--her breadth, passion, interest in form, commitment to scrupulous readings of the text, and celebration of the aesthetic--appear in these reflections on two radically dissimilar poets. The first is adapted from her remarks in April at the celebration of the life and work of Allen Ginsberg sponsored by Louisa Solano, proprietor of the Grolier Poetry Book Shop in Harvard Square. The second, an excerpt from a recent lecture, may serve to introduce readers to Vendler's comprehensive commentary, The Art of Shakespeare's Sonnets. The book, nearly a decade in the making, will be published by Harvard University Press in November, accompanied by an audio CD of Vendler reading a selection of the poems.
~The Editors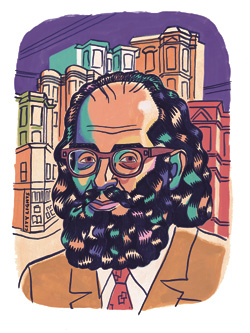 Before I say something about Allen Ginsberg's great gifts to world culture, I want to mention my own profound gratitude for his work and for the life out of which it came. I read him when I first came to Harvard, in 1957, and he became one of my liberators. "Nor can there be work so great," says Yeats, "As that which cleans man's dirty slate," but perhaps as great as that deathbed work is the work art does for the dissatisfied and baffled young. It gives them, perhaps, the first truthful words they have ever heard. Ginsberg's were the first truthful family poems I had ever read (Robert Lowell's "Life Studies" was yet to come). Later, when I taught "Kaddish," a student asked me, "How can he say such things about his mother?" That inhibition must have arisen for Ginsberg himself, but he reached through it and beyond it. Even if one can't aspire to equal Ginsberg's courage, one is encouraged by it. But of course candor alone wouldn't have struck to my heart as the words of Howl did; it was Ginsberg's onrushing rhythms--already in my mind from the Psalms and the prophets and Blake and Whitman, but differently cadenced in Ginsberg's lines--that swept away all objections. In Howl (and in all Ginsberg's subsequent books) rage came mixed with tenderness, prophetic denunciation alternated with visionary hope, the coarse consorted with the delicate. He allowed me my own rage, social criticism, and coarseness, while showing that he perfectly understood the aesthetic yearning that argued for modulation, harmony, and refinement. He wasn't my only liberator in my twenties, but he was the fiercest. His adolescence may have been different from my own in many external ways, but my seethings felt entirely at home with his. I admired, always, in later years, his efforts to mitigate what he himself called his paranoia; though those practices may not always have been good for his rhetoric, they were good for the moral base of his poetry, which remained strong. We didn't see each other often, but I was always glad to see him, and to know that he was still here. He is still here at least in his many written words, which we can hear till our own deaths.
Ginsberg stood, as he once said, for a "meeting place between east and west in Poetics,...more significant than political conventions or mechanical automotive and petrochemical and multinational convocations because Poetics itself is the original, primary social manifestation of mind." His comparisons reflect on what poetry was for him: a more inclusive political convention, a less mechanical conveyance, a multinational fuel better than petrochemicals. More than most lyric poets he looked outward to society, faithful to the socialist meetings he was taken to by his mother, Naomi, from whose crazed head (as he wrote) he first took vision. Beset by visions of a social order that would fulfill human desires for freedom and love, he took to heart Whitman's injunctions in the Preface to Leaves of Grass: "Love the earth and sun and the animals, despise riches, give alms to every one that asks, stand up for the stupid and crazy, devote your income and labor to others, hate tyrants, argue not concerning God, have patience and indulgence toward the people, take off your hat to nothing known or unknown,...reexamine all you have been told at school or church or in any book, dismiss whatever insults your own soul."
In the same preface, Whitman exclaims, "How beautiful is candor! All faults may be forgiven of him who has perfect candor." It was Ginsberg's perfect can-dor that drew the at-tention of the courts to Howl, and drew the later FCC ban on the broadcasting of Ginsberg's poetry during daylight hours. The FBI was also afraid of him: like Pope, he could have said, "I must be proud to see / Men not afraid of God afraid of me." Humor and wit leavened his candor; nostalgia and patriotism were the backdrop of his social critique; and he had the sense to distrust all messiahs, including himself in that role. His descriptions of autumn in New England, of domestic life in Berkeley, of the urban scene in New York, of a gay bar in Wichita, reinvented the poetic landscape of America in affectionate and intimate lines. But he was no less willing to predict--as one of his titles has it--"The Fall of America." In 1959 he wrote in his journal, "America is covered with Lies...America created the atom bomb and / dropped it on the world. / Ezra Pound is right the nation is / an insane asylum[.]" Yet a year later he writes "O the enemy is cruelty in any form--Cuban or German or NYC." He veered back and forth between evils near to hand and general evil in the present: his mind was not historical but journalistic; it was today's news ("What's the Planet News?" he entitled a poem in his last volume, Cosmopolitan Greetings) that he was after. He also tended to zoom from the material world ("If this is where I am let's enjoy it") to the Void ("get out of matter again and be the Know in the Void"): these leaps gave his poetry its elasticity and unexpectedness. His restless travels across the country and across the world ("Hermes the youth speeding a new message," he wrote in an ironic moment) took him from coast to coast and continent to continent, writing as he went. If his poetics of improvisational spontaneity sometimes resulted in shapeless litanies of lines, those lines were never without glimpses acutely caught, tones reaching to other tones, geography reaching to chronology, the private to the general--"improvising street doggerel epic popular song cackling in everyone's Immortal brain."
The anthologies will sharply reduce him, and in 50 years he may be remembered (as almost all poets are) as the author of 15 or 20 poems. But the curious future reader who goes hunting through the Collected Poems will find all sorts of poems worth absorbing--Ginsberg as King of the May in Czechoslovakia, Ginsberg dreaming of his mother as bag lady, Ginsberg scrutinizing American change. In Cosmopolitan Greetings, that reader can find a poem with a title of archaic terror--"The Charnel Ground"--which Ginsberg read at Harvard when he was the 1994 Phi Beta Kappa poet. Its inventory of hopeless lives represents the Ginsberg who is unable to pass by misery without seeing and recording it. But the reader can also find, in the same volume, Ginsberg's resolutely sanguine ars poetica, "Improvisation in Beijing." Each of its 43 strophes begins, "I write poetry because..." and the poet's reasons are etymological, genealogical, psychological, medical, mimetic, religious, political, sexual, conversational, ecological, ethnic, memorial, and literary. Perhaps the two most revealing lines of the piece are "I write poetry because I have no dogmatic responsibility one day to the next"--a declaration of the poet's freedom, unlike the prophet's, to follow mood, not doctrine--and "I write poetry because I want to be alone and want to talk to people"--a sentence summing up every poet's paradoxical situation. The poem closes with a belief that Ginsberg never lost, and that his readers share: "I write poetry because it's the best way to say everything in mind within 6 minutes or a lifetime." Even 50 years of writing were not enough for Ginsberg to say everything he had in mind--but how much of his life and times, and ours, he did find time to say is a matter, now, of fine and substantial record.
---
Main Menu · Search · Current Issue · Contact · Archives · Centennial · Letters to the Editor · FAQs