Main Menu · Search ·Current Issue ·Contact ·Archives ·Centennial ·Letters to the Editor ·FAQs



---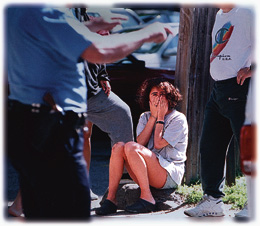 A student reacts to the tragedy at Dunster House. EVAN RICHMAN-THE BOSTON GLOBE
In the early morning of May 28, 1995, in Dunster House, junior Sinedu Tadesse murdered her roommate, Trang Phuong Ho, and then committed suicide. This magazine reported the news only in passing, in that year's Commencement issue. As the first student-on-student murder in Harvard's history, it invites more reflection. Melanie Thernstrom '87--herself a one-time Dunster resident--attempts to provide context and explanation in Halfway Heaven: Diary of a Harvard Murder, an expansion of a New Yorker article.
Much of the book explores Tadesse's childhood in war-torn Ethiopia, her emotional dependence on her roommate, and, through her private diaries (obtained six months after the murder by a public-information act filing), the depth of her depression and her eruption into deadly violence. Coming to terms with Tadesse's inner life obviously cost Thernstrom something; she had denied Tadesse's 1992 application to join the writing seminar she taught. Despite the author's distracting habit of spilling her own emotions across the page (opening the diaries, "I felt a profound sense of unease"; approaching Tadesse's family, she feels faint and loses her breath), the narrative makes for a dismaying portrait of mental illness.
But does it resolve what for Harvard must be the core issue--whether the tragedy could have been prevented? Thernstrom writes, "The questions involved are complex: to what extent can a large, diversely populated institution be responsible for the welfare of its members?" In answering, she finds multiple institutional shortcomings.
Thernstrom is sharply critical of the counseling and mental-health care offered students. Tadesse, she reports, was seeing a counselor at University Health Services. After the murder-suicide, other medical professionals Thernstrom consulted questioned the counselor's qualifications to deal with such severe problems. In Tadesse's letters and diaries, the path that led her to disaster can be retrospectively reconstructed. But the medical evidence they offer is inconclusive. First, "The mismanagement of students suffering from psychological problems and mental illness is hardly unique to Harvard," at least in the view of critical psychiatrists whom Thernstrom consults at Johns Hopkins. In an era of tighter restraints on mental-health care, it seems unlikely that educational institutions--or our society as a whole--will "manage" such cases much more successfully. And even if psychotherapy or other interventions were more widely available, success can't be assured. That is particularly so for a second reason: only in hindsight, Thernstrom learns, can psychiatrists identify those among the minority of deeply depressed people who will kill themselves--or, even more flagrantly, those around them.

Turning from the medical ambiguities, Thernstrom examines the larger Harvard setting. Here, readers are likely to find that the place defeats her, for she presents, but does not reconcile, conflicting views of how Harvard operates. Criticizing the House masters (mostly professors) and tutors who are responsible for students' living arrangements and social and academic well-being, she quotes "a Harvard administrator": "There is an ethic of senatorial courtesy that one doesn't embarrass a faculty member. Administrators are terrified" of confronting them, so "Faculty members have tremendous latitude," even if one "goes off the deep end."
But then the book seems to suggest that the problem lies elsewhere. Frustrated by the obstacles she felt Harvard put in the way of her reporting ("They are questions...Harvard did not wish to have explored"), Thernstrom finds fault with the University's all-powerful administration--slick professionals pursuing a policy of "spin control and stonewalling." She quotes a Law School alumnus to the effect that faculty members have withdrawn from "their historic role of setting policy and running the institution. The administrators have taken over Harvard."
Somewhere between those two positions lie important truths about the University today. Authority is diffuse, responsibility sometimes even more so. That makes for certain vulnerabilities and inefficiencies, which seem to be part of the nature of academic institutions everywhere. Do those factors explain what went wrong in Dunster House that May morning? In light of our respect for the confidentiality of doctor-patient communications, the state of our knowledge about mental illness, and our understandable reluctance to apply treatments with too heavy a hand, the answer is no.
For all its emotional heat, Thernstrom's book ultimately frustrates. "A murder/suicide," she writes, "is inevitably the culmination of a long intricate chain of events: by definition, if any of the links had been different the chain might have been broken...." The narrative of that chain of events, not mastered here, makes for a less melodramatic story than the horrible deaths of two young women, but it may be more likely to lead toward prevention and cure.
~ John S. Rosenberg
---
Main Menu · Search ·Current Issue ·Contact ·Archives ·Centennial ·Letters to the Editor ·FAQs