Main Menu · Search · Current Issue · Contact · Archives · Centennial · Letters to the Editor · FAQs
---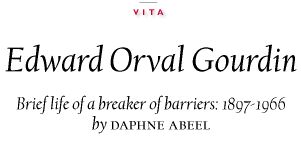 Gourdin sets a world record in the broad jump in 1921. Courtesy of Boston University Library Special Collections
On Law Day, May 1, 1997, jurists and legislators--many African Americans among them--filled the marble hall of Old Suffolk County Courthouse to celebrate the unveiling of a portrait of Edward O. Gourdin '21, LL.B. '24, who in 1958 became the first African American appointed to the Massachusetts Superior Court.
Eulogized that day as "scholar, athlete, soldier, judge," Gourdin posthumously regained the spotlight he had held first in the 1920s, as a track star during his years at Harvard, and later, in the 1950s, when his appointments as special justice of the Roxbury District Court and then as judge of the Massachusetts Superior Court attracted widespread press comment hailing him as the "first Negro" to achieve such prominence.
The Superior Court appointment was the crowning achievement in a life of successes that stretched back to Gourdin's teenage years in Florida, where he was valedictorian of his high-school class in 1916. His parents recognized his abilities as a scholar and athlete and decided to move to Cambridge, Massachusetts, where he completed one year of college preparatory work at Cambridge High and Latin before entering Harvard in the fall of 1917.
Gourdin's freshman diary reveals an organized and responsible young man. On September 24 he notes the posting of a security bond for $400 and payment of $50--the first installment of his tuition fee. A few days later, he lists the schedule for the first day of classes and reminds himself: "Take 1st wks reading and map study for Monday."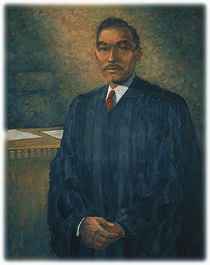 Robert Freeman's posthumous portrait hangs in the Old Suffolk County Courthouse Portrait reproduced courtesy of the artist. WIDENER PHOTOGRAPHIC SERVICES
He also distinguished himself in track. He became the National Amateur Athletic Union's junior 100-yard dash champion in 1920 and the national pentathlon champion in 1921 and 1922. At the revival of the Harvard-Yale versus Oxford-Cambridge track meet, in 1921, Gourdin won the 100-yard dash and set a new world record (25 feet, 3 inches) in the broad jump. In 1924, having completed his law school exams, he traveled to Paris for the Olympics and won a silver medal in the broad jump. (Missing Commencement week spared him the sight of his classmates celebrating their third reunion by larking about in Ku Klux Klan outfits, complete with white robes and peaked hats.)
In 1923 Gourdin had married Amalia Ponce of Cambridge; they would raise three daughters and a son. Gourdin was admitted to the Massachusetts bar in 1925 and to the federal bar in 1929. Wryly he noted in his 1926 class report, "Still in Cambridge. Still engaged in the great all-American game of chasing the dollar. Although I was a sprinter in college, I seem to be a marathoner now. Still on the first million." To make ends meet, he had worked as a postal clerk while in law school; he kept that job as he strove to establish his practice, finally resigning in 1927, citing the toll on his health.
No law firm offered him a position, and increasingly his attention turned to the public sector. He became active in politics, first as a Republican; his conversion to the Democratic party in the early 1930s led to many relationships with political figures and attorneys in Boston, including Francis J. W. Ford '04, LL.B. '06, an influential lawyer whose classmate, Franklin Delano Roosevelt, had named him U.S. attorney for the district of Massachusetts in 1933. In 1936, with Ford's backing, Roosevelt appointed Gourdin assistant U.S. attorney, a position he would occupy, save for the war years, until 1951.
Gourdin had joined the Student Training Corps as a sophomore at Harvard, and enlisted in the National Guard in 1925. In 1941 he was assigned to the 372d Infantry, a segregated regiment, and became its commanding officer, serving until 1947. A much-decorated soldier, he chafed at the racial separation: a 1945 diary entry notes, "We have been plagued for 5 years with newcomers (Reserve officers and grads of OCS) who seem to assume that Negro soldiers do not know anything." Yet he rejoined the National Guard after his discharge, retiring in 1959 with the rank of brigadier general, another "first" in Massachusetts.
In Boston, he resumed his duties as assistant U.S. attorney and had been promoted to chief of the civil division before his elevation to the bench in 1951. During the civil-rights era, he made a conscious choice to maintain his judicial neutrality, but his interests included the NAACP, the Roxbury Youth Program, and the New England Olympians. He died in office a few weeks after his forty-fifth reunion; his class-report entry reads, "Still grinding out justice. Elected president of the United States Olympians."
In August 1997, Appeals Court justice Roderick L. Ireland, LL.M. '75, an African American, was appointed to the Massachusetts Supreme Judicial Court, and again a "first black" made headlines. A 1951 Boston Herald editorial, preserved in Gourdin's private papers, about his own appointment to Roxbury District Court, remains a telling comment: "The day may come when the fact that a new state appointment is a Negro will cease to be a matter of note. Unfortunately, that is not yet."
---
Daphne Abeel '59 is a freelance writer who lives in Cambridge.
---
Main Menu · Search · Current Issue · Contact · Archives · Centennial · Letters to the Editor · FAQs