Main Menu · Search ·Current Issue ·Contact ·Archives ·Centennial ·Letters to the Editor ·FAQs


---
Also see Building a Fellowship
---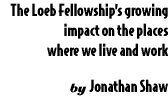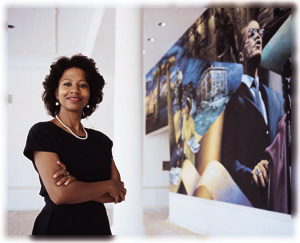 Peggy King Jorde with a memorial mural to Malcolm X at the Audubon Ballroom, where he was assassinated. "I put him on the same shelf as all the other freedom fighters who have grappled with what it is to be black in this country," she says. She is helping convert the ballroom into a memorial center. Photograph by Marc Royce
"We chose you because you are self-starters," Bill Doebele tells the group seated around the dining room table. "You are on your own in a very complex and difficult place. Your energy and ambition will determine what you get out of it." Doebele (pronounced "doe-bull"), LL.B. '51, is the Frank Backus Williams professor of urban planning and design emeritus, and this introduction to Harvard has been his duty and privilege for nearly three decades as curator of the Loeb Fellowship Program in Advanced Environmental Studies. For the last time, he is addressing a new class of Loeb Fellows, mid-career professionals from a broad range of fields, chosen for their potential to improve the quality of the built and natural environment of the United States. They have one year to absorb and learn as much--and whatever--they can.
Over lunch at the fellowship's headquarters-cum-dormitory, recently renamed Doebele House in honor of the outgoing curator, the discussion begins with questions about leadership and then moves to the concept of environmental justice: the disproportionate dumping of disagreeable things--sewage, factories, and highways--on areas inhabited by low-income and minority citizens. Fellow Glenn Smith, who has recently held a forum on the subject at the Graduate School of Design (GSD), says that land values and class often outweigh issues of environmental justice. As an example, he cites the relocation of a New York City wastewater treatment plant from midtown Manhattan to 125th street in Harlem. Fellow Lisa Purdy, circling back to the subject of leadership, says the real question is how to mobilize communities to be aware of what might be imposed on them.
In small ways, the discussion of environmental justice harkens back to the fellowship's origins. The program was created against the backdrop of the Watts riots and social upheavals of the late 1960s. American cities, already polluted and crumbling, were burning. Doebele was serving as associate dean of development at the design school. The late John Loeb '24, LL.D. '71, a wealthy investment banker from New York City, was chairing the GSD's development program. In a 1965 publication with the word "crisis" emblazoned in red ink across its cover, friends of the GSD created a blueprint for educating a new generation that could address "the chaos in our cities, the loss of control over our environment, the urgent need for leadership in the future." Their first goal was to create four interdisciplinary professorships (the plan called for a professor of resources and ecology, for example, several years before the first Earth Day). These professorships would bring new learning to bear on the problems of modern urbanization.
A further goal--extending these initiatives to reach beyond academe to the professional community--was a special concern of John Loeb's. "After 1961," says Doebele, "zoning in New York City permitted lot coverages resulting in much bulkier buildings that crowded out light and air. John had seen the quality of life in the city decline. He had seen mayors and governors elected on platforms of improving our cities. But he observed that, while there were architects, there were not many people who could advise a political leadership." The Loeb Fellowship--still the only such program in the United States devoted to the built and natural environment--was created from that principle in 1968, endowed with a gift from Loeb of $750,000.
Born of urban crisis, the Loeb Fellowship has extended its influence to cover the look and quality of much of built America--and beyond. The following portraits convey a sense of what Loeb alumni are doing today, and of how their fellowships broadened their perspectives. Peggy King Jorde, a 1996 graduate of the program, is working on a project to interpret the site of an African burial ground in the heart of present-day New York City. Jim Gray, interviewed during his fellowship year in Cambridge, is this country's foremost builder of turnkey factories for Japanese companies operating in the United States. John Zeisel, a member of the first class--in 1970-71--designs and directs assisted-living facilities for people with Alzheimer's disease and other forms of dementia.
THE CULTURAL DIMENSIONS OF DESIGN
Sometimes you can't escape history. For Peggy King Jorde, LF '96, that time came when excavations for a federal office building in the heart of Manhattan started turning up human remains. Twenty-six feet below grade, on the edge of City Hall Park, a forgotten African burial ground was about to make headlines.
King Jorde was raised in Albany, Georgia, a "suburb to nowhere," as she describes it. "I grew up hearing my grandfather"--who as a student drove Booker T. Washington's buggy around the Tuskegee Institute--"saying 'All that I am and all that I ever hope to be, I owe to Booker T.,' or 'Pa Booker,' as he sometimes called him." Her father, a civil-rights lawyer whose fight to end segregation in Albany schools led to integration when Jorde was entering the first grade in 1964, was inspired by the writings of W. E. B. DuBois. Her mother has been a director of the Head Start program for poor black and white preschoolers in Albany. As King Jorde puts it, "I grew up in a family where the parents' professional lives were geared toward really meaningful things."
Yet she knew humiliation. Because there were no black pediatricians in Albany at that time, her mother took her to a "friendly white doctor," as King Jorde remembers him. She knew he must be nice, because all the patients in his waiting room were black. One day, she wandered behind a nurse's station and through a door, where she discovered a beautiful waiting room with all the white mothers and their children. "I didn't know what to think as a child," King Jorde recalls, "but I knew there was something uncomfortable about this picture"--there were no couches, carpeting, or plants in her waiting room, just hard chairs. "It wasn't that long ago," she says.
| | |
| --- | --- |
| Passing a child over the grave of an ancestor dispels fear of death, according to an African-American tradition. The ceremony above took place in one of the archaeological tents at the African Burial Ground during a 24-hour vigil in 1992. The skeleton at right is the only one of more than 400 recovered to have her arms crossed over her chest. Researchers want to know why. Adults buried in the cemetery died in their 30s, on average, although their joints resembled those of people much older. | |
If personal history partly explains why King Jorde reacted the way she did when confronted with the long-forgotten burial ground, cultural history explains the rest.
The first enslaved Africans were brought to what is now New York City (then a Dutch settlement) in 1626. By the 1700s, after the Duke of York had officially opened up the slave trade, a substantial slave population--as much as 21 percent of the whole--lived in Manhattan. The place where these enslaved Africans buried their dead, the "Negros Burying Ground," as it was derisively known, was initially located outside the city walls. By the late 1700s, however, development was already covering over portions of the graveyard. Eventually, the burial ground was all but forgotten, its location preserved to memory only through old city maps and references in two books, one published in 1827, the other in 1915.
King Jorde studied architecture at Columbia, and was a planner in Mayor David Dinkins's office of construction when she first learned about the burial ground. From that moment, she directed a stream of memos to colleagues in the Dinkins administration, informing them of the site's potential importance. Excavations were turning up the bodies of first-generation African Americans, some believed to have been buried with West African cultural rites. Her missives received scant attention until news reports began focusing on the dig, and public concern began to mount, particularly within the city's African-American community. When press coverage revealed that "archaeological resources stood to be compromised in the act of retrieval," the mayor's office told King Jorde officially to work on the project. By that time, in the winter of 1991-92, people were holding candlelight prayer vigils and demonstrations against the dig. Students who wanted the whole site turned into an historic landmark tried to stop the bulldozers. As a result of the continuing publicity, Dinkins named King Jorde the city's representative to a committee formed to address community concerns. More than 390 burials had already been removed from the site.
In federal construction meetings, King Jorde at times found herself becoming frustrated and emotional with those who didn't value the site the way she did. One colleague told her not to get involved because archaeological finds turn up all the time during construction, and it was her responsibility to get the job done diplomatically. But King Jorde says that even though "everyone in London is sick and tired of finding Roman ruins there when they're ready to build a building," the African Burial Ground (as the cemetery is now officially known) is the kind of cultural resource that historically has not been protected, let alone celebrated. "This is something rare," she says. "Imagine if it had been a dinosaur out there."
In one meeting, King Jorde recalls wanting to "reach across the table and wake people up and say, 'Wait a minute: reevaluate your values and your priorities here. I'm a designer and you're a designer, and we're talking about creating something that is going to make an important difference in our environment. How can you build on a site like this and not respond to it architecturally?'"
For King Jorde, the burial ground was a starting point for exploring how to tell the African-American story through architecture and the environment--and the impetus for asking the question, "How can the approach to and treatment of cultural resources in general make a difference in society?" Having been told by the mayor's office that she couldn't make a career focusing on cultural projects, King Jorde welcomed the opportunity when she was invited to apply to the Loeb Fellowship.
As a part-time fellow (she and her husband have two children), King Jorde spent two days a week during the 1995-96 academic year in Cambridge while continuing her job in New York. "I was really fortunate to be able to disappear for two days to explore other areas," King Jorde says. She also found that, once back in her office, she could apply the thoughts she'd had in Cambridge to her everyday work life. At the GSD, she worked on a studio project for the preservation and revival of Bronzeville, Chicago, the city's historically black community. At MIT, she took a year-long course on designing monuments and memorials that forced her to rethink "all the issues that arise as you try to design for a site, attempting to tie that work to cultural discussions and issues." King Jorde also spent lots of time in Harvard's vibrant Afro-American studies department. She followed the classes of Professor Cornel West all year, finding the lectures in which he analyzed and juxtaposed the philosophies of Booker T. Washington and W.E.B. DuBois of particular interest. At the end of her fellowship year, she was offered a job working for the federal General Services Administration (GSA) on the African Burial Ground memorialization, which will include an interpretive center on the ground floor of the federal office building at 290 Broadway, the site of the graveyard, and an adjacent outdoor memorial at ground level. "The GSA felt that it had taken the blow on this," she says, and "they were looking for someone who had a history with the project and could get the job done, but with the sensitivity that it should have."
Now, as a consultant, King Jorde is coordinating the design competition for both parts of the project. The interpretive center will be explicative, "a way of telling the story," she says. The archaeological finds will be shared in photographs--glass waist beads with one woman's burial, a coffin decorated with a heart shape formed out of tacks--as will the results of the physical anthropological studies being conducted for the GSA by Howard University. King Jorde says the studies have answered questions like "How did they live?" and "How did they die?" (Nearly half died by the age of 12.)
The exterior site, now just a plot of green grass in the shadow of the surrounding buildings, will present the greater design challenge. There the treatment will need to convey not only that it is "a sacred place, but a cemetery for a certain group of people with a certain kind of history in this country," King Jorde says. This will require a complex design, because although the plot is meant to be a contemplative space, it is open to the elements and the noise of the city. And the site must also allow for ceremonial rites to take place, the first of which will be the reinterment (probably in the year 2000) of the remains now being studied at Howard, in the presence of representatives from the constituent nations of the African diaspora.
King Jorde sees the full range of inquiries she gets about the cemetery as fundamentally one question: "How close can we come to these burials, how close can you put us?" The Vietnam Memorial in Washington, D.C., demonstrates people's desire to get close, to share in an experience, she says. "You see pictures of people touching a name or feeling the wall or attaching things to it." So she asks herself, "How close can I bring people to this, how can I make the meaning behind all this accessible?"
When King Jorde's father died nine years ago, she and one of her brothers built his coffin, as he had wished. "I thought it would be very, very difficult--but in fact, it was meaningful," she says. "I felt like I was creating an abode for my father's shell. And that made me feel a sense of resolve. This safe place...had been created out of love and a great deal of care....It shed a whole lot of white light on the event." If she experienced that, reasons King Jorde, why not have black craftsmen and craftswomen work with laypeople from the broader community to design and build the coffins for the slaves' reinterment? "Even though these craftsmen may not have a personal attachment, the process is still meaningful," she says. She has proposed the idea to the GSA, and emphasizes that as the project continues she will look for other ways to engage the community.
Community involvement figures in King Jorde's other projects as well. One is the Audubon Ballroom on 159th Street where Malcolm X was assassinated, now being converted into a memorial center where discussions about global issues might take place. She was working on the project with Dr. Betty Shabazz, Malcolm's widow, before the activist's death last summer. "Now I can't find out more," King Jorde says regretfully.
In her hometown of Albany, Georgia, an important center during Martin Luther King Jr.'s famous marches in the 1960s, King Jorde has been advising on the revitalization of the black commercial area. Another interest is "American Beach," a strip of the Atlantic coast north of Jacksonville, Florida, where African Americans since the 1930s have enjoyed vacations free of discrimination for a moderate cost. Originally owned by an African-American insurance company, the area is now being encroached upon by large hotels. King Jorde hopes to sit down with local activists to help create a plan for preserving this open, fenceless community. American Beach, which is like a black township on the ocean, is already much smaller than it was in the sixties. King Jorde worries that it will end up like the fancy resort just to the north called Amelia Plantation, which caters to a predominantly white clientele. Though she understands that the name is good marketing, since it "implies a level of grandeur which is all that most people remember when they talk about plantations," she objects to the cultural amnesia that lets us forget that, "when you talk black folks and plantations, you are talking about a totally different perspective."
Perhaps cultural amnesia explains why many New Yorkers "were shocked to learn there were enslaved people--here, in the North, and in large numbers," King Jorde says. "It wasn't well chronicled. The cemetery was buried under buildings in the city. It wasn't important to other people so its presence was obscured. African ancestry in this country has historically been obscured. Places like the African Burial Ground, places like American Beach, those are the cultural resources, the tangible reminders that tie our black community to the important values of our culture."
---
Continued. Also see Building a Fellowship
---
Main Menu · Search ·Current Issue ·Contact ·Archives ·Centennial ·Letters to the Editor ·FAQs