Main Menu · Search ·Current Issue ·Contact ·Archives ·Centennial ·Letters to the Editor ·FAQs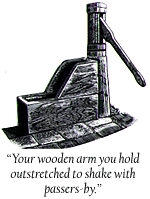 Unlike the title character in the film Good Will Hunting, played (and conceived) by Matt Damon '92, William James Sidis '14 never swore, smoked, chugged beer, or hit people. But like Will Hunting, young Bill Sidis had a photographic memory and an uncanny ability to solve abstruse mathematical puzzles. His IQ was stratospheric. At 18 months he could read from the New York Times. At 3 he was typing and teaching himself Latin and Greek. Before he was old enough to start school he knew German, French, Russian, and Hebrew. The press discovered him at 8, when he was the world's youngest high-schooler. He did not get much privacy after that. As an 11-year-old Harvard man, he was described in the Times as "a wonderfully successful result of a scientific forcing experiment." In later years, when he was found doing menial clerical work, he was featured as an example of what could befall gifted children whose parents pushed them too hard.
Sidis (the name rhymes with Midas) was born a century ago, on April 1, 1898. His parents were Ukrainian immigrants. His mother, Sarah, had worked her way through Boston University's medical school. Boris Sidis (A.B. 1894, Ph.D. 1897, M.D. 1908), his father, was an early psychotherapist known for his work with hypnosis. William James, a friend and mentor, was the baby's godfather. He would describe his namesake as the most remarkable prodigy he had ever encountered. Billy Sidis qualified for admission to Harvard at 9, but had to wait two years to matriculate as a special student. In his first year, still in knickers, he delivered a much-publicized two-hour lecture on four-dimensional bodies; the audience included mathematicians from all over New England. As a sophomore he roomed for a time in the Yard, but was teased so remorselessly that his parents moved him to an apartment. The next year he took seven courses. Some may have been too slow-paced for him. All told, he earned 10 As (in math, physics, and French), nine Bs, and four Cs (in economics, English, and philosophy). His A.B. was awarded cum laude. "I want to live the perfect life," he was said to have told reporters at his graduation. "The only way to live the perfect life is to live it in seclusion. I have always hated crowds."
*
But he couldn't escape the press. A teaching stint at Rice University came to grief because students mocked him. It was national news. Sidis enrolled at Harvard Law School, only to leave in his final semester. More notoriety. Drawn to the Socialist movement, he was among the marchers arrested when police halted a May Day parade in 1919, setting off a melee. A Roxbury judge blamed Sidis for leading the march and set bail at $5,000. Classmate Leverett Saltonstall, a future governor of Massachusetts, took care of the bond. The case was eventually nol-prossed, sparing Sidis a jail sentence. After that, according to Sidis, his father and mother abducted him and kept him under restraint for two years. Whatever transpired, he became estranged from his parents.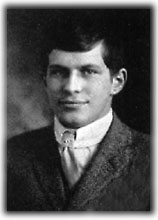 Sidis as a senior, aged 16. HARVARD YEARBOOK
In 1924 the New York Herald Tribune revealed that the "boy brain prodigy of 1909" was now a $23-a-week clerk in a New York business firm. As a back-office calculator operator he went from job to job for the rest of his life. Familiar with scores of languages, he also worked as a translator. After hours, he wrote. In 1925 he published The Animate and the Inanimate, advancing the theory of black holes 15 years before physicists and astronomers warmed to it. The press, for once, paid no attention. An avid collector of streetcar transfers, Sidis brought out Notes on the Collection of Transfers pseudonymously the next year. Amy Wallace's sympathetic biography, The Prodigy (Dutton, 1986), called it "arguably the most boring book ever written." Sidis also wrote science fiction, a long novel set in the lost continent of Atlantis, and a two-volume history of America. All remained unpublished.
Returning to Boston, Sidis got a small South End apartment, took clerical jobs, and went on with his writing. His few friends regarded him as content. His seclusion ended in August 1937, when the Boston Sunday Advertiser and the New Yorker ran articles about him. The New Yorker piece, bylined "Jared L. Manley" but reworked by James Thurber, was titled "April Fool." Sidis had had enough. He sued both publications. The Advertiser eventually settled for $375. In a breach-of-privacy suit against the New Yorker, the court ruled that Sidis could not claim privacy rights because he was still a public figure. In 1944 the magazine paid a reported $500 to settle a companion suit for malicious libel. Sidis died of a cerebral hemorrhage three months later. He was 46.
*
The hero of Good Will Hunting also lives in the South End and runs away from celebrity. But he receives helpful counseling from a caring psychiatrist (Robin Williams) and the love of a charming and rich Radcliffe student (Minnie Driver). Some guys get all the breaks.
~Primus IV
---
Main Menu · Search ·Current Issue ·Contact ·Archives ·Centennial ·Letters to the Editor ·FAQs