Main Menu · Search ·Current Issue ·Contact ·Archives ·Centennial ·Letters to the Editor ·FAQs


---
PHOTOGRAPHS (EXCEPT WHERE INDICATED) ARE © ARCHAEOLOGICAL EXPLORATION OF SARDIS/HARVARD UNIVERSITY
Back to main story. Also see Sardis in History.
---

The administrative headquarters and archives of the Archaeological Exploration of Sardis (or Sardis Expedition, as it is familiarly known) are located in the Fogg Art Museum, under the stewardship of associate director Laura M. Gadbery.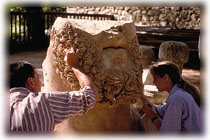 Laura Gadbery and conservator Kent Severson clean a colossal portrait head. ©Archaeological Exploration of Sardis/Harvard University

The office is responsible for much of the preparation and coordination of each field season, for archival research, and for the publication of the Sardis reports and monographs. Thirteen volumes in this series have been published by Harvard University Press; about the same number are in preparation.

In its 40 years, the expedition has inventoried about 11,000 objects, with tens of thousands more saved for possible future consideration. Some of the material is stored in depots at the site, but important objects are housed in the Archaeological Museum in Manisa, some 35 miles to the northwest.

Each fall, the expedition submits a permit application to the Turkish Ministry of Culture, including a detailed staff list and a proposal of all planned activity. Excavation and research take place only after permission is granted and a representative of the ministry has been assigned to the site. The proposed field staff for the 1998 season consists of 31 specialists,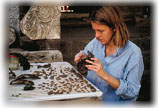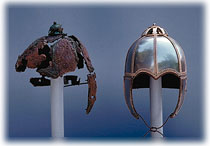 Conservator Ann Heywood reconstructs a sixth-century b.c.e. helmet (below, next to modern reconstruction).©Archaeological Exploration of Sardis/Harvard University

predominantly American and Turkish, and a Turkish work crew of about 50. A number of Turkish students who received early training at Sardis have gone on to distinguished academic careers, including, in this country, Fikret Yegül, Ph.D. '75, professor of art history at the University of California at Santa Barbara, and author of the Sardis volume on the bath-gymnasium complex.

The site of Sardis (modern Sart) lies some 60 miles east of Izmir, along the Izmir-Ankara Highway. The temple of Artemis, the partially restored bath-gymnasium complex and synagogue, and the Byzantine shops are open to visitors year-round. The Lydian fortification wall and gold refinery, the Roman suburb, the remains of Church EA, the acropolis, and the various royal burial mounds at Bin Tepe may also be viewed, although there is no access to the interior of these mounds.

The expedition is sponsored by the Harvard University Art Museums and Cornell University. Funding comes from a number of trusts and foundations, as well as from some 400 donors comprising the Supporters of Sardis. Anyone interested in receiving the Sardis newsletter, and joining the Supporters of Sardis, may contact the office at (617) 495-3940.
---
Main Menu · Search ·Current Issue ·Contact ·Archives ·Centennial ·Letters to the Editor ·FAQs