Main Menu · Search ·Current Issue ·Contact ·Archives ·Centennial ·Letters to the Editor ·FAQs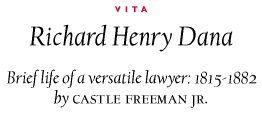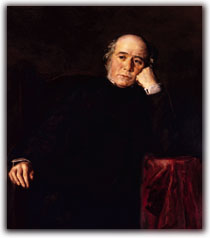 A portrait of Dana in later life. PORTRAIT COPIED BY MISS HEARD AFTER AN ORIGINAL BY ANNIE PERDY. GIFT OF RICHARD HENRY DANA III. PHOTOGRAPH BY HARVARD COLLEGE LIBRARY IMAGING SERVICESCourtesy of Harvard Law Art Collection
Two Years Before the Mast, Richard Henry Dana's narrative of his experiences as a merchant seaman in America's great age of sail, has been a famous book practically from the day of its publication in 1840. It has become one of the essential stories of the sea, and is an American classic by any definition, but it fits oddly into the life of its author, who scarcely set himself to writing again and later regarded his celebrated book as something like an accident in a life devoted to more earnest callings: the law and public service.
Dana was born into a family of prominent jurists. His progress toward a legal career would have been uninterrupted had he not come down with measles as a junior at Harvard: the illness affected his eyesight, and he left college. Determined to go to sea, he turned down the chance to travel as a passenger and shipped as an ordinary seaman on the brig Pilgrim, sailing from Boston in August 1834 for California, then still a province of Mexico.
He spent the next year coasting the old Spanish ports from San Diego to San Francisco, loading a cargo of cowhides. He sailed for home, again as a deckhand, in the Alert, an Indiaman, made the dangerous winter passage around Cape Horn, and arrived in Boston in September 1836. He reentered Harvard, graduated in 1837, and went on to study law.
During this time, Dana produced Two Years from diaries he had kept on his voyage. He wrote, he said, "to present the life of a common sailor at sea as it really is," and, true to his purpose, his spare, factual language portrays the sailors of the day as leading lives of killing labor in harsh conditions, subject to the absolute rule of ships' officers whose authority, should it become cruel, had no restraint or remedy. (In 1841 he would publish The Seaman's Friend, which included "laws relating to the practical duties of master and mariners.") Nevertheless, despite the hardships of the life it describes, Dana's book is full of its author's delight in the sea and in sailing ships. By its very sobriety and devotion to fact, Two Years creates a vision of life at sea that has proved irresistible to sailors and landsmen both for generations.
Despite the reception of Two Years, Dana seems never to have considered turning permanently to literary work. He opened a law office in 1840 and, except for trips to England, Europe, Cuba, and even the Far East, he practiced in Boston for the rest of his life, becoming one of the country's most respected lawyers, largely for his work on cases having national political importance.
In his character and public life, Dana was the very type of Victorian gentleman: dutiful, religious, rigidly high-principled--and instinctively, profoundly conservative. Although he was and was considered an established member of Boston's intellectual community, he disliked and distrusted the theater and had literary tastes distinctly antique. He knew Emerson and Hawthorne, but he regarded their writings with suspicion and hardly read them.
In the complex, unsettled years before the Civil War, Dana was committed to the Free Soil Party, a forerunner of the Republicans. No abolitionists, Dana and the Free Soilers nevertheless opposed the extension of slavery beyond the Old South, and insisted that slaves who escaped to the North be allowed to remain there as free citizens, a position contrary to the federal Fugitive Slave Law of 1850. In Boston, Dana represented several fugitive slaves whom the federal authorities sought to have returned to their Southern owners. The city was bitterly divided over the question of slavery, and Dana's advocacy, for which he refused any fees, was unpopular, even dangerous: on one occasion he was assaulted in the street by a violent opponent. In later years, he and his biographers regarded his work in these cases as the "one great act" of his life.
During the war, Dana's success in persuading the Supreme Court to uphold the North's crucial blockade of Southern ports furthered his reputation. Despite his high standing in Boston's political and professional circles, however, the last decades of his busy life were a time of disappointment and frustration. Although he had hoped to enter Congress, election never came his way, in part, no doubt, because Dana, always a stiff, proud figure outside his circle of friends, had little talent for political campaigning. Then, in 1876, his nomination as ambassador to Great Britain was defeated in the Senate partly because of a lawsuit for plagiarism brought against him in connection with a legal textbook he had edited. He was substantially cleared, but the affair cost him the honor that would have crowned his career. He retired from his practice in 1878 and began writing a long book on international law. To research the work, he moved with his family to Rome in 1881, only to die of pneumonia early the following year.
Dana, perhaps, was one of those gifted, high-minded men who seem to fail by being too good for their times. Reflecting on the great adventure of his youth and his lifelong love of seafaring and distant lands, he wrote that he had been "lucky in travel, though in nothing else." He probably understood that he would be remembered, not for what he regarded as his real work, but for Two Years before the Mast, which he was apt to dismiss as "a boy's book" and regarded as the product of "a parenthesis in my life."
---
Castle Freeman Jr. is a writer interested in American history.
---
Main Menu · Search ·Current Issue ·Contact ·Archives ·Centennial ·Letters to the Editor ·FAQs