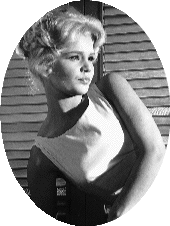 Tuesday Weld Harvard University Theater Collection, The Houghton Library
Hollyweld
"There is nothing remotely spiritual about the beauty of Tuesday Weld," the New Yorker cooed in 1989, adding that in the late 1960s, "the star's teasing all-American unwholesomeness was at its peak." Many know Weld's motion picture roles and her famous 1950s teenage blonde-goddess incarnation as Thalia Menninger on The Many Loves of Dobie Gillis. Far fewer realize that she is part of the Harvard Weld family: her father, Lothrop Motley Weld '20, was one of the General's grandsons--the namesake of the little boy who drowned in Bourne Cove at the age of eight.)
Lothrop Weld prepared for Harvard at St. Mark's and served in World War I. After completing college he married and fathered yet another Lothrop M. Weld while working as a salesman for S.M. Weld and Company in Boston. After a few years he moved to the oil business and to the Upper East Side of Manhattan. He had taken a second wife by 1929, and a third, an 18-year old bride in Arkansas, in 1932. (Weld omitted mention of the latter, short-lived, union in his class reports.) In 1934 he married for the fourth time and made another career transition--to gentleman farmer in Wellfleet, Massachusetts. By 1945 he had retired and returned to Manhattan; he was the father of five children by his four marriages, the youngest of whom was two-year-old Susan Ker Weld, the future actress.

Lothrop Motley Weld '20 Harvard University Archives
Tuesday Weld began her show business career as a fashion and catalog model at age 3; although her credits include featherweight fare like Sex Kittens Go to College (1960), they also embrace more serious work such as Play It As It Lays (1972), based on Joan Didion's novel, and Who'll Stop the Rain (1978), the screen version of Robert Stone's Dog Soldiers. Her three husbands include film actor and pianist Dudley Moore and her current spouse, concert violinist Pinchas Zuckerman.