Main Menu · Search ·Current Issue ·Contact ·Archives ·Centennial ·Letters to the Editor ·FAQs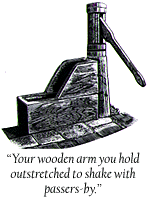 Toes Imperiled
John Harvard's left foot is hurting. Tourists are rubbing it for good luck, and the attention has polished it to a fare-thee-well. Indeed, it gleams almost throbbingly bright, as though from an excruciating inflammation of the bronze.
Stand by University Hall on a soft spring morning as group after group of tourists, disgorged from buses, gathers in front of Daniel Chester French's iconic "statue of three lies." (Despite the inscription on the pedestal, John Harvard was not the founder, nor is this his likeness, nor was the College founded in 1638.) The guides who come with the Japanese, or German, or Middle Western busloads debunk the inscription. Then they assure their flocks that undergraduates have traditionally rubbed John Harvard's foot for luck (before exams or a mixer). They invite the tourists to do the same, and the tourists, being game and having paid their nickel, rub with gusto.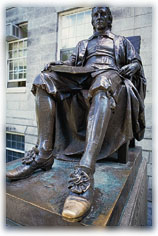 Bound for oblivion Photograph by Stu Rosner
While it is true that some students have rubbed the statue's left foot--this magazine published a photograph of Alden M. Strock '96 doing so as he marched to the Baccalaureate service at his Commencement-- this tradition is unknown by the generality of undergraduates, according to an informal dining-hall poll conducted by Sara Houghteling '99 at Dunster House.
None of the many guidebooks to Cambridge and Boston for sale at the Harvard Bookstore mentions the tradition. Nor does the Crimson Key Society's 1998 Guidebook to Harvard University, written by student chroniclers and disseminators of Crimson lore. All tell of the three lies. Boston, The Mini Rough Guide, a British publication, scandalously reports that "male students at the college covet the statue as a site of public urination; it's a badge of honor around here--and as a result, there are about 20 surveillance cameras trained on the statue." "I wouldn't touch that statue!" a Dunster House student told Houghteling, corroboratively. The cameras are fantasy, states Merle Bicknell, manager of Harvard Yard.
Archie Epps says that in 1997 he insinuated himself into a group of tourists admiring the statue and whispered, "I wonder if you'd get good luck if you rubbed his foot." He is willing to take responsibility for launching the abrading onslaught, but this is too much for a retiring dean of students to bear. The Reverend Mr. Harvard can survive the occasional youthful indiscretion of a male undergraduate. But incessant frottage he cannot withstand.
How did this sad business begin? Primus is of the opinion that the college of tour guides forged the tradition out of fool's gold within the past decade. "One of the most striking testaments to the mythmaking powers of tour guides is Theodore Dwight Woolsey's toe," wrote Mark Alden Branch last year in the Yale Alumni Magazine. Guides set tourists to work on President Woolsey's pedal extremity no more than 10 years ago, but already the statue, in Yale's Old Campus, "has a left toe that has been rubbed shiny..."
Students do rub bronze body parts at many schools and colleges. No one denies that. Brown students rub the nose of Secretary of State John Hay, and Dartmouth students rub the nose of Warner Bentley, booster of the performing arts. Harvardians have patted the toes of Ralph Waldo Emerson in Sever Hall for decades, says Harvard archivist Harley Holden. But the effect on Emerson is scarcely discernible, whereas Harvard's foot glows like a beacon. How could it not? The Harvard Guide, published by the Office of News and Public Affairs, acknowledges the commercial tour guides' success: "...thousands of visitors a year rub John Harvard's shoe for luck [italics added]."
The situation is grave. Queried about the attrition rate of bronze, Michael J. Aziz, McKay professor of materials science, says that the shoe can endure 10 million rubs before it is utterly consumed. If 100,000 tourists visit the statue each year, and a fifth of them give three brisk rubs (conservative estimates, surely), in 166 years John's toes will be history.

We move now from the south end of "the founder" to the north to recall remarks made by Edward T. Wilcox, A.M. '49, in 1974 at the annual ceremony honoring employees with 25 years of service to Harvard, of whom he was one, being at the time director of general education. Wilcox, who died last October in retirement, had a 38-year tenure at the College, during which he no doubt won many a highball with the following challenge. "How many of you would be prepared to bet one way or the other," he asked his fellow long-time loyalists, "if I told you John Harvard is actually wearing a cap?"
~Primus V
---
Main Menu · Search ·Current Issue ·Contact ·Archives ·Centennial ·Letters to the Editor ·FAQs