Main Menu · Search ·Current Issue ·Contact ·Archives ·Centennial ·Letters to the Editor ·FAQs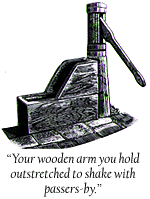 We'll Drink to That
WANT A HARVARD? In his 1931 opus Old Waldorf Bar Days, Albert Stevens Crockett told of the Harvard cocktail, a potation of orange bitters, brandy, and Italian (sweet) vermouth. "Alumni who drank it," he wrote, "sometimes lost the 'Harvard accent.'" The Yale was a Harvard made with gin instead of brandy and recognized "an institution somewhere beyond Old Greenwich, where many young men go for the purpose of commuting to New York for weekends."

The editors of Cornell Magazine came upon Crockett's tome, they reported in their January-February issue, while searching for a recipe for a Cornell cocktail. The old Waldorfian did not disappoint. The Cornell is made with one half dry vermouth and one half gin, which is sufficiently disappointing in itself.

Barbara Haber, curator of printed books in the Schlesinger Library--which houses a major collection of gustatory works-- notes that the Esquire Drink Book (1956) gives a precise recipe for the Harvard for those with steady hands: 2/3 jigger brandy, 3/5 jigger sweet vermouth, and a dash of orange bitters. These are stirred together and the glass filled with soda water. Trader Vic's Bartender's Guide (1972) uses Angostura instead of orange bitters and a dash of sugar syrup; the mixture is served over cracked ice in a chilled glass.

Trader Vic adds the Harvard Cooler (made with the juice of half a lemon, a half-tablespoon of sugar, and two ounces of applejack) and the Harvard Fizz (two ounces of brandy, a half-ounce sweet vermouth, three dashes of orange bitters, and a dash of sugar syrup, served with lots of cracked ice in a glass filled with seltzer).

Primus has no wish to promote tippling. He cannot be accused of doing so by mentioning these mixtures, of which no one would wish to drink many: moderation made easy. "They all sound sweet and summery and not exactly my kind of thing," says Haber. "I would prefer a martini."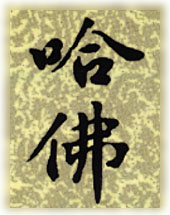 IS HARVARD A LAUGHING BUDDHA? The standard Chinese transliteration for "Harvard," ha fo, may be loosely translated as "laughing Buddha" and is written as shown. (There is no v sound in Mandarin Chinese, hence the f; nor are there terminal ds.) Although fo does mean Buddha, ha is the onomatopoeic sound--rather than the adjective--for "laughing," so a closer translation would be "hee-hee Buddha."

BLUE MOVIE. Joshua Berezin's name was headlined in Variety last summer. Movie rights to the Yale junior's book, Getting into Yale: How One Student Wrote This Book and Got into the School of His Dreams (Hyperion, 1998), had been picked up by Wind Dancer Films, which would produce the film for MTV.
The Yale Daily News followed up on the story in January and discovered that script writer and director Eric Fleming, "one of Hollywood's hottest young movie makers," was at work on the script, but the film would be called "Getting into Harvard."
"The first thing you should know is that I am a devoted Yalie and am horrified at the prospect of my name being attached to a movie entitled 'Getting into Harvard,' and you can certainly quote me on that," author Berezin declared when asked to comment by this magazine.
It wasn't an eye for brand-name cachet that led to the change in name, Wind Dancer's Joshua Bingham told the Yale Daily News. "We changed the title because we are departing from Josh's book, and we didn't want people to believe that the movie was solely based upon Josh's account."
Harvard Magazine called Wind Dancer recently to see how work on "Getting into Harvard" was progressing. "When a film is in development," said Bingham, "the development process has a life of its own. The story now bears little relation to Berezin's book, except that it's told in the first person." In the latest version of the script, the film has become a "mockumentary" lampooning the importance attached to sports in high school. It no longer concerns Yale, Harvard, or college admissions. Its proposed title is "Rah."

A FORTY-NINER SUMS UP. Responding to an appeal from his class secretary for information about himself and his views on life for his class's fiftieth-anniversary report, Arthur W. Hoppe '49, a longtime columnist at the San Francisco Chronicle, offered this sole observation: "Following World War II, I took a job as a gopher with an advertising agency at $35 a week. Following graduation from Harvard, I took a job as a copy boy at the San Francisco Chronicle at $35 a week. I feel this demonstrates the value of a Harvard education."
~Primus V
---
Calligraphy by Ting-Long Gu from the title bookplate for Chun Shum, Annotated Catalog of Chinese Rare Books in the Harvard-Yenching Library, Harvard University (1999)
---
Main Menu · Search ·Current Issue ·Contact ·Archives ·Centennial ·Letters to the Editor ·FAQs