Main Menu · Search · Current Issue · Contact · Archives · Centennial · Letters to the Editor · FAQs

In the pantheon of book thieves, no one ranks higher than Stephen Carrie Blumberg. He might wish to be characterized not as a thief, but as the temporary custodian of a number of books on interlibrary loan. He was caught in 1990, when he was 41. After two decades of uncontrolled thieving, he had brought together in one place--his house in Ottumwa, Iowa--about18,900 books stolen from 327 libraries and museums in 45 states, two Canadian provinces, and the District of Columbia. Americana, mostly. At first estimated in the press at $20 million, the value of the Blumberg collection was restated at the time of sentencing as $5.3 million, a number satisfactory to both prosecution and defense. Blumberg paid little attention to manuscripts but did take from the University of Oregon 20 linear feet of manuscript material relating to the settlement of that state. The FBI hired a 40-foot tractor-trailer to haul Blumberg's 19 tons of booty to Omaha to be inventoried. Identifying the lawful owners of the books proved a nightmare because Blumberg had removed marks of ownership from almost all of them.

Blumberg has been written about at length by Philip Weiss '76 in Harper's Magazine and by Nicholas A. Basbanes in his recent book on book collecting, A Gentle Madness. Both writers interviewed Blumberg--Weiss when Blumberg was in jail in South Dakota, Basbanes at the time of Blumberg's trial--and both strive to put his collecting


Stephen Blumberg at his Ottumwa, Iowa, home, just before his sentencing. Behind him are the now-empty shelves in the "California Room," so called because that state provided some of his choicest acquisitions.

achievement and his castaway, paranoiac life into humane perspective. He takes some understanding. How does one reconcile an apparently genuine appreciation for a 1493 Nuremberg Chronicle bound in ivory calfskin and a slovenliness so pronounced that the wife of an acquaintance felt she had to Lysol the chair he had sat in whenever he stopped by?

He barely finished high school. He never married. He had a long history of mental illness. He was nomadic, driving around the country in an old Cadillac or truck, stealing books, endless books, books he selected with care for his collection. But he was not above common thievery. Often, with henchmen, he would steal antiques and sell them. He came from a well-off family and had a private income of $72,000 annually, but now and then he needed extra money. He never sold his books. He said he would return them one day. He had few friends, and it was one of them who ultimately turned him over to the Justice Department for a $56,000 finder's fee.

The Blumberg case, writes Basbanes, "marked the only time a 'not guilty by reason of insanity' defense has ever been used in an American court to explain the consequences of criminal bibliomania." The jury took only four hours to find him guilty. The judge sentenced him to serve 71 months in prison and pay a $200,000 fine. He was released from prison on December 29, 1995, after serving four and a half years of his sentence, and is said to be living with his parents in Minneapolis.

Blumberg was a cat burglar. "He would avoid alarm systems, or set them off a couple of times and observe the security response," writes Weiss. "He'd squirmed through ventilation ducts and the eight-inch gap between the top of a caged enclosure and the ceiling. At some libraries he had shinnied up the cable of the book dumbwaiter to get from open areas to restricted ones. 'I'm pretty sharp about that,' he said. One time he removed a panel on a service-elevator shaft to get into the shaft and had begun climbing when the elevator started up. He had had to press himself into an inspection bay in the wall to avoid being crushed."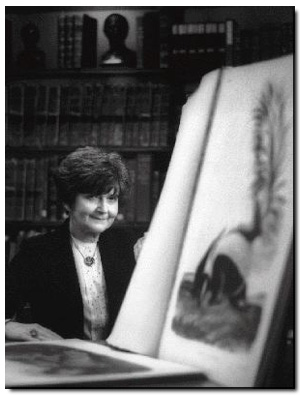 Eva Jonas, in charge of the library at the Museum of Comparative Zoology. A radicalizing force.
To get into Harvard's libraries, Blumberg spruced up and presented himself as Matthew McGue, a professor at the University of Minnesota whose identification card he had stolen and altered, replacing a photograph of McGue with one of himself. He paid for a 90-day stack pass. One day he entered Widener in the massive overcoat with large interior pockets that he often wore, this time concealing a pair of horseshoe-nail-pullers. "Blumberg used the tool to remove a lock cylinder, replaced the cylinder with a blank he'd brought with him, then took the boosted cylinder around to locksmiths," Weiss writes. As Blumberg explained, "'It was a Russell and Irwin lock. This key series was restricted in Boston, and I had to go all the way to Montreal before I could get it. I'd tell them I had an apartment building and I wanted to master it. I talked about rentals and problems.' When he finally found the master, he went back to Harvard and replaced his blank. 'After that I went wherever the staff went in--the key worked on all the offices and everything.'"
The FBI, Weiss reports, ended up sending about 11,500 of the books it had seized to Blumberg's father, "there being no hard evidence that they had been stolen. Only about 3,000 could be returned to libraries." Roger Stoddard went to the warehouse in Omaha to attempt to identify books belonging to Harvard. He found 670 of them--valued at $75,185, he said at the trial--but he is certain there were more. Here was a Widener pamphlet binding, recognizably Harvard's even though it had been picked clean of library marks. There was a book on economics from the Kress Collection at the Baker Library in the Business School. Here were many that Stoddard could see were from Harvard's angling collection. They had once belonged to Daniel B. Fearing, mayor of Newport, Rhode Island, in the 1890s, who collected books on fishing and gave them characteristic half bindings of green morocco and marbled boards. "I got interested in Fearing as a person," Blumberg claimed, according to Weiss. "I don't suppose Harvard even cared about Fearing. Widener is like a huge warehouse full of books. They were sort of just down in the basement in the corner and nobody even used them. The paper was acidifying." Today, they are off the open stacks and tucked safely away in the Harvard Depository in Southborough, Massachusetts, a secure storage facility.
The Blumberg case may have had several useful consequences. Perhaps it encouraged libraries to keep a closer eye on their books. Perhaps it alerted law enforcement agencies to the potential seriousness of book theft. Perhaps it helped change how libraries and universities behave when they are robbed.
"In the old days," says Roger Stoddard, "it was the custom at Harvard and everywhere not to acknowledge that a library had been ripped off, not to cooperate with the police, not to prosecute. Suppressing news of a book theft kept your name out of the newspapers and the courts. No librarian wants to be known as a patsy whose responsibility has been compromised by somebody who helped himself to the patrimony. But I don't think it takes any guts today to meet the press and admit that this library has suffered a loss of a thousand books, say, and over here we have Mr. Adams who has been caught with 700 of them, and here we have his book-dealer friend with 300 of them, and we're going to prosecute them. We've changed to a healthy, realistic attitude toward robbery."

Daniel Steiner, the University's general counsel from 1970 to 1992, agrees that the culture has changed, that libraries and universities are more ready than they once were to go after thieves in the courts. He points out that in the case of relatively minor crime, if the offender is a student or member of the faculty or staff, very often the penalty he or she would face in the judicial system is less severe than the administrative penalty Harvard is prepared to hand out. Thus, a student caught shoplifting might be kicked out of Harvard for a time, but little would happen to him in a court. "It's a big deal for Harvard," says Steiner, "but not for the police. They spend their days dealing with murder, rape, wife-beating, and child abuse."
"I feel very deeply that we must be mindful not to set precedents that will lead people to think they can walk all over us," says College librarian Nancy Cline. "We will be well-mannered, but we need to be tough. What's at risk is too great."
"The response of universities to being robbed has changed a good deal," says Sidney Verba, director of the Harvard University Library and Pforzheimer University Professor. "There still is this dilemma--I suppose in connection with any type of crime--of the possibility of contagion: if you tell somebody what another person did, he'll think, 'That was a good idea, why don't I do it as well?' Libraries are always nervous about revealing their vulnerability, but it is important that you do make clear that theft is a really serious crime."
"The seriousness of library theft has reached a point where people agree we've got to start publicizing it and be a lot more aggressive about it," says Lawrence Dowler. "I think the change came about at Harvard in part because of the enormous amount of time spent on the Womack case. Steiner really took it seriously. The University was very supportive through all of that, and we had a number of meetings where we talked about strategy. There was a recognition that it was costing big bucks, a couple of hundred thousand dollars, to try to apprehend this son of a bitch. That doesn't count the time of major people in the University sitting around trying to figure out what in the hell was going on."
Stoddard believes that the change came even earlier, in the early 1980s, when Eva Jonas hit the roof at the Museum of Comparative Zoology. Says Stoddard, "She radicalized us all."

---
Related Pieces
---
Main Menu · Search · Current Issue · Contact · Archives · Centennial · Letters to the Editor · FAQs