Main Menu · Search · Current Issue · Contact · Archives · Centennial · Letters to the Editor · FAQs

The Torres case is by no means an isolated example of theft from Harvard's libraries, but the decade started promisingly with a capture. In 1991, librarians at Harvard and an embattled army of similar folk nationwide celebrated the trial and incarceration of Stephen Blumberg, the book thief of the century, an overachiever in matters felonious, a bibliomaniac of catholic, discerning, edacious appetites. Of the astonishing Blumberg, who has done his time and is out of jail, more later.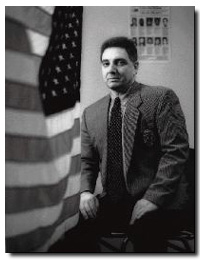 Detective sergeant Richard W. Mederos, head of Harvard's criminal investigation division and a persuasive fellow at an interrogation.
In the '90s Harvard has suffered the attentions not only of Torres, but also of "The Slasher," Stephen Womack, who disemboweled and stole many hundreds of books from Widener Library and libraries at Northeastern University. He came to trial in February 1996. Womack's behavior would shake the binding of any book lover (see "The Slasher").
And consider Daniel Cevallos-Tovar, the alchemist. The FBI arrested Cevallos in January 1995 for stealing more than 280 rare books about alchemy and the occult, most from Widener and a few from the Yale medical library. Cevallos, an attractive, sixtyish man with an amiable personality, had been admitted to the libraries to do research on chemistry and alchemy. Harvard ultimately recovered about 267 books that he had walked off with--thievery that started perhaps as far back as the mid-1970s--among them such rarities as Eirenaeus Philalethes's Des hochgelehrten Philalethae (Vienna, 1748) and Denys de Maubec de Copponay's Traité de l'or potable (Nice, 1681).
Cevallos had his alchemy lab set up in his apartment in Croton-on-Hudson, New York. Mirabile dictu, lightning struck the building and set it on fire. Afterwards, Cevallos moved his stolen and slightly damp alchemy books to a storage warehouse. When he failed to pay storage rent, the owner of the warehouse sold the books at auction. "You could--and many did--buy a carton of seventeenth- and eighteenth-century alchemy books with institutional bookplates for $5 or $10," says Stoddard.
"Buyers began to offer the books for sale, word got to James Wynne, a Rego Park, N.Y., FBI agent in the 'collectibles' department, and he tracked down the buyers and the books. A true hero," says Stoddard. The books were slightly moldy due to the damp. Wynne is allergic to mold and wept bitterly whenever he handled the evidence. The books were fumigated to arrest the mold. Cevallos had disappeared, but the FBI caught up with him eventually when he passed a bad check. Assistant U.S. attorney Bruce Ohr '84, J.D. '87, handled the case. Cevallos was remanded and pleaded guilty to charges of possessing stolen goods. The judge sentenced him to time served--in this case, 136 days--100 hours of public service, and two-years' supervised release.

What motivates the biblioklept? In a 1982 pamphlet, Rare Books and Manuscript Thefts, the Antiquarian Booksellers Association of America propounded a typology of thieves, arranging the specimens in five groups: "(1) the kleptomaniac, who cannot keep himself from stealing; (2) the thief who steals for his own personal use; (3) the thief who steals in anger; (4) the casual thief; and (5) the thief who steals for profit. They come in all forms, male and female, young and old. They can be students, professors, librarians, staff members, janitors, book dealers, collectors, doctors, lawyers, Indian chiefs."
The kleptomaniac "takes books and manuscripts from a compulsion to do so, and is generally ashamed of himself....He needs psychiatric assistance." The thief who steals for himself "steals either for the secret pride of possession or to have the material at hand to use. He feels he has the right to have the books." The thief who steals in anger "harbors a real or imagined grievance against the institution or someone in a management position....He will often destroy the materials he has stolen." The casual thief is "one who steals only because the opportunity presents itself....[He] will probably attempt to sell what he has stolen, but will be awkward and inept at doing so. He is the easiest thief to catch at the point of sale." The thief who steals for profit "is responsible for most major book thefts....He may be a staff member or an outsider. He is likely to be armed with spurious credentials. He is best detected by the fact that he acts in a manner inconsistent with serious research." (See "Student, Teacher, Scholar" for notes on three Harvard insiders.)
An informal survey of 74 public libraries nationwide, reported recently in Library Journal, revealed the three books most likely to be stolen from a public library: (1) The Joy of Sex (and sequels); (2) G.E.D. examination books (to prepare oneself for a high-school equivalency test); and (3) The Prophecies of Nostradamus. From the data one librarian extrapolated a composite library thief--"a high school dropout sitting on a mountainside casting spells and waiting for the end of the world, but having really great sex."
"If only it were that simple," say the survey conductors. Instead, "there are as many motivations for theft as there are thieves." If a person is too poor to buy a book he needs, he may steal it. If a book is out of print and hard to obtain, off it may go for convenience's sake. Academic pressure and competition may drive a student to steal. Embarrassment prompts theft; books about impotency or AIDS are stolen by those unwilling to acknowledge interest in the subject. Fans lift icons, like biographies of Elvis. Certain bibliomaniacs hate libraries because beloved books have been defaced with barcodes and stamps of ownership, and they liberate abused volumes in righteous indignation. Ideologues make trouble by removing books critical of their particular religious or political persuasion, or books promulgating doctrines with which they disagree, or books that contain material from which the public should be protected--nudity, for instance. Thieves and their desiderata are many and various. The result? "Libraries everywhere," say the authors of the report, "seem to be increasingly treated as payment-optional bookstores."
Ralph Coffman, Ph.D. '76, put forward one of the more curious motives for book theft in his defense against charges that he stole from Boston College, where he was head of the rare-books collection. As reported by Art Jahnke in Boston Magazine a decade ago, on September 20, 1986, Coffman loaded several cartons of books into his girlfriend's Jeep, drove to Manhattan, delivered the books to Sotheby's to be sold at auction, and departed. The consignment included 11 incunabula (books printed before 1501), 13 early sixteenth-century volumes, and other treasures. The richness of this trove made the Sotheby's book expert straightaway suspicious. One of the incunabula was a 1480 printing of Saint Thomas Aquinas's Tractatus de Ente et Essentia. The Sotheby's man consulted Incunabula in American Libraries, a widely used catalog giving the whereabouts of all 50,000 known incunabula in the country. The book listed only two copies of the Aquinas, one in the Library of Congress, the other at Boston College. The catalog showed that Boston College owned copies of eight of Coffman's incunabula. The Sotheby's sleuth got out his American Library Association directory, looked up Boston College, and learned that its rare-books librarian was his "private collector," Ralph Coffman. And that, essentially, was that. Coffman was discovered to have stolen many books from Boston College in addition to those he took to Sotheby's. So knuckleheaded were his actions with the auction house that one could credit his later statement that he had wanted to be caught. At Harvard and subsequently he had been a student of Puritanism. When he left his wife of 20 years and moved in with another woman, he suffered a spiritual crisis. In his written confession he declared, "I was asking for punishment for my intense feeling of guilt....This guilt was occasioned by the dissolution of my marriage." The judge gave Coffman three years in jail, 1,000 hours of public service, and psychiatric counseling.

---
Related Pieces
---
Main Menu · Search · Current Issue · Contact · Archives · Centennial · Letters to the Editor · FAQs