Main Menu · Search · Current Issue · Contact · Archives · Centennial · Letters to the Editor · FAQs
---
Back to first page, or see Portrait of the Painter
---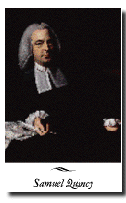 COURTESY MUSEUM OF FINE ARTS, BOSTON. BEQUEST OF MISS GRACE W. TREADWELL
And it is as princes--or more precisely, as pashas--that the Boylston brothers appear in their portraits. Dressed in luxurious silk banyans (or "Indian gowns"), and wearing velvet turbans on their shaven heads, the brothers gaze out at the viewer with the self-confidence born of success. They are presented as gentlemen at ease--but not at leisure, for the ledger books at Nicholas's hand and the inkstand and quill pen at Thomas's are reminders of their mercantile acumen. The ship visible in the background of Nicholas's portrait is a token of the British luxury goods supplied to materialistic Bostonians by the importing firm of Green and Boylston. Although the brothers claimed to be moderates, John Adams described them as "hotspurs all." The march of events--notably the destruction of their brother-in-law's house during the Stamp Act riots of 1765--pushed the Boylstons to endorse Tory positions more vehemently. Angered by the seizure of their ship Wolfe as it entered Boston Harbor in 1769, they declined to sign the nonimportation agreement (a pledge to cease importing goods from Britain) circulated among Boston businessmen that year. As two of the "First Merchants of the Town," their unwillingness to support this boycott was a significant breach in colonial resistance, and caused them to be denounced by Samuel Adams as "enemies of the country."
Copley's image of Samuel Quincy, A.B. 1754, painted about 1767, comes even closer to the heart of the matter, capturing as it does an eminent Tory in public life just before the revolutionary cataclysm. Quincy was an extremely ambitious man, and his aspirations were as much social as professional. His taste for the high life commanded attention even at Harvard. John Adams, a distant cousin, derisively characterized Quincy's college years as preoccupied with social frivolities: "Cards, Fiddles, and Girls, are the objects of Sam....Kissing, fidling and gaming." At the same time, he acknowledged that Quincy had the finest legal mind in Boston. After finishing Harvard, Quincy built a profitable law practice, and served for many years as Boston's solicitor general. He won special acclaim for his brilliant prosecution of the British soldiers involved in the Boston Massacre. Although initially a Whig, by the time Copley painted him, Quincy had begun to travel in the company of loyalists, dining frequently on Cambridge's "Tory Row" (Brattle Street) and doing business with Lieutenant-Governor Thomas Hutchinson. Copley captures both aspects of Quincy's personality in an image that is as disarmingly contradictory as Quincy must have been: the lawyer is shown in his judicial robes and wig, but with a casual pose and debonair half-smile befitting a charming man about town.
By the time Copley painted Boylston and Quincy, he was finding it increasingly difficult to remain free of political taint. Although he worked for an equal number of Whigs and Tories, advocating that "political contests [are] neighther pleasing to an artist or advantageous to the Art itself," his marriage into a prominent Tory family and his pursuit of commissions from representatives of the Crown (notably Governor Francis Bernard, Lieutenant-Governor Hutchinson, and Thomas Gage, commander in chief of the British forces in North America) caused some to view the artist with suspicion. The escalation of tensions in New England, culminating in the Boston Massacre on March 5, 1770, may have encouraged Copley to pursue his career elsewhere for a time. In 1771 he spent seven lucrative months in New York, painting that city's social and mercantile leaders, Whig and Tory alike.
During this period, Harvard College was being pulled in contradictory directions. The Commencement celebration of 1772 was a Tory affair. Among the honored guests were Samuel Quincy and other prominent loyalists, including former Lieutenant-Governor Andrew Oliver, A.B. 1724, and Major John Vassall, A.B. 1757, as well as Hutchinson and Bernard. That event culminated in a ball at the Town House in Cambridge, and a lavish dinner at which many toasts were drunk to the king. At the same time, classes at Harvard were frequently interrupted as students rallied in support of the nonimportation agreement, demanded that their degrees be printed on American paper, and pledged to wear homespun suits (rather than clothes of English fabric). President Holyoke, a Tory, died in 1769 and was succeeded first by acting president John Winthrop, A.B. 1732, a patriot activist whose devoted students included James Otis, Samuel Adams, and John Hancock. Winthrop served again as acting president after the brief term of Samuel Locke, A.B. 1755, and was followed by Samuel Langdon, A.B. 1740, the secretary of the Portsmouth, New Hampshire, Sons of Liberty. When John Hancock was named treasurer of the College in 1773, Harvard became even more a patriot enclave.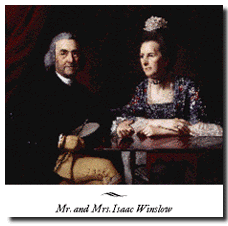 COURTESY MUSEUM OF FINE ARTS, BOSTON. M. AND M. KAROLIK COLLECTION OF EIGHTEENTH CENTURY AMERICAN ARTS
That same year, Copley was hired by his wife's uncle to paint what would prove to be his last great Boston portrait (he left for England in June of 1774). The painting, of Mr. and Mrs. Isaac Winslow, is a poignant reminder of pre-Revolutionary aspirations and values, and of the harsh price exacted for partisanship.
Isaac Winslow, A.B. 1727, was Nicholas Boylston's contemporary and his near equal in wealth and love of material goods. He established his taste for luxury as a student at Harvard, ordering up rare delicacies to supplement the regular College menu and--as might be expected of the son of one of Boston's most renowned silversmiths--paying his hefty term bill with two silver spoons and a necklace of gold beads.
Upon graduation, Winslow took a post at the counting house of James Bowdoin, where he prospered; in 1756, a large inheritance enabled him to retire to one of the most elegant mansions in Roxbury. He began living the life of a country gentleman and, shortly after his marriage to the much younger Jemima Debuke of Boston, hired Copley to paint a portrait commemorating their union. Her elegant, and exceedingly expensive, gown of English floral silk and lace underscores her status as the first lady of Roxbury. But rather than also appearing in formal dress, Winslow chose to be shown in riding costume, complete with a jockey cap, high boots, and a riding crop, seated in a simple green Windsor chair at a rather old-fashioned gate-leg table. The vogue for painting men in riding habit was just beginning to take hold in England, and by appearing in such attire, Winslow shows his acute awareness of contemporary styles. At the same time, he enacts the role he had enjoyed for more than a decade: that of a country squire, for whom riding was one of many outdoor pleasures, and who took satisfaction in the time spent among the familiar, worn, and comfortable accessories of his household.
While sacrificing nothing to fashion, Winslow's portrait pays tribute to his noble character and suggests the kind of tolerance and openhandedness he had long exhibited toward his Roxbury neighbors. He gazes toward the viewer with a genial expression, while his wife leans deferentially toward him. Their hands create a hospitable sequence: her left hand is near his, which reaches out in a welcoming gesture. He is clearly the more public member of the family, yet husband and wife are shown as partners, with tenderness and affection legible in the harmonious interplay of their hands.
Though he had resisted political office for many years, Winslow, like many men of his station, was nominally a loyalist. But the Boston Tea Party may have goaded him into taking a stand, for his brother-in-law and a nephew were among the consignors of the tea that was dumped into the harbor. In August 1774, Winslow reluctantly accepted an appointment to the Mandamus Council (the governor's cabinet), a decision that quickly proved ill-advised. His Roxbury neighbors, ignoring Winslow's years of philanthropy, derided him as "Farmer" Winslow, forcing him to publish an apology in the Massachusetts Gazette and to resign his seat. In the spring of 1775, the Winslows sought protection in Boston. Shortly thereafter, their mansion was burned to the ground, and in March 1776 they left for Nova Scotia with the British army, hoping to resettle in England. Winslow died en route, but his widow eventually made her way to London, taking the portrait with her.
There she discovered many of Boston's loyalists already in residence ("America seems to be transplanted to London," one of them exulted), and she sought a place in expatriate society as prominent as that she had enjoyed at home. Despite--or perhaps because of--recent events, her identification with the British aristocracy remained unshaken; she undoubtedly hoped her Copley portrait would promote her as a woman of great taste and sophistication, as it had in Massachusetts. But she soon realized that the delicate rococo style of her dress, although still in vogue in Boston, had been supplanted in London by the more austere neoclassical style. Eager to remain in the vanguard of fashion, in the early 1780s she hired a painter (not Copley, even though he was established in London by then) to change her by now passé floral silk gown to a simple gray-green dress more in accord with emerging neoclassical taste.


COURTESY MUSEUM OF FINE ARTS, BOSTON. M. AND M. KAROLIK COLLECTION OF EIGHTEENTH CENTURY AMERICAN ARTS
Jemima Winslow's makeover remained a secret for nearly 200 years. But recently, conservators at Boston's Museum of Fine Arts discovered the changes and began the painstaking work of scraping off the second dress, paint flake by paint flake. In 1995, they completed a second campaign, to remove a pink glaze applied over the dress to mask the bold floral pattern beneath, and to reclaim the gauzy 1770s headpiece hidden beneath the 1780s braid. Copley's work has thus been restored so that the painting again appears as it did before the Revolution, and before the Winslows' lives were irrevocably changed.
Like the Winslows, many other Harvard Tories paid heavily for their politics: Nicholas Boylston died in 1771; his estate, including the School Street mansion and the Copley portraits, was divided between Thomas and their sister Rebecca, a Whig. Thomas, forced to flee to England, spent the next decade vainly trying to reclaim his inheritance, which the Revolutionary government had confiscated. Samuel Quincy, whose "love of pomp and gaiety" caused his Whig friends to believe that he had "sacrificed his principles," was banished from Boston in 1775 for having "joined the enemy." On a night of violence throughout the town, his "house [was] broke and great Destruction"; his mahogany tables were used as chopping blocks, his plate stolen, and his law library, which he had intended to present to Harvard, confiscated. His wife, who remained a committed Whig, was forced to seek refuge in her brother's home in Cambridge. Quincy never saw Massachusetts again.
The Revolution affected not only Harvard's graduates, but daily life at the College as well. Public commencements, with their solemn pomp and extravagant festivities, were suspended in 1774, not to resume until 1782. A riot ensued in March 1775 when the College's few remaining Tories brought tea into commons in defiance of the pledge to abstain from that beverage. And by that fall, the student body had been evacuated to Concord, and most of Harvard's Tory neighbors had fled--the Vassall House, hastily abandoned, became George Washington's headquarters, and the Ruggles/Fayerweather House, one of the finest mansions on Tory Row, was turned into a hospital for the Continental Army. After the battle of Bunker Hill, the Tories of Harvard, like those around town, had all but disappeared. Only Copley's grand portraits, witnesses to a more sanguine era, preserve their images for us.
---
Carol Troyen is associate curator of American paintings at the Museum of Fine Arts, Boston.
---
Main Menu · Search · Current Issue · Contact · Archives · Centennial · Letters to the Editor · FAQs