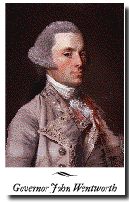 HOOD MUSEUM OF ART, DARTMOUTH COLLEGE. GIFT OF MRS. ESTHER LOWELL ABBOTT, IN MEMORY OF HER HUSBAND, GORDON ABBOTT

In May 1769, during the riots following the passage of the hated Townshend Acts, a Cambridge mob stormed Harvard Hall and cut the heart out of the portrait of Governor Francis Bernard that was hanging in the dining room. John Singleton Copley, author of the portrait and Boston's premier painter, was called in to repair the damage. His efforts won him few friends in the patriot press: "...our American limner, Mr. Copley, by the surprising art of his pencil has actually restored as good a heart as had been taken from it; tho' upon a near and accurate inspection, it will be found to be no other than a false one." That as seemingly neutral an act as repairing a painting could be seen as traitorous is symptomatic of that anxious age, and typifies the tribulations endured by Copley and his Tory clients in the years before the American Revolution.

Copley had long enjoyed the patronage of Harvard College. During his 20-year career in Boston, he painted more than 40 Harvard men, as well as such benefactors of Harvard as Thomas Hancock and Thomas Hollis, whose stern likenesses still intimidate the diners in Winthrop House. About 1760, when he was little more than 20, Copley was chosen to paint the Reverend Edward Holyoke, who had served as Harvard's president since 1737; by the middle of the decade he had become the painter of choice for many of the College's most illustrious graduates, both Whig and Tory. But although in our own day Copley's likenesses of Harvard's patriots--Samuel Adams, Joseph Warren, John Hancock--are familiar from museum displays, history texts, and even beer bottles, his images of Harvard's Tories are little known. Had events taken a different course, we might know the faces of Nicholas Boylston, Samuel Quincy, and Isaac Winslow as well as we do those of Hancock and Adams.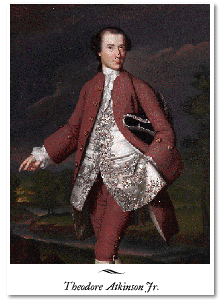 MUSEUM OF ART, RHODE ISLAND SCHOOL OF DESIGN. JESSE METCALF FUND. PHOTOGRAPH BY DEL BOGART

Whatever their politics, Copley's subjects sought portraits that advertised their material success and their desire to emulate the English nobility. The artist obliged by copying poses and settings from portraits of British aristocrats, and by rendering, with astonishing realism, the costly imported velvets and silk damasks of his clients' clothes and the rich mahogany of their furniture. Consider, for example, young Theodore Atkinson, A.B. 1757, one of his first subjects, who celebrated his graduation with a dashing portrait. Atkinson's white silk waistcoat is adorned with the finest English needlework; his grand estate is suggested by the sylvan landscape behind him, and his cross-legged pose was beloved of English painters for its ability to connote aristocratic ease.

The self-confidence Atkinson exhibits in his portrait reflects the relatively placid time in which it was painted. But even as political tensions heightened in the more tumultuous 1760s, Copley's portraits rarely express the uneasiness of the age. Rather, his subjects appear comfortable and composed, as though the portraits could guarantee stability and continuity in the face of extraordinary social disruption. Material display continued to be of paramount importance. The pale gray silk suit, adorned with silver embroidery, worn by John Wentworth, A.B. 1761, was at the height of fashion when he sat for Copley about 1769, shortly after the king appointed him royal governor of New Hampshire. But events overtook the portrait's controlled mien. Wentworth was known for his benevolent governance and sympathy for his constituents' sufferings under the heavy taxes (on tea, glass, lead, paper, and paint) imposed by the Townshend Acts and other harsh edicts of Parliament. Nevertheless, he was, like most other loyalist officials, driven from the colonies and forced to spend his remaining years in exile.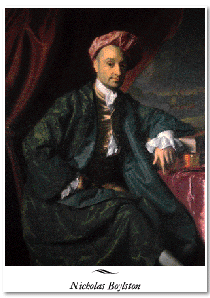 COURTESY OF THE HARVARD UNIVERSITY PORTRAIT COLLECTION. BEQUEST OF WARD NICHOLAS BOYLSTON, 1828
Copley's Tory portraits thus stand as monuments to distinguished careers and a style of life irrevocably lost. Nowhere is this more evident than in one of the most prestigious commissions of the painter's career. Nicholas Boylston was among Boston's most successful merchants and a major benefactor of Harvard: his £1,500 bequest established the Boylston professorship of rhetoric and oratory. In 1766, Boylston hired Copley to paint six portraits (of himself, his younger brother Thomas, their three sisters, and their mother) to grace the hall of the magnificent family mansion in School Street. The grandeur of that house astounded puritanical John Adams, who dined there in 1766:
An elegant Dinner indeed! Went over the House to view the Furniture, which alone costs a thousand Pounds sterling. A Seat it is for a noble Man, a Prince. The Turkey Carpets, the painted Hangings, the Marble Tables, the rich Beds with crimson Damask Curtains and Counterpins, the beautiful Chimny Clock, the Spacious Garden, are the most magnificent of any Thing I have ever seen.