---
---

Treasures from the exhibit Worlds Within Worlds: The Richard Rosenblum Collection of Chinese Scholars' Rocks, at the Sackler in May. COURTESY OF THE RICHARD ROSENBLUM COLLECTION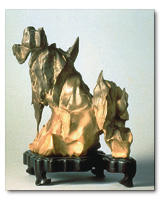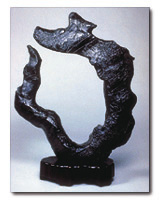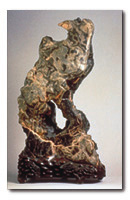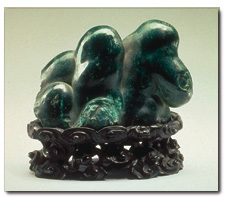 SPECIAL. The fifth annual Arts First festival blooms May 1-4, with more than 2,000 undergraduates performing and exhibiting creative work in more than 223 events. Bonnie Raitt '72 (see The Alumni) receives the Harvard Arts Medal as part of the celebration. Call (617) 496-8699 for details.
In addition to Lilac Sunday, on May 18, the Arnold Arboretum hosts free monthly tours, featuring dogwoods and lilacs on May 24, and roses and mock oranges on June 28. For details about these and other programs, call 524-1718.
THEATER. George Bernard Shaw's Man and Superman opens May 9 at the American Repertory Theatre and runs until June 8. For further information, call 547-8300.
MUSIC. The first Arts First concert is a performance of Bach's Mass in B Minor by the University Choir and Harvard Baroque Chamber Orchestra, May 2 at 8 p.m. in Memorial Church. Call 496-2663 for tickets. Arts First also presents a concert of Mendelssohn, Brahms, and Schubert by the Harvard Glee Club, Radcliffe Choral Society, Harvard-Radcliffe Collegium Musicum, and Harvard-Radcliffe Orchestra, May 3 at 8 p.m. in Sanders Theatre. Call 496-2222 for tickets.
The Memorial Church hosts late-night organ recitals on May 7, with members of the Harvard-Radcliffe Organ Society, and May 14 with Yale University chapel organist Carol Williams. Both concerts are at 10 p.m. Call 495-4544 for more information.
The Collegium Musicum Chamber Singers perform May 10 at 8 p.m. in Adolphus Busch Hall. Admission by donation. Call 495-5730 for information.
The Glee Club offers a "Farewell to Cambridge" concert, June 1 at 3 p.m. in Sanders Theatre. Call 496-2222 for tickets.
On June 3 at 8 p.m. in Sanders Theatre the Harvard Din & Tonics, Harvard-Radcliffe Callbacks, Harvard Krokodiloes, Harvard-Radcliffe Opportunes, Harvard-Radcliffe Veritones, and Radcliffe Pitches perform in Grad Jam, the annual Commencement week a cappella jamboree. Call 496-2222 for details.
EXHIBITIONS. At the Fogg, From Lowlife to Rustic Idyll: The Peasant Genre in Seventeenth-Century Dutch Drawings and Prints closes June 22. Remaining on view are Fragments of Antiquity: Drawing upon Greek Vases; The Art of Identity: African Sculpture from the Teel Collection; Investigating the Renaissance; Sublimations: Art and Sensuality in the Nineteenth Century; France and the Portrait, 1799-1870; Circa 1874: The Emergence of Impressionism; and The Persistence of Memory: Continuity and Change in American Cultures. Opening at the Sackler are Worlds Within Worlds: The Richard Rosenblum Collection of Chinese Scholars' Rocks, on May 10, and Shadows of God on Earth: Arts of the Ottoman, Safavid, and Mughal Dynasties, on June 21. "Sewn Together by Peace of Mind": Islamic Album Pages from Harvard's Collections closes June 8. Severan Silver Coinage, Coins of Alexander the Great, and Rocks, Mountains, Landscapes, and Gardens: The Essence of East Asian Painting remain open. At the Busch-Reisinger, works by contemporary artist Günter Umberg go on display on May 31. For further information, call 495-9400.
Call 495-3045 for information about ongoing Museum of Cultural and Natural History exhibits.
FILM. On May 1, at 8 p.m., Arts First and the Harvard Film Archive screen A Perfect Candidate, a documentary about the 1994 Virginia Senate race between Oliver North and Charles Robb, produced and directed by R.J. Cutler '83 and David Van Taylor '83 (see "The Browser," July-August 1996). For more information, or a complete schedule for the Harvard Film Archive, call 495-4700.
LECTURES. The Harvard-Smithsonian Center for Astrophysics sponsors an observatory night on May 15, with a lecture on "Astronomy in the Time of Leonardo da Vinci." Call 495-7461 for details, or 496-star for a recorded guide to the night sky.
---
A detailed weekly calendar appears regularly in the Harvard University Gazette
---
Main Menu · Search · Current Issue · Contact · Archives · Centennial · Letters to the Editor · FAQs