Main Menu · Search ·Current Issue ·Contact ·Archives ·Centennial ·Letters to the Editor ·FAQs



In this issue's Browser section:
Bolts from Olympus - Chapter & Verse - Open Book: Death of a Bulldozer Dean - Off the Shelf - Inner Metronome
---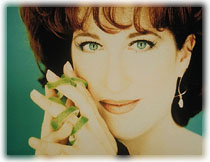 Kitty Margolis has durée. COURTESY MAD KAT RECORDS
Inner Metronome
According to French philosopher Henri Bergson, each of us has a personal, internal sense of time that he calls durée. Jazz vocalist Kitty Margolis '77 has durée, and then some. She handles time the way a sculptor does clay, stretching it into unexpected forms, reinventing songs that were once familiar standards. On Margolis's third CD, Straight Up with a Twist, she makes good on her title by twisting familiar things like Rodgers and Hammerstein show tunes in original directions with syncopation, layers of crosscutting rhythms, international influences, and some surprising jazz arrangements.
Her special take on "Getting to Know You" from The King and I, for example, opens with an exotic flourish of mouth sounds inspired by African polyrhythms and Congolese Pygmy trumpets, and closes on a passage of African percussion. In between, Margolis's full, rich voice draws out a dreamy, slowed-down version of a song that's usually done in a bouncy, springtime tempo. On Rodgers and Hart's "My Romance," Margolis again goes against the grain, but the other way: she transforms a song almost universally interpreted as a wistful ballad into an upbeat love song that culminates in a joyful burst of scat.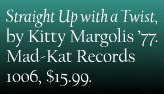 Margolis can stretch out time like taffy, pulling her phrases against the underlying rhythms in a tension that conflates the hypnotic with the erotic. The best example of this comes in her languid, seductive rendition of another standard, Lewis and Coots's "For All We Know," which she brings down to an achingly slow pace, drawing out and caressing her syllables in a way that maddeningly teases the listener--to great effect. A lovely muted trumpet solo by rising jazz star Roy Hargrove nicely sets off the honey in her voice.
Not the kind of vocalist who sings "in front of" a band, Margolis began as a guitar player and now performs very much as part of an ensemble, her voice one of the instruments. While at Harvard, she sang with a Western swing band in the Boston area, but eventually returned to her native California and completed her college degree at San Francisco State University. Still based in San Francisco, she has produced CDs on her own independent label (Mad-Kat) and launched her own web site ("http://www.kittymargolis.com") while touring internationally. A Down Beat critics' poll has cited her as "talent deserving wider recognition" three times in the last four years. The new CD may draw some of that wider audience, and her many fans would say it's about time. We would say, it's about durée.
~ Craig Lambert
---
Main Menu · Search ·Current Issue ·Contact ·Archives ·Centennial ·Letters to the Editor ·FAQs