Main Menu · Search ·Current Issue ·Contact ·Archives ·Centennial ·Letters to the Editor ·FAQs



---
For more alumni web resources, check out Harvard Gateways, the Harvard Alumni Association's website
---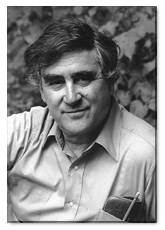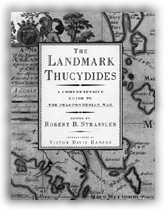 Strassler and his work. CLEMENS KALISCHER
A Modern Athenian
"Our public men have, besides politics, their private affairs to attend to, and our ordinary citizens, though occupied with the pursuits of industry, are still fair judges of public matters...." So Pericles describes the Athenian character in the first funeral oration of the Peloponnesian Wars, as chronicled by Thucydides. This characterization might well apply to Robert B. Strassler '59, M.B.A. '61, who has edited a new edition of this classic, The Landmark Thucydides.
Strassler has actually been "occupied with the pursuits of industry" for most of his adult life, going into business with his father and brother first in oil-field equipment, then in securities management. In his time out of the office, he participated in many "public matters," from fighting fires on the local Alford, Massachusetts, volunteer fire department to chairing the Aston Magna Foundation for Music and the Humanities.
But it was another interest that led him to produce a new Thucydides. Since 1976, Strassler has been affiliated with Simon's Rock College of Bard, where the provost asked him to teach a course on ancient Greek history. "Naively," he says, he agreed; he calls it the proverbial situation in which the teacher learns more than the pupils. Strassler soon found that students who could handle other classical writers capably were foundering on Thucydides' prose and realized that the editions available were the problem. They "looked like Russian novels," he says, "and had bare-bones translation, and poor appendices and maps."
Strassler sought a more reader-friendly Thucydides, but was hardly the obvious choice to compile one: he had no Ph.D., and he was serving as chairman of the board of Integrated Loan Services. But some academic legitimacy accrued from his publication of two articles in the Journal of Hellenic Studies about the strategic impact of the location of the harbor at Pylos, and so he wrote a detailed set of specifications for an edition with elements to help readers navigate the text, including a time-line, maps, informative appendices, an index, and running page-headers noting the season and year.
Ultimately, the business career that made Strassler an improbable scholar enabled his scholarship. He tried a dozen publishers unsuccessfully and enlisted the help of a literary agent; finally The Free Press accepted his proposal. His independent income allowed him to meet the publisher's financially demanding conditions: he received no advance and had to submit camera-ready copy, which placed "the lion's share of the production costs" on him. Although Strassler the businessman estimated the project would take two years, Strassler the editor required seven.
The "unaffiliated scholar" used the classic Crawley translation of Thucydides, working himself in English, since, he explains, "I know a little Greek. But my B-School training helped: I had no problem delegating." He enlisted the services of experts on the text and the period to advise him and write appendices, all of which, he says, are "little gems that read like essays--clear and compressed." In businesslike fashion, Strassler kept all these relationships on a paid professional level, so that "I could reject things or ask for more." He wrote one of the appendices himself and asked his daughter, Karen, to act as the model "educated modern reader" for whom the book was conceived, and read for awkward places in the text.
Indeed, Strassler wants any thoughtful reader to be able to understand and enjoy Thucydides' chronicle. He began to cherish such intellectual independence during his College days, when he arranged for an individual tutorial with classics instructor George Nadel, Ph.D. '55. The two met in Nadel's Lowell House quarters for three hours weekly to discuss Strassler's papers and his reading. The tutorial and the challenge of grappling with the texts independently proved to be, in Strassler's words, "the most productive, provocative educational experience I had at Harvard."
~Miriam Udel Lambert
---
Main Menu · Search ·Current Issue ·Contact ·Archives ·Centennial ·Letters to the Editor ·FAQs