Main Menu · Search ·Current Issue ·Contact ·Archives ·Centennial ·Letters to the Editor ·FAQs



---
For more alumni web resources, check out Harvard Gateways, the Harvard Alumni Association's website
---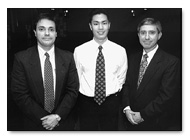 Rescuers D'Agostino, Yueh, and Gotgart.WILLIAM B. PLOWMAN
Saving Dom Savio
It had the makings of an urban tragedy: the last Catholic high school in East Boston, the Salesian-run St. Dominic Savio, was headed toward extinction. Disappointment was especially high among parents of Savio students and local residents who considered the school an integral part of the community. One parent told the Boston Globe, "It's a family spirit in the school. Here we have 260 perfectly happy young men and we are turning their lives upside down. We say we care about our young people but our actions sometimes don't really reflect that." Said another, "People are upset because we live in the city and rely on Catholic schools for our children to get a better education than the Boston public schools provide." Although concerned students, alumni, and community members rallied in protest, school officials announced in mid January 1993 that the 35-year-old institution would close in June, due to the dwindling number of Salesians.
Undaunted, Savio alumni Peter Bagley, Chuck Famolare, and Ed Gotgart '68, Ed.M. '75, took on the mission of keeping the school alive. An ad hoc committee, the Board of Trustees to Save St. Savio, was formed, money was raised, and alumni offered to volunteer as teachers or administrators. All this, and a good amount of "tough negotiating with the Salesians," says Gotgart, led to a successful resolution. Just months after the school was originally slated to close, Dom Savio opened its doors for another school year with a new name, Savio Preparatory High School.
With the new identity came a new vision of education. Savio Prep became coeducational in 1994 and considers itself an independent Catholic school. According to Gotgart, Savio Prep's executive director until this spring, when Boston University recruited him to set up a residential charter school, "strong and effective marketing and telling our story" represent the most important shifts in the administrative agenda. And the efforts are paying off, he asserts: "We have proven that the transition from a Catholic school to an independent Catholic school can be very successful--enrollments are up, interest is high, and graduates are doing well."
Gotgart, who has rejoined the board of trustees, believes the school's renewal is due in part to the fact that "the Harvard connection is alive and well at Savio." Former faculty members include John Hamel '94 and Gregory Babineau '96, who taught science and Spanish, respectively. This year, Jedidiah Yueh '96 is teaching psychology, creative writing, and algebra, and Bard Keeler, A.L.B. '95, is teaching history. Frank D'Agostino '88, who took a career turn from lawyer to educational administrator, is currently the school's development director. "I've always had a fondness for the school, and I wanted to have a part in its success," D'Agostino says. "It's become a passion of mine. The Salesians trained us and now we are coming back to run it, passing the torch."
Paul Mrockowski '00, the first Savio Prep graduate to be admitted to Harvard, echoes D'Agostino's respect and affection for the school. "Savio had the feeling of intense comradeship I doubt I could have felt anywhere else," he says. "It was this familial feeling that made the hours of commitment to academics and athletics go by so much faster." Mrockowski, from Lynn, was a freshman when Dom Savio's closure was announced; by remaining at the school he experienced the transition first-hand. He feels that the new Savio places a greater emphasis on getting students into top schools (former classmates are now at MIT, Duke, and Penn), thus creating an academic atmosphere that exceeded Dom Savio's. Mrockowski adds, "When the Salesians left, they left a gap in the fabric of the community that seemed to be unfillable at the time. However, the alumni who were so dedicated to keeping the school open continued their obligation to Savio by filling teaching and administrative positions with people like Ed Gotgart, whom I consider a great influence on my life."
Gotgart himself predicts that "Savio's future is indeed bright. At a time when inner-city Catholic schools are closing, we think it is encouraging for others to hear about a group of committed individuals who are taking a stand and making a difference for young people."
~Fabian Giraldo
---
Main Menu · Search ·Current Issue ·Contact ·Archives ·Centennial ·Letters to the Editor ·FAQs