Main Menu · Search ·Current Issue ·Contact ·Archives ·Centennial ·Letters to the Editor ·FAQs



---
For more alumni web resources, check out Harvard Gateways, the Harvard Alumni Association's website
---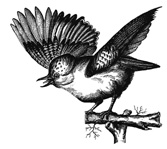 Not the Average Philosopher
For 20 years my work as a Harvard chaplain was nourished by the new world view of Charles Hartshorne, the Harvard-educated philosopher and scientist described by Encyclopaedia Britannica as "the most influential proponent of a 'process philosophy' which considers God a participant in cosmic evolution." This is the year to light 100 candles to celebrate his life and thought, for he will observe his centennial on June 5.
Hartshorne no sooner left the army after World War I than he promptly earned, year after year, three Harvard degrees: A.B. 1921, M.A. 1922, Ph.D. 1923. This may be a University speed record. Graduate students may be surprised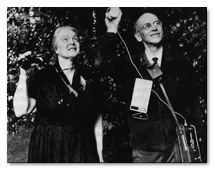 Philosopher and ornithologist Charles Hartshorne and his wife, Dorothy, recording bird songs at their home, 1961.

to learn that he wrote his 300-page doctoral dissertation, "The Unity of Being in the Divine or Absolute Good," in 35 days. (That ability to focus may help explain his legendary absent-mindedness: a favorite anecdote has him finishing a sidewalk chat with a student, midway between his home and his University of Chicago office, and asking, perplexedly, "Do you remember which way I was heading?")

After two years of Harvard-funded travel in Europe, Hartshorne became an instructor in philosophy, responsible for teaching a course, assisting Alfred North Whitehead, and tackling one other project. The department assigned him the appalling task of putting in order the roomful of jumbled manuscripts comprising the intellectual estate of Charles Sanders Peirce, founder of this country's most distinguished philosophy, pragmatism. Hartshorne turned the material into The Collected Papers of Charles S. Peirce. The six-volume set clearly revealed why William James and Josiah Royce regarded Peirce as "America's greatest mind."

But Hartshorne is much more than a distinguished footnote to Peirce. Volume 20 of The Library of Living Philosophers is entitled The Philosophy of Charles Hartshorne, putting him in the company of Einstein, Russell, Sartre, Buber, and fellow Harvardians Whitehead, Santayana, and Quine. When I congratulated him on being selected for the library's pantheon, he exclaimed with a smile, "The secret of my success is longevity."

A truer secret of his success may be that he is the foremost living exemplar of a great new tradition created by a group I call the Harvard Square philosophers. Peirce, James, Whitehead, William Ernest Hocking, and Hartshorne share a unique vision of reality as social process.

The Harvard Square philosophers have created a new synthesis of knowledge far surpassing the medieval synthesis of Thomism and the modern synthesis of Spinoza. God is viewed not as a supernatural force breaking abruptly into history, but as the cosmic life of which our lives are a part. God is both humanity's endless source of joy and the cosmic sufferer who shares our pain. When we die, there is no endless heaven or hell to which we are consigned: the contribution that our lives have made continues in the ongoing, deathless divine life. In this new cosmology, all creatures have some measure of free choice. The future is always, to some extent, open. Creativity is the very essence of our well-ordered world and our everyday experience.

Hartshorne's contributions to this synthesis include what the Britannica calls "the definitive analysis" of panentheism (literally, "all in God"): "For Hartshorne, God includes the world even as an organism includes its cells, thus including the present moment of each event. The total organism gains from its constituents, even though the cells function with an appropriate degree of autonomy within the larger organism."

Not only eminent secular scientists and philosophers, but distinguished Protestant, Catholic, Jewish, Muslim, Hindu, and Buddhist thinkers esteem Hartshorne's work. Nor is their praise restricted to purely theoretical considerations. Recent scholars have declared that no philosopher has focused as profoundly as Hartshorne on the concepts involved in the ecological crisis, and that his work has important implications for bioethics. Other scholars praise his breadth--he has been called one of the few great Western philosophers to discuss and debate Eastern systems and ideas as philosophy. And still others are astounded by his energy and by his contribution both to philosophy and to natural science.

Hartshorne's life was changed when, at the age of 16, he bought a pocket-sized songbird guide and a three-power field glass. His first boarding-school essay was on bird-watching. Thanks to years of travel, for teaching and birding, in Europe, Australia, India, and Japan, the philosopher has earned an international reputation as an ornithologist. He has discovered that birds sing not only to win mates and protect territory but also to experience the sheer pleasure of singing. His work indicates that some species sing not just one but 50 or more songs or phrases, and that some birds vary their songs for hours on end. He suspects he may be the first person since Aristotle to interpret philosophy in relation to ornithology, and when I last spoke with him, he startled me by declaring, "I think my great book is Born to Sing: An Interpretation and World Survey of Bird Song."

I once asked Dorothy Hartshorne, her husband's superb editor over the years, to summarize his philosophy. "Love," she said, "is the guiding principle of all life....all living organisms have at least an infinitesimal amount of freedom and responsibility....[W]e can consider a human life as being like a story, with a beginning, a middle, and an end. When we close the book, the story does not disappear. It continues, and likewise our contribution to others becomes a part of God's life that goes on and on."
---
Herbert F. Vetter, Div '50, is the former minister-at-large of First Parish Church in Harvard Square.
---
Main Menu · Search ·Current Issue ·Contact ·Archives ·Centennial ·Letters to the Editor ·FAQs