Main Menu · Search · Current Issue · Contact · Archives · Centennial · Letters to the Editor · FAQs
---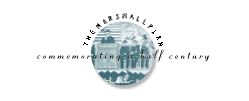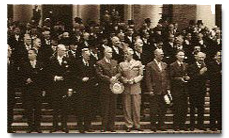 Marshall with President Conant and fellow honorands (from his left) Bradley, Wadsworth, Oppenheimer, Richards, and Eliot, before his speech.HARVARD UNIVERSITY ARCHIVES
George Marshall's Harvard speech got thin coverage in the press, and the few reporters who saw its news value received scant support from their superiors and the Department of State.
The late Stephen White '36, then an editorial writer for the New York Herald Tribune, was the only out-of-town newsman to cover the speech--and that was a bit of a fluke. In a casual breach of institutional secrecy, J. Robert Oppenheimer had confided to White, an old friend, that he was going to receive an honorary degree at Harvard in June. "You ought to come," said Oppenheimer, adding that on the evening before Commencement he would be dining "with Jim Conant, George Marshall, and T.S. Eliot."
White arranged to attend the exercises. "Since the Trib was paying my way, I felt an obligation to file some kind of story," he recalled in a private account written 40 years later. "Wandering into the University's press room, I asked who was to be the principal speaker. Marshall. I asked for a copy of his speech. It was duly produced. I asked if there was anything in it. 'Nothing of any importance,' I was told. 'A routine commencement speech.'
"I then sat down, read the speech, [and] proceeded immediately to a telephone, where I called George Cornish, managing editor of the Trib. 'General Marshall,' I said, 'has just offered to rebuild all of Europe, including the Soviet Union. I'll file full text right away, and a story after I hear the speech.'
"'Hold on,' George said. And then, 'Call me back in about half an hour.' Which I did.
"I was told that George had called Tom Twitty, who covered State for the Trib; that Tom had called Mike McDermott, press spokesman for State; and that Mike had assured him that the speech was merely a routine commencement address and hardly worth our attention. Under the circumstances, said George, I needn't bother filing full text--routine coverage was all that was called for. I remonstrated as forcefully as I could, until finally George yielded somewhat. Write as much as you want, he said, and quote as extensively as you need to. But no full text.
"I left the phone and went back to the Yard. There I ran into Frank Kluckhohn, the Boston bureau man for the New York Times. 'You will never believe what just happened to me,' he said. What had happened to him was, stroke for stroke, precisely what had happened to me. State had told the Times, too, that there was no story.
"Later that afternoon I ran into the Associated Press man, and asked to see his 'black sheet'--the carbon of the story he had filed. The first paragraph reported that President Conant had announced a massive fund drive. The second paragraph expatiated on the first. The third paragraph reported that General George C. Marshall also spoke, among others."
The lead paragraph of White's story stated that Marshall had proposed a program to rebuild Europe. The next day the Times ran a brief follow-up headlined "Mr. Marshall's Hint." Both the Times and the Tribune published Marshall's full text some days later.
White concluded in retrospect that the strategy of Marshall and his State Department advisers had been to dodge the kind of publicity that might beget hostile reaction in Congress. "And if that's what they wanted," he wrote, "that's what they got."
The most enterprising job of coverage was done by the British Broadcasting Company and its Washington correspondent, Leonard Miall. On the eve of Commencement, Miall subbed for news analyst Joseph C. Harsch on "American Commentary," a regular BBC feature. Having procured an advance text of Marshall's speech from the State Department that day, Miall recorded excerpts to be broadcast from London the following evening. Tuning in at 10:30 p.m. on June 5, British Foreign Secretary Bevin thought at first that he was hearing the speech live.
Because the British embassy in Washington had forwarded a summary of the Marshall proposals by surface mail, the BBC gave Bevin a head start in laying the groundwork for a unified European response.
~J.T.B.
---
Related Stories:
A Speaker and a Symposium
---
The roundel at the top of this page reproduces a detail from a Sicilian depiction of Marshall delivering his Harvard address. The original painted panel formed part of a handmade cart presented to Marshall by the people of Sicily in 1951.
---
Main Menu · Search · Current Issue · Contact · Archives · Centennial · Letters to the Editor · FAQs