Main Menu · Search · Current Issue · Contact · Archives · Centennial · Letters to the Editor · FAQs
---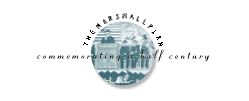 Commencement speaker Madeleine K. AlbrightAP PHOTO/MICHEL SPINGLER
Fifty years to the day after George C. Marshall spoke at Harvard, a successor--the nation's first female Secretary of State, Madeleine K. Albright--will be the principal speaker at the afternoon exercises on Commencement Day, June 5.
During Commencement Week, on June 3 and 4, Harvard will host an international symposium on "Retrospect and Renewal: U.S.-European Cooperation Fifty Years after the Marshall Plan," featuring discussions by scholars and public figures about the history of the plan and its implications for issues of development and international relations today.
On June 3, a panel discussion entitled "Remembering the Marshall Plan" will reunite participants from the era who will respond to questions from a group of historians and political scientists. (This event is by invitation only.)
The events on Wednesday, June 4, which are free and open to the public, focus on "Retrospect and Renewal." A morning panel, "Fostering Global Prosperity: Lessons from the Era of the Marshall Plan," will focus on the international economy. In the afternoon, a second panel will discuss "U.S. Leadership, International Security, and Democratization."
---
Related Stories: