Main Menu · Search · Current Issue · Contact · Archives · Centennial · Letters to the Editor · FAQs
---
In this issue's John Harvard's Journal:
Fiscal Fitness - Curricular Reform, More and Less - Internet Spoken Here - Limits to Growth? - Harvard Portrait: Lawrence Bobo - "A Cornerstone of Our Thinking" - Flying the New Coop - Brevia - The Undergraduate - Chosen People - Sports
---
Bunting in 1972. Photograph by Rick Stafford
"A Cornerstone of Our Thinking"
Mary Ingraham Bunting-Smith, LL.D. '73, fifth president of Radcliffe College, died January 21. She was a powerful advocate for the full participation of women in the University: her presidency, from 1960 to 1972, saw the Radcliffe Graduate School merge with Harvard's Graduate School of Arts and Sciences, all programs at Harvard Business School open to women, and Radcliffe students receive Harvard degrees for the first time. She introduced a House Plan at Radcliffe, emulating Harvard's, that included the construction of Hilles Library and of new dormitories housing both tutors and students, and took steps to bring Harvard and Radcliffe Colleges closer together. In 1961 she founded the Radcliffe Institute for Independent Study, now the Bunting Institute, to provide scholarships for gifted women whose careers had been interrupted by family obligations and resident fellowships for women of distinguished achievement in their fields.
She also affected Radcliffe students on a directly personal level, as fellow biologist Nancy Doe Hopkins '64, Ph.D. '71, remembers.
* * *
Mary Bunting was a one-woman advance party who foreshadowed and helped to precipitate the social revolution that would come to be called women's liberation. To generations of Cliffies who were students during her presidency, she became a cornerstone of our thinking and she remained so. She inspired young women to goals they had not imagined when they arrived at Radcliffe. She was a person with whom we would debate and argue in our minds, and against whom we would measure both our own progress and that of our society, for the rest of our lives.
Women who came to Radcliffe in the 1960s arrived to the unimaginable freedom of parietal hours that allowed men to enter our bedrooms for a few hours on Sunday afternoons. The door had to stay open six inches and both parties had to have one foot on the floor at all times. My sister met a fellow Cliffie her freshman year who asked if having been kissed by a boy meant she would become pregnant. In other areas, the women who came to Radcliffe were known as the brightest in the country. Cliffies numbered only a quarter as many as the Harvard students with whom they attended all their lectures, and thus they were considerably more selected than their male classmates. They remain as a group the smartest people I ever met.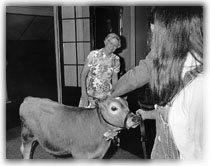 When Bunting, who raised livestock on her farm in New Hampshire, stepped down as president, her good-bye gifts included a specially bred purple cow. Photograph by Rick Stafford
But despite their extraordinary talents, and the fact that somewhere in their families there was likely to be a person, often a mother, possibly an aunt, telling them they could have a career, these women came in with limited career expectations by today's standards. For the majority of entering Cliffies there was little question that "career" was far more likely to be "job," and that the job would probably be secondary to family--their husbands' careers, their children's upbringing. Most Cliffies of this era expected to marry in the June of graduation.
To these young women Mary Bunting presented a whole new array of possibilities. She was a college president, she was known to be a scientist, and we knew she had a family that included several children. She had achieved far beyond even the imaginings that most of us arrived with. Bunting was a highly visible person to undergraduates. Why she needed to walk so often between the administrative offices in Fay House at 10 Garden Street, and the dormitories where the Cliffies were housed between Linnaean and Shepard Streets, I do not know, but it was common to see her striding quickly, cheerfully along, and not uncommon to have her fall into step beside us and chat as we walked (no buses then) to our classes in the Yard or to coffee at the Bick. To me, the impression she left was always of tremendous good will, cheerfulness, warmth, and support. She projected decency and the highest possible virtues and values, as well as great accomplishment.
But what did it mean to achieve what Bunting had achieved? And how were we to do what she appeared to have done as naturally as breathing? For me, the confusion was heightened when, in my junior year, I fell in love with molecular biology, and went to work in the lab of professor and Nobel laureate James Watson. Although Watson told me I should look to Bunting as a role model, and strongly encouraged me to become a scientist, when I looked around his own lab I could not help but see that this unbelievable molecular biology that was revolutionizing the very meaning of life was being done almost exclusively by men whose wives were at home caring for their young children. The realization that we as women would have to do what they were doing, plus do what their wives were doing, precipitated in me and my Cliffie lab-mates confusion, consternation, conflict, and indeed, some anger at Mary Bunting for leading us to believe we could be superwomen. Our doubts were not ill-founded, because 35 years later there are today just two tenured women in the department of molecular and cellular biology at Harvard--and 20 tenured men.
Looking back now with far greater understanding, however, I see it differently. Bunting once again is so clearly a heroine, so far ahead of her time that we are still trying to catch up to her vision. I see with more awe than ever the magnitude of her accomplishments in changing our society and opening the whole world to young women. She was a person of tremendous strength and brilliance who designed an unusual and enormously successful life. She must have been fearless of public opinion and unshakeable in her determination to tell other women that they could fashion lives outside the norm. In her example, and in what she urged us to do, she created a social revolution and the beginnings of a world far more interesting for women than the one most of us lived in when we came to Radcliffe.
If she failed to tell us how hard it would be, failed to tell us how we could accomplish all these things, failed in short not just to dream for us but to solve it all for us, small wonder. Such major social change as Bunting symbolized, lived, and urged takes decades to achieve. Bunting was a pioneer who leapt forward. Many have to walk behind such individuals before their visions become realities.
---
Nancy Doe Hopkins earned a doctorate from what was then Harvard's department of molecular biology and biochemistry in 1971. She became an assistant professor at MIT in 1973 and received tenure in 1979. Her laboratory at MIT, where she works on zebrafish, recently developed a methodology to rapidly identify genes essential for the normal development of the fish embryo. Human counterparts of some of these genes are expected to prove useful for diagnosing and treating human diseases.
---
Main Menu · Search · Current Issue · Contact · Archives · Centennial · Letters to the Editor · FAQs