Main Menu · Search · Current Issue · Contact · Archives · Centennial · Letters to the Editor · FAQs
---
In this issue's John Harvard's Journal:
Fiscal Fitness - Curricular Reform, More and Less - Internet Spoken Here - Limits to Growth? - Harvard Portrait: Lawrence Bobo - "A Cornerstone of Our Thinking" - Flying the New Coop - Brevia - The Undergraduate - Chosen People - Sports
---
Perfectly horizontal, Gyorffy clears the bar in a classic execution of the "Fosbury Flop." Photograph by Tony Loreti
The Gyorffy Ballet
A flopping freshman rewrites the high-jumping record book.
The story seems to leap decades. In 1968, Dick Fosbury introduced a new technique of high-jumping--turning his back to the bar and facing skyward--at the Mexico City Olympics. (The "Fosbury Flop" has since become the standard high-jumping technique.) In 1978, Dora Gyorffy '01 was born in Budapest, Hungary. In 1988, she began Fosbury-flopping at a track near her home. And in 1998, as a freshman at Harvard, she is busy rewriting record books in the event, just as Fosbury himself did three decades ago.
Gyorffy set a Harvard record at her very first intercollegiate meet in December, clearing 6 feet, 2 inches, in the high jump. She also went 40 feet, 8 1/4 inches, in the triple jump, setting new Harvard and Gordon Track records. To Gyorffy, the latter mark almost seems a bonus. "I'm not a triple jumper," she says. "My technique is better in high jump."
In 1996 and 1997, Gyorffy was Hungarian national champion in the high jump, both indoors and outdoors. She placed fifth in the 1997 European Junior Championships and second at the 1996 World Junior Championships. She now ranks second in the world for junior athletes, and holds the number 24 overall ranking. In 1996 she jumped high enough to qualify for the Hungarian delegation to the Atlanta Olympics, but too late to go.
Gyorffy's father was a high jumper. "He was all right, but not a professional," she says, smiling. When she was 10, her father showed her the Fosbury Flop. She did well right away. "There were not many competitions, but I always won," she recalls. She could jump 1.2 meters at age 10, and has raised the bar almost every year since. Her current personal best is 1.93 meters, or 6 feet, 4 inches. Indoors, her top jump is 6 feet, 2 1/4 inches.
Until she was 16, Gyorffy also competed in the heptathlon, the seven-event contest for the Renaissance women of track and field. The hep includes both the high jump and the long jump but, Gyorffy explains, "I never practiced the long jump or triple jump. I did them for fun." Some of her competition would have liked to have so much fun: she still holds the Hungarian triple-jump record for girls under 18.
Gyorffy was preparing to enter law school, which in Hungary begins after secondary school, when a recruiting letter arrived from Harvard track and field coach Frank Haggerty '68, who had learned of her bounding exploits. "Obviously Harvard has a great reputation, and it was also a big challenge for me--living on my own, in a foreign country," she says. "And Harvard was a place where I could do both athletics and academics."
Gyorffy took a year off to prepare herself to apply, working particularly hard on her English. She lived for three months in Denver with an uncle who had emigrated in 1972, and took some intensive language courses. The effort paid off: as a Harvard freshman, she enthuses, "I expected it to be great, and it is!"
Gyorffy plans to concentrate in government and international relations, and perhaps eventually become a diplomat. Meanwhile, there are the indoor and outdoor track seasons to enjoy; she has already qualified for this year's NCAA championships. She's one freshman who seems not only bound for glory, but literally capable of bounding into it.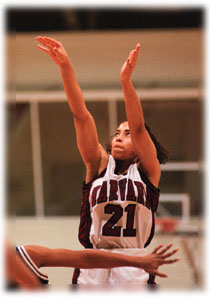 The greatest, in action against Yale Photograph by Jon Chase
The 2,000-Point Woman
If any doubts remain as to who is the greatest woman basketball player in the history of the Ivy League, they can be laid to rest. Her name is Allison Feaster. She is a senior at Harvard, co-captain of this year's team, and may well be headed toward her third consecutive Ivy League Player of the Year award. Playing Yale on January 31, Feaster sank a three-point shot that made her the first woman ever to score 2,000 points and pull down 1,000 rebounds in her career. Only one other person in league history has reached that double plateau--NBA Hall of Famer Bill Bradley, Princeton '65.
The largest Harvard crowd to see a women's home game in the last three years--1,100 strong--witnessed Feaster's feat. One fan held up a large poster with a running total for her career points. When Feaster swished the trey to break 2,000, the crowd rose to its feet in an thunderous ovation that subsided only when officials stopped the game. As the cheers continued, Feaster was presented with an ivy plant in recognition of her unprecedented achievement. "I was surprised," she told the Crimson. "It really touched my heart." The team went on to pulverize Yale, 74-54, Feaster celebrating with a nine-rebound, four-assist, 36-point game that represented both her second-highest total at Harvard, and the second-highest single game total in Harvard history. The record--39 points--belongs, of course, to the greatest woman basketball player in Ivy League history.
Winter of Our Content
Women's Basketball
Ivy champions the past two years, this year the women's basketball team (15-2, 5-0 Ivy) had the best start in the program's history. Led by the nation's top scorer, senior co-captain Allison Feaster (29.3 points-per-game average), the women hoopsters confidently ran through a series of opponents. For the first time in a decade, Harvard won its own tournament, the Harvard Invitational, beating Norfolk State and Loyola by identical 69-57 scores.
The Crimson entered the Ivies with a roar in January, gutting out a tough win against Dartmouth, 74-69, after trailing 55-50 in the final 10 minutes. After the tight one against the Big Green, Harvard blew out Columbia, Cornell, and Lehigh, squeaked past Brown in overtime, then demolished Yale.
Men's Basketball
The graduation of four of last year's top six Crimson scorers, including star forward Kyle Snowden '97, raised questions about this year's team (9-8, 3-3 Ivy). The hoopsters' 5-0 start, its best in 13 years, settled most of those doubts. Harvard opened its Ivy campaign by thrashing Dartmouth, 80-55, at home. Three weeks later, the Big Green turned the tables with a narrower home-court 57-53 win, but Harvard bounced back with away wins over Columbia and Cornell.
This Crimson team can gun from the cheap seats. Playing Southern Methodist University in late December, Harvard hit 14 of 21 three-point attempts to set school records for both treys and three-point percentage (.667) in a game. Mike Beam '99 is ranked third nationally in three-point percentage (.571) and Harvard as a team is sixteenth (.407). Having sunk 125 trifectas through 17 games, the squad looks sure to break the College mark of 149, set in 1988-89.
Men's Hockey
With a 3-2 overtime win against Union College, the men's ice hockey team (6-9-2, 6-5-1 ECAC, 3-2-1 Ivy) moved into second place behind Yale in the ECAC just before exam break.
To commemorate the centennial of Harvard hockey (see "A Century on Ice," January-February, page 82), the Crimson played two hundredth-anniversary games with Brown, its first opponent in 1897-98. Harvard and Brown represent college hockey's oldest active rivalry, and the Crimson and Bruin players donned throwback jerseys in this year's games to acknowledge that fact. To sweeten the occasions, Harvard added to history by triumphing both in Providence (5-3) and Cambridge (5-2). Perhaps those undefeated retro jerseys should see even more use.
Women's Hockey
The women's hockey team (9-9, 5-9 ECAC, 2-4 Ivy) has had a couple of big wins in a middling season. A 6-3 victory over Providence College was only Harvard's second win in 22 meetings with the Friars. Then Harvard upset number-3-ranked Cornell on their home ice, 5-2, with freshman star Kirsten Suurkask netting two goals. Sophomore goalie Crystal Springer made a dazzling 52 saves, only one shy of Harvard's single-game record.
Wrestling
After placing sixth of 41 teams in the prestigious Las Vegas Invitational Tournament, Harvard (7-4-1, 3-0 EIWA) seized a number 17 ranking in the National Wrestling Coaches Association poll in December.
Last year's Ivy League Rookie of the Year, Joey Killar '00, took first place at 158 pounds in Las Vegas and currently ranks number 6 nationally in his class. Junior tri-captain Dustin DeNunzio, with a 20-2 record, was ranked fourth in the country in the 134-pound class at exam break.
Harvard hosted a meet of its own just before exam break, inviting Army, Boston College, and Kutztown University to Cambridge. The Crimson, however, did not otherwise roll out the welcome mat: it beat Army 27-12, overpowered Kutztown 19-6, and routed the Eagles 41-6.
~Craig Lambert
---
Main Menu · Search · Current Issue · Contact · Archives · Centennial · Letters to the Editor · FAQs