Main Menu · Search ·Current Issue ·Contact ·Archives ·Centennial ·Letters to the Editor ·FAQs



In this issue's Alumni section:
Hirschfeld Center Stage - Honors List - Cast Your Ballot - "Harvard Gateways" Opens Wider - New Ways to Look for Work - Comings and Goings - Scholars Overseas - Activist Impresario - Engaged Anthropologist - Cultural Exchange - Were You at Woodstock? - Yesterday's News
---
For more alumni web resources, check out Harvard Gateways, the Harvard Alumni Association's website
---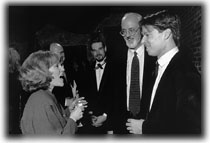 Charles Hamlen (second from right) with actress Madeline Kahn, Michael Marino of Broadway Cares/Equity Fights AIDS, and violinist Joshua Bell at Classical Action's fifth-anniversary benefit. STEVE SHERMAN
Activist Impresario
Item: After 10 years as a high-school French teacher, Charles Hamlen '65 departs Buffalo in 1977 for New York City to pursue the idea--offhandedly suggested by a mezzo-soprano whom he has accompanied part-time--of becoming a classical musicians' agent. Item: Two years later, he gets an unsecured $65,000 loan from a bank executive convinced that Hamlen and his prospective business partner, Edna Landau, will do "whatever it takes" to make their business successful. Item: IMG, arguably the premiere sports management agency in the world, decides, improbably, to branch into the field of classical artist management and buys out the small but exclusive firm of Hamlen/Landau. Item: After several more years with IMG, managing the careers of such renowned musicians as Itzhak Perlman, Kiri Te Kanawa, Evgeny Kissin, André Watts, and James Galway, Hamlen informs his clients that he is leaving the agency to form a fundraising group for AIDS. "The first words out of Jimmy Galway's mouth," says Hamlen, "were, 'What can I do to help?'"
It is by moments like these that Hamlen marks the milestones of his professional career. His cheerful gratitude almost obscures the sense of profound personal loss--including the death of his lover--that brought Hamlen to the decision, five years ago, to form Classical Action: Performing Arts Against AIDS.
Classical Action raises money by organizing large benefit concerts, smaller house concerts, and benefit recordings, and by soliciting individual and corporate donations. Hamlen and his two-person staff have distributed more than $2.5 million to AIDS service organizations like the San Francisco AIDS Foundation and the Starfish Foundation for Children with AIDS. Benefit concerts are staged "as often as our limited staff can do it," says Hamlen, but that is changing. Last October, serendipity struck again when Classical Action became affiliated with Broadway Cares/Equity Fights AIDS, the largest industry-based AIDS fundraising and grant-making group in the country. Access to the Broadway Cares administrative staff is freeing Hamlen and his staff to organize more events.
Hamlen believes this couldn't come at a better time. He fears people may misinterpret the widely heralded success of new AIDS treatments as a sign that the epidemic is on the wane. "It is all the more important to keep pushing ahead now," he says. "I saw an ad for AMFAR recently that made me think of this struggle in a new way. It said, 'New AIDS Statistics: 0,000,000 Vaccinations.' Demographics are changing, younger people are becoming infected at higher rates now; minority populations are at greater risk. Until there is a way of really stopping AIDS by a vaccine, or curing it, the crisis is going to be there."
~ Daniel Delgado
---
For more information on Classical Action, contact (800) 216-action or "

[email protected]

".
---
Main Menu · Search ·Current Issue ·Contact ·Archives ·Centennial ·Letters to the Editor ·FAQs