Main Menu · Search ·Current Issue ·Contact ·Archives ·Centennial ·Letters to the Editor ·FAQs



In this issue's Alumni section:
Hirschfeld Center Stage - Honors List - Cast Your Ballot - "Harvard Gateways" Opens Wider - New Ways to Look for Work - Comings and Goings - Scholars Overseas - Activist Impresario - Engaged Anthropologist - Cultural Exchange - Were You at Woodstock? - Yesterday's News
---
For more alumni web resources, check out Harvard Gateways, the Harvard Alumni Association's website
---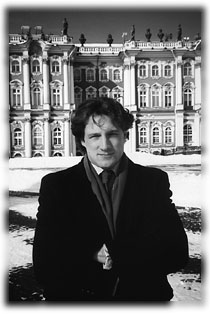 Nicholas Hoffman now works at the Hermitage. KATE GALBRAITH
Cultural Exchange
Nick Hoffman '93 works in a palace of distractions--literally. His stately, wood-paneled office is tucked directly beneath display rooms of fifteenth- and sixteenth-century Italian paintings in a wing of the Hermitage, one of the world's four largest art museums. Its vast international holdings, accumulated by Russian tsars, are displayed in the Winter Palace of Catherine the Great and the four other buildings that surround Palace Square in central St. Petersburg.
Since August 1997, Hoffman has been working as the assistant to the director of the Hermitage, a job he relishes as "difficult, challenging, and crazy, within this very chaotic Russian environment." The new position was created to meet the museum's changing financial and managerial needs in the post-Soviet era. No longer entirely dependent on state funding, the Hermitage is looking to outside sources to support its ambitious projects, particularly its planned landmark expansion into a new wing.
Hoffman's position runs until February 1999, and has been jointly funded by the Ford Foundation, the Dr. Mortimer and Theresa Sackler Foundation, and the management consulting firm McKinsey and Company, whose Moscow office has done occasional pro-bono work for the Hermitage recently. Hoffman himself spent three years at McKinsey's New York office, working on museum and art projects whenever possible. His focus on art was an extension both of his one-year position at the National Gallery in London following graduation, and of his joint concentration in art history and English. "In order to work in museum management, I needed practical and real-world skills," he says, "and I could learn the latter at McKinsey."
At the Hermitage, Hoffman's job straddles curatorial and management responsibilities. Besides seeking non-governmental funding, he assesses and helps prioritize proposed museum projects, and helps international groups--corporations, foundations, intergovernmental organizations--and scholars maneuver more easily through the museum's bureaucratic maze.
At the moment, two-thirds of his time is devoted to planning the museum's new wing, which will occupy a former Soviet military building just across Palace Square. "In a sense, I'm the project manager," he explains. "I figure out a process by which they can get the building renovated, how they can decide what they want to put in it. The Hermitage has never planned large new exhibition spaces in this century." In the style increasingly adopted by modern museums, the new wing is envisioned as a union of commercial and exhibition space. Cafés, shops, and interactive features to enhance visitor experience will be balanced with displays of decorative arts objects, which are currently in storage, inaccessible to visitors.
For Hoffman, the challenges of living and working under the new Russian system are plentiful but sometimes amusing, especially because he is the first Westerner the Hermitage has ever hired. "I find my job really bizarre because of people's reactions to me in the museum," he says. "Sometimes they're quite excited, sometimes they're quite frightened, sometimes they just don't understand what a foreigner is doing here, anyway." He loves the museum's general milieu. "One of the great things about working here is all the curators who are dying to show people their collections," he explains. "No one has come in and talked to the clock curator about things for a while, no one has come in and talked to the person in charge of British art, and I get to do that every day. It's wonderful."
~ Kate Galbraith
---
Main Menu · Search ·Current Issue ·Contact ·Archives ·Centennial ·Letters to the Editor ·FAQs