Hirschfeld Center Stage
A lively troupe of theater folk attend an exhibition, but the spotlight falls on their creator, caricaturist Al Hirschfeld. (A Mel Seiden Production)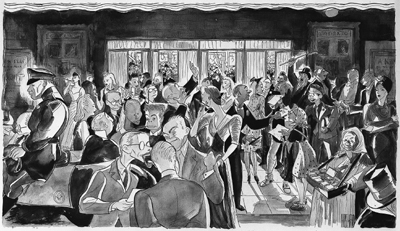 Opening Night Intermission, 1940, a drawing by Hirschfeld done for the New York Times. The foreground figure with the pipe is critic Brooks Atkinson '17.
Agnes Mongan once told Melvin R. Seiden '52, LL.B. '55, that she thought Albert Hirschfeld was the finest living draftsman in America. The late Miss Mongan was curator of drawings at Harvard's Fogg Art Museum, a post she held for more than 50 years. Seiden heard her and bought a drawing of Al Hirschfeld's that she admired--of Richard Kiley in Man of La Mancha. After that, there was no stopping him.
Seiden collected Hirschfeld. In time he gave more than a hundred original drawings and 150 prints to the Harvard Theatre Collection, the largest public collection of Hirschfeld's work in the world. Part of this ebullient gathering will be exhibited at the Theatre Collection in Pusey Library from April 29 until September 18. Hirschfeld, who turns 95 in June, is expected to come from his home on Manhattan's Upper East Side for the opening of the show.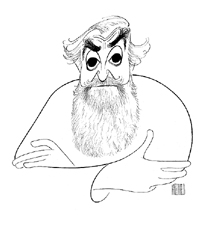 A 1985 self-portrait.
Born in St. Louis, Hirschfeld began his career in 1920 as office boy at Goldwyn Pictures and was art director at Selznick Pictures by the time he was 19. His first published theatrical caricature was of Scottish vaudevillian Harry Lauder, drawn freelance in 1928 for the New York Times.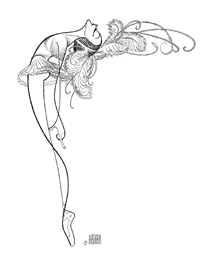 Galina Panova, in the 1983 revival of the Rodgers and Hart musical On Your Toes.
David Leopold, a performing-arts historian engaged by Hirschfeld as his archivist, estimates that Hirschfeld has made more or less 10,000 drawings. "He still works every day, seven days a week, sitting in the barber's chair in his studio," says Leopold, and so his oeuvre is increasing. His subjects, no less than the rest of us, have to be grateful for his prolificness. A critic once remarked, "There are just two forms of fame on Broadway: seeing your name in lights and, more significantly, to be drawn by Hirschfeld."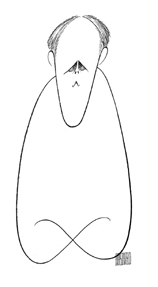 John Lithgow '67 in David Henry Hwang's M. Butterfly, 1988.
He has changed the way his audience understands the theater. Unlike many caricaturists, he doesn't puncture his subjects with pen pricks. He is a collaborator, himself a magician of the theater, and an explicator. Those who have pored over his drawings in search of Ninas have had, over the years, a course in theater arts. Playwright Terrence McNally once observed, "No one 'writes' more accurately of the performing arts than Al Hirschfeld. He accomplishes on a blank page with his pen and ink in a few strokes what many of us need a lifetime of words to say."
Hirschfeld is the subject of a 1996 film The Line King, nominated for an Academy Award and now on video. His artwork itself "offers the truest reflection of the man: uncomplicated, engaging, and often irreverent," writes Leopold, in an appreciation in the Times. His is "a joyful, life-affirming line. Instead of relying on the outline or profile of his subjects, like many of his early contemporaries, he has employed a palette of graphic symbols...to translate the action of the whole body into line drawings that have become the lingua franca of generations of actors and audiences."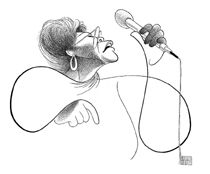 Ella Fitzgerald, first lady of song, drawn in 1993.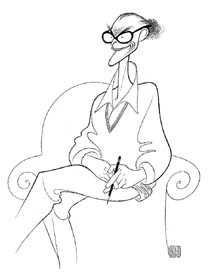 Arthur Miller, Litt.D. '97, in 1987, on the occasion of the performance of his two new one-act plays entitled Danger: Memory!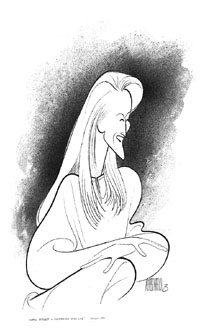 Meryl Streep, in the 1991 movie comedy Defending Your Life.
"In every age," says Frederic W. Wilson, curator of the Theatre Collection, "there are popular artists who are later seen to have represented their time-- like George Cruikshank in the nineteenth century. Hirschfeld is our Cruikshank. I have no doubt that for centuries to come Hirschfeld will represent twentieth-century theater in America. Melvin Seiden discerned this many years ago and has been making it possible for researchers and others at Harvard to see Hirschfeld's chronicle first hand."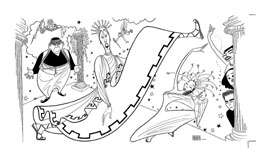 Hirschfeld was in Boston in 1950 for the pre-Broadway opening of the Cole Porter musical Out of This World, starring Charlotte Greenwood, an eccentric dancer with the longest legs in the universe.
When Seiden emerged from law school, he became a naval officer and saw a good deal of the world, as promised. Then he changed course and, with classmate John de Cuevas, stormed Wall Street as Seiden and de Cuevas, investment bankers. The business, Seiden writes, "attained sufficient success for [John] to retire in 1969 to pursue a Ph.D. in biology and for me to transfer the business to 'younger colleagues' in 1973."
Since then Seiden has been a consultant, trustee, and director to various financial and investment groups, and a friend to Harvard. He is cochair of the Art Museums' current capital campaign; sits on the visiting committees of the Art Museums, the University Library, and the School of Public Health; and is chairman emeritus of the Villa I Tatti Council.

All the world's a stage. Statesman Dean Acheson, drawn in 1950 for the cover of the American Mercury Magazine. One is accustomed to seeing Hirschfeld drawings in black and white. This is in colorful gouache. FOGG ART MUSEUM
Seiden's interest in art germinated in the Fogg, where he studied as an undergraduate under Frederick Deknatel, Ph.D. '35, Jakob Rosenberg, Art.D. '61, and Ernst Gombrich, Litt.D. '76. He has since become "the leading living benefactor of the drawings department," says William Robinson, its curator.
Seiden has given the museum large groups of seventeenth-century French works (Nicholas Poussin, Simon Vouet and his school), central European drawings of the eighteenth and nineteenth centuries, and drawings by Paolo Veronese, Polidoro da Caravaggio, Giulio Romano, and others of the Italian Renaissance. Some Dutch and Flemish work, as well. And 13 non-theatrical drawings by Hirschfeld--a view of Central Park, illustrations for books by his friend S.J. Perelman, a drawing of Dean Acheson, LL.B. '18, LL.D. '50.
Seiden's tastes are catholic. He is building in the department of printing and graphic arts at Houghton Library a large collection of original drawings for New Yorker cartoons. The library intends to exhibit them in the autumn of 1999 along with photographs of the artists, some of whom charmingly resemble the people in their drawings. Says Anne Anninger, Hofer curator of printing and graphic arts, "Mel Seiden has vision, but he doesn't dictate. He gives curators on both sides of Quincy Street support and a great chance to collect."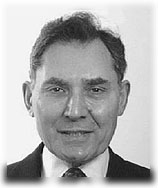 Seiden HARVARD UNIVERSITY ART MUSEUMS
Still, Seiden is not perfect. He is unable to answer this simple question: What is the greatest number of Ninas Hirschfeld ever put into a drawing? (The artist began in 1945 to hide his daughter's name in his drawings; it became part of that palette of graphic symbols. The much-named lady lives in Texas, but has seen ample evidence that her father's been thinking of her.) A 1984 drawing of Whoopi Goldberg contains a whopping 40 Ninas--the number lurking in dreadlocks and clothing signified by numerals beneath the artist's signature. He drew a hand pointing to the number as though it might be a record. But was it? Harvard Magazine addressed the question to the master himself. No, he replied, Aaron Copeland, with a necktie of Ninas, 60 in all, holds the record--at least, to date.
~ Christopher Reed