Main Menu · Search · Current Issue · Contact · Archives · Centennial · Letters to the Editor · FAQs
In this issue's John Harvard's Journal:
Summer in the City - Big and Little Digs - Lab Zappers vs. Yo Quiero Viagra - A Weekend on Women - Reinventing Radcliffe - Harvard Portrait: William P. Stoneman - A New Chief at Public Health - Foreign Affairs - Fogg Endorses Modernity - Going Home - Annals of Improbable Litigation - The Economics of Elms - A Roof Against the Rain - Brevia - The Undergraduate - Sports
---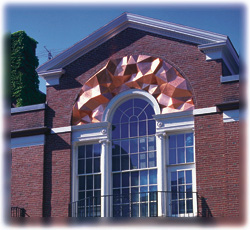 LIGHT-CATCHER: The hitherto bland façade of the building at 74 Mount Auburn Street that houses the Office for the Arts at Harvard and Radcliffe has acquired a multifaceted copper artwork by Providence-based artist Richard Fleischner, last year's Cogan visiting artist. The facets of the 8-by-16-foot sculptural arc relate in their shape to the filigree ironwork of the balcony and the splay of the mullions of the Palladian window below. Made of three layers of lacquered copper leaf over copper plate, the work, named Harvard University Project, will deepen in color over time, but will not turn green. Fleischner developed the arc over a two-year period, with three assistants, and built four full-scale mock-ups; the project cost was $47,000. Says Myra Mayman, director of the office, "I think that this piece will make people look up, instead of down, and notice that our building exists and that there's something different and interesting going on here." Photograph by David Carmack
Applied Scientist-in-Chief
The Division of Engineering and Applied Sciences (DEAS) has its first new leader in more than two decades. Venkatesh Narayanamurti becomes dean and McKay professor of engineering and applied sciences in September, succeeding Paul Martin, Van Vleck professor of pure and applied physics. The division, including some 60 faculty members, 400 College concentrators, and 180 graduate students, encompasses the Faculty of Arts and Sciences (FAS) presence in mechanical engineering and materials science, computer science and related fields, applied physics, and atmospheric, oceanic, and environmental science and engineering. Narayanamurti, a phys- icist with degrees from the University of Delhi and a Cornell doctorate, comes to Cambridge from the University of California at Santa Barbara's college of engineering, where he has been dean since 1992. He previously worked at AT&T Bell Laboratories and Sandia National Laboratories, and has focused his research on semiconductor quantum structures. He arrives as the Maxwell-Dworkin building (see "Big and Little Digs") provides a new focus for Harvard's research and teaching in computer sciences, and as the University Campaign enables FAS to expand significantly its professorial ranks in engineering and applied sciences, particularly in computer sciences.
Alive in Concord and Lincoln
Henry David Thoreau, who got out of Harvard in 1837, matriculated at Walden Pond on July 4 eight years later. Choosing the Fourth for this reason, 100 naturalists descended on Concord and Lincoln, Massachusetts, this year for what organizer Peter Alden, co-author of the National Audubon Society Field Guide to New England, called "the world's first 1,000-species Biodiversity Day." Combing the countryside, they set out to identify 1,000 species of living thing within a 24-hour period (and thus, incidentally, secure a place in the Guinness Book of World Records). The event--which turned up a total number of species tentatively set at 1,620--was designated in honor of Edward O. Wilson, Ph.D. '55, JF '56, Pellegrino University research professor, a biodiversity maven and a specialist on ants. He and Stefan Cover, curatorial assistant at the Museum of Comparative Zoology, participated in the hunt and found two species of ant known to science but so far unnamed and undescribed. Said Wilson, "That ought to tell you something about how little we know about things."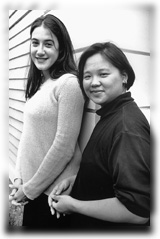 Hail, Fellows: Sara Houghteling '99, of Brookline and Dunster House, and Jennifer 8. Lee '98 ('99), of New York City and Pforzheimer House, will be Harvard Magazine's 1998-99 Berta Greenwald Ledecky Undergraduate Fellows. Houghteling spent the summer in France working on a Let's Go guide; Lee interned at the Washington Post.Photograph by Flint Born
Trust-Buster Busted
The tenure of Lawrence Lessig as "special master" in the Department of Justice's antitrust case against Microsoft Corporation (see "Internet Spoken Here," March-April) proved short-lived. Lessig, who is Berkman professor for entrepreneurial legal studies, was named an expert adviser on matters cyberlegal by U.S. district court judge Thomas Penfield Jackson, LL.B. '64, last December. The company won a suspension of Lessig's inquiries in February, and on June 23, the Washington, D.C., Court of Appeals lifted Jackson's initial injunction against Microsoft and vacated his appointment of a special master to advise on the case. The appeals court did not rule on Microsoft's claim that Lessig was not impartial. In a formal statement, the latter noted that "any litigant has the right to a fair and impartial adjudicator" and expressed "personal regret...that the question of bias became so central, if finally unresolved."
Student Center Deluxe
Harvard Business School has named its planned campus-center building--sited south of Aldrich Hall and scheduled to be completed in the summer of 2000--the Spangler Student Center, in honor of C.D. "Dick" Spangler, M.B.A. '56, and his family, who have contributed generously to the school. The 90,000- to 100,000-square foot building--which will include a 350-seat auditorium and be the new home for the M.B.A. program's administrative personnel, the school's post office, and the branch Coop--is part of the business school's master plan (see "Building Business," March-April 1997, page 68). Students have suggested incorporating a pub/grill, a main dining facility, and a 24-hour store in the design by Robert A.M. Stern, Architects. Also on the busy B-School student wish list: meeting rooms, phones, fax machines, ATMs, lockers, computers, printers, e-mail access, copiers, and a FedEx drop box. Construction is scheduled to begin in the spring.
Nota Bene
Development doyenne. Sara Sievers '90, a former U.S. Foreign Service Officer, has been appointed executive director of the Harvard Center for International Development. The new center, which encourages interfaculty work on economic growth, human development, and related issues, is jointly administered by the Kennedy School of Government, which simultaneously created an international development concentration in its master's program, and the Harvard Institute for International Development. Sievers has recently worked on economic growth in Africa.
Green machine. Harvard University Dining Services was cited twice for environmentally sound practices in Green Investment, Green Return, the report of the National Wildlife Federation's campus ecology program. The report highlighted the switch from disposable to reusable beverage containers in the Freshman Union, for a savings of five million paper cups--and at least $186,500--annually. Expanding campus recycling programs to encompass the dining facilities reduced waste considerably, cutting disposal costs by nearly $80,000 per year.
Encouraging athletics. As part of the University Campaign, a new $5-million challenge fund will match contributions in support of wom- en's athletics. The fund was established by Albert H. Gordon '23, Maggie (Finn) and Gordon Gray Jr. '65, Katherine B. Loker, and Barbara (Uvodich) and Thomas F. Stephenson '64, M.B.A. '66. Women who choose to contribute $25,000 or more can have their gifts further matched by the general women's matching fund (see "University Challenges," July-August, page 65), effectively tripling their donations. As of late July, $1.6 million in new funds had been pledged.
$5-million farewell. Harvard Law School is the unusual beneficiary of a corporate takeover. When Household International Inc. acquired Beneficial Corporation, Finn M. W. Caspersen, LL.B. '66, head of Beneficial, decided to leave the combined company. Although receiving $23.7 million in compensation from Beneficial, he passed up $10 million in pay he would have received at Household. In July, the latter made contributions of $5 million each to the Law School--where Caspersen's sons Finn Jr. '92, J.D. '95, Eric, J.D. '96, and Sam, 3L, have all matriculated as well--and to the Peddie School, from which Caspersen graduated in 1959.
---
Main Menu · Search · Current Issue · Contact · Archives · Centennial · Letters to the Editor · FAQs