Main Menu · Search · Current Issue · Contact · Archives · Centennial · Letters to the Editor · FAQs
In this issue's John Harvard's Journal:
Summer in the City - Big and Little Digs - Lab Zappers vs. Yo Quiero Viagra - A Weekend on Women - Reinventing Radcliffe - Harvard Portrait: William P. Stoneman - A New Chief at Public Health - Foreign Affairs - Fogg Endorses Modernity - Going Home - Annals of Improbable Litigation - The Economics of Elms - A Roof Against the Rain - Brevia - The Undergraduate - Sports
---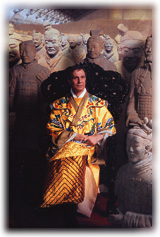 As a VIP visitor, President Neil L. Rudenstine undergoes the imperial treatment at the Qin-dynasty tomb in Xi'an. Kristin Sorenson
Foreign Affairs
Despite the economic chaos and political changes roiling the region, Harvard continues to build its academic and alumni ties to Asia. Following their March trip to Beijing, Hong Kong, and Taipei ("The East Is Crimson," May-June, page 76), President Neil L. Rudenstine, his wife Angelica Zander Rudenstine, and a University contingent toured Tokyo, Seoul, and southern China between June 12 and 28. According to Thomas M. Reardon, vice president for alumni affairs and development, the visitors gained the clear impression that although the immediate economic problems are "huge," the "potential remains incredible" for further growth and modernization in the longer term.
In Japan, the Rudenstines mixed visits to museums and cultural sites with official calls on news media, government, and business leaders, and meetings with financial supporters of Harvard. Minoru B. Makihara '54, chairman of Mitsubishi Corporation and former president of the Harvard Club of Japan, served as host for several of the appointments.
Makihara, a member of the University Campaign executive committe and chair of the Campaign's Japan committee, also spoke at the largest public event, an alumni reception and dinner attended by more than 300 Harvardians, including Crown Princess Masako '85, who was accompanied by Crown Prince Naruhito. The evening opened with a toast by U.S. ambassador Thomas S. Foley. Guests heard President Rudenstine talk about the need "very soon to build a kind of cooperative international engine that will help us manage crises when they arrive"--whether caused by economic, environmental, or security issues--or to contain them before they erupt. On a lighter note, the audience was serenaded by the Harvard Krokodiloes.
In Seoul, a welcoming committee chaired by Kyung-Won Kim, Ph.D. '63, former ambassador to the United States, hosted an alumni reception; 150 Harvardians attended. Rudenstine subsequently addressed faculty members and students at Seoul National University, where he emphasized the importance of humane learning and fundamental research. "Despite the growing pressure for demonstrating the value of university education and research in terms of their immediate, tangible economic benefits," he said, "there is far more to excellent education than can be measured in dollars or won."
In addition to visiting prominent Korean museums, gardens, and art collections, the Harvard party, including Carter J. Eckert, A.M. '68, professor of Korean history and director of the Korea Institute, had a private meeting at the Blue House with President Kim Dae Jung, who was a fellow at Harvard's Center for International Affairs while in political exile in the early 1980s. Eckert characterized the conversation as "an hour of substantive conversation on the Korean economy, polity, and foreign relations, including President Kim's new and refreshing 'sunshine' policy toward North Korea."
Despite the current economic crisis, Eckert said that "it was, in fact, a very good time to visit Korea. The visit, I hope, sent a message to Koreans that the primary relationship between Harvard and Korea is one founded on strong intellectual grounds, including a common commitment to internationalization and international studies." The Harvard group, he said, gained "an indelible image of a country and people who were actively and creatively dealing with the difficult situation at hand."
The China leg of the tour began with a visit to Xi'an, where the Harvard guests dined with provincial and city government and party officials before receiving a private tour of the famous Qin-dynasty terra cotta tomb soldiers. In Shanghai, official functions included meetings with the mayor, government administrators, and several university presidents. The Harvard travelers then took a day-trip to the garden city of Suzhou. The next day they toured the Shanghai Museum and other municipal sights, and attended a cocktail reception with some 40 alumni organized by Dr. Jie Chen, chair of the local Harvard club and vice president of Shanghai Medical University.
Ford professor of the social sciences Ezra F. Vogel, Ph.D. '58, who accompanied the Rudenstines on both trips, said the itinerary as a whole "helped to strengthen Harvard's deep and growing ties to key universities in Japan, Korea, and the Shanghai area." Vogel is director of Harvard's new Asia Center, which will spearhead the University's intellectual programs in the region.
An unrelated example of those initiatives took place in mid July, when Harvard Law School and the Japan Institute of International Affairs (an affiliate of the Ministry of Foreign Affairs) jointly conducted what was billed as "an urgent two-day symposium on the Asian financial crisis and Japanese financial reform." Although the venue (at Chatham, on Cape Cod) could not have been more recreational, the conversations--coming just after elections toppled Japan's government--could not have been more serious. They were led by U.S. Deputy Treasury Secretary Lawrence H. Summers, Ph.D. '82, former Ropes professor of political economy, and Eisuke Sakakibara, vice minister of finance for international affairs, who were joined by more than 100 government, academic, and banking officials.
That kind of convening power is one example of the results of Harvard's investment in building relationships in Asia. As the region's transformation continues, look for the Asia Center and its country-specific cousins at the University to do more of the same in the near future. And look for the peripatetic Rudenstine to continue expanding Harvard's international horizons.
---
Main Menu · Search · Current Issue · Contact · Archives · Centennial · Letters to the Editor · FAQs