Main Menu · Search ·Current Issue ·Contact ·Archives ·Centennial ·Letters to the Editor ·FAQs


In this issue's New England Regional section:
Time for Adventures - Retirement Directory - Tastes of Cambridge: Square Meal - Tastes of the Town Dining Guide - Calendar: The Harvard Scene - The Sports Scene
---
Time for Adventures
Senior travelers stretch their muscles--and their brains
by Clea Simon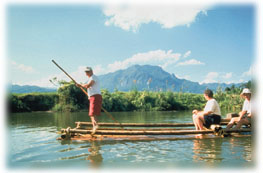 In the spirit: afloat on a bamboo raft in Thailand. Photograph courtesy ElderTreks
Palmer "Ozzie" Osborn '44 has trekked in the Himalayas four times. He has explored China and Uzbekistan, and hiked through Afghanistan just before the Russians invaded. So when he and a friend decided to canoe Canada's Bowron Lakes, the former military analyst and director of planning and analysis at General Dynamics was rather surprised that bystanders "kind of looked at us aghast" as he and his 60-something companion prepared to leave shore. But once the pair had glided away, Osborn says the circuit of connected lakes that offer some 60 miles of pristine British Columbia waterway was breathtakingly beautiful, and the paddling, which he describes as "strenuous, but routine," proved well worth the effort. Age, the 75-year-old Osborn explains, is no impediment to adventure. The key, he says, lies simply in knowing yourself and your limitations. "As older guys, we don't feel we have to prove anything, so we can pace ourselves to our resources."
Although Osborn may be unusual in the daring and athleticism of his global exploits, his observation echoes the views of many of his peers. These days, knowing oneself means accommodating one's taste for travel. "I come from a generation that studied geography, that studied history," says Gene Kupferschmid, who teaches Spanish at Boston College and spent part of last summer on an ElderTreks tour of the ancient Central Asian Silk Road. "I'm interested in seeing the places I've read about."
"Travelers 50 and over want the adventure, they want the experience," says Gary Murtagh, president of ElderTreks. "They're just as adventurous as younger people." Murtagh's 12-year-old company, which focuses on older travelers, designs explorations of such destinations as Irian Jaya, Morocco, and Turkey.
"We find great interest about all corners of the world," agrees Terry Shaller '72, Ph.D. '79, senior associate director of the Harvard Alumni Association, which offers more than 50 travel/study programs each year that range from walking tours of England to cruises through the classical Mediterranean or to Tahiti. "Last October, we had an alumni group who became the first American tourists to tour inside the kingdom of Saudi Arabia."
The HAA programs, unlike some others, have no age restrictions, but Shaller notes that their group-plan format tends to attract older travelers--including, on one recent trip, a 93-year-old. "As you reach a certain age, the structure of a group program becomes comfortable, as opposed to seeming an imposition," he says. "You enjoy having someone to move your luggage around"--not to mention a tour leader who handles such details as room reservations, tickets, and local transportation.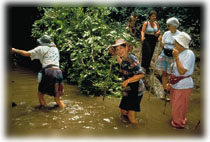 Wet feet: following a forest "trail" in Indonesia. Photograph courtesy ElderTreks
Gene Kupferschmid calls herself "a solo traveler by nature"; in the past, she has backpacked from northern Thailand to Bali. But her ElderTreks tour, she says, took her through China, Pakistan, Uzbekistan, and Kyrgyzstan without requiring her to deal with four complicated languages. It was, she suggests, "hardly a trip you could take on your own."
Lawrence Chvany '46, a retired information-systems specialist, says that when he and his wife, Catherine (Vakar) '50, Ph.D. '70, were younger, "We did most of our trips on our own. I didn't mind too much then, even changing flat tires or driving through unfamiliar places." But they have since developed a fondness for the HAA's small boat and barge tours, in particular a trip down the Danube from Vienna to Istanbul and another along rivers in Germany. "Taking these group trips, thanks to Harvard, has been much more pleasant at our age," he continues. "Having our itinerary planned, with stops along the way where there are buses to take us to interesting places that we might have missed ourselves, has been relaxing."
Catherine Chvany, professor of Russian emerita at MIT, says that having someone else handle the paperwork is especially useful in Eastern Europe. Speaking as an expert as well as a traveler, she warns, "In the former Communist countries, they no longer have the totalitarian regimes, but they have the same bureaucracy."
---
The Chvanys also consider lectures an important tour activity. "We enjoy them more than we would activities on a typical commercial cruise such as getting dressed up in costumes or playing some kind of game," Catherine Chvany says. Like many older travelers, they appreciate intellectual excitement as well as increased convenience. Suggested reading lists, discussion groups, and knowledgeable guides who can explain the customs or costumes that travelers see have become as important as luxurious accommodations or gourmet meals.
"People are not just going to see the sights," says Kerry Crisley, media and community-relations specialist for Saga Holidays. "They want an experience." Her company, geared to those 50 or older, offers "Road Scholar" trips that bring experts and academics along to add cultural enrichment. "For example," Crisley explains, "our French Impressionists tour goes not only to Paris, but also to Giverny and Barbizon."
According to Shaller, the HAA's travel/study programs, which have been enrolling alumni for close to 30 years, helped spearhead this trend. "The educational component is very important to alumni and to us," he says. "When I began this job in 1989, educational travel was a relatively new idea for many agencies, but there's been a huge change. Big cruise lines now bring along cultural-enrichment lecturers. There's increasing emphasis on providing some kind of interaction with the cultures you're visiting. We know that a lot of the people who travel with us are well traveled already. They're looking for real value added--and the most important value we add is the faculty members we bring."
---
Retirement, for many people, means they can finally indulge a lifelong interest in travel. Vacations no longer have to be fitted around one or two work schedules, and money may be more available. Though Catherine Chvany was born in France, and her husband's family had lived in Germany, the couple "didn't travel for many, many years while we had small children, or while I was a student," she says. "We didn't get abroad until 1971, but since then we've traveled pretty regularly. We're not paying off a house or having the children's teeth straightened. Also, we have more time."
Such travelers generally know what they want. That can mean signing on with a specialized company like Grand Travel, which runs national and international programs specifically designed for grandparents and grandchildren. Helen Koenig's 13-year-old firm arranges appropriate activities and amenities for both generations of clients, but the time they spend together, she says, is what makes the trips memorable. Many of the grandparents are already widely traveled, and Koenig considers the knowledge and life experiences they bring to a tour vital.
Knowing what you want can also mean traveling with firms that allow clients some flexibility along the way, through optional excursions or weekend add-ons. Even completely choreographed group tours nowadays often build in the option of free time for exploring or relaxing on one's own. Lawrence Chvany, noting his preference for what he calls "informal" tours, explains, "We like having a lot of freedom to go back to our cabins to read."
Older clients are also making the travel industry more aware of the fact that individuals' capabilities and energy levels may differ widely, and must be prepared for--in part, by helping prospective customers gauge, with reasonable accuracy, the exertion level of a particular trip. Catalogs and brochures have become increasingly detailed about what makes up a "challenging" tour (hikes of more than four hours, according to an ElderTreks example) or an "easy" one (walks of under an hour at a relaxed pace).
Not that age must necessarily be equated with infirmity. "The fact that someone is in his late 70s doesn't mean that he isn't physically fit, much more physically fit than I am," says Terry Shaller, laughing as he relates the discovery he made while accompanying one of his own HAA trips. He and the other tour directors stress that travelers should be aware of their own capabilities, and that travelers and tour leaders both must keep the lines of communication and common sense open.
But if time slows down even the most intrepid traveler, that does not mean the adventures have to stop. As Ozzie Osborn explains, "I have an artificial hip now, and therefore don't put much stock in backpacking. So unless I have llamas or porters available, I limit myself to day hikes."
---
Clea Simon '83, a regular contributor to this magazine, is planning to return to Southeast Asia for a few weeks this spring.
---
Main Menu · Search ·Current Issue ·Contact ·Archives ·Centennial ·Letters to the Editor ·FAQs