Main Menu · Search · Current Issue · Contact · Archives · Centennial · Letters to the Editor · FAQs
---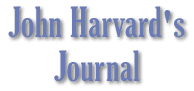 ---
In this issue's John Harvard's Journal:
De- and Reconstructing Harvard - Memorial Church Welcomes Gay Commitment Rites - Harvard's New Acreage - Habitat for the Humanities - Coresidence: An Anniversary - Harvard Portrait: Elizabeth Randall - Book Thief Shelved - In Pooh's Neighborhood - PBHA, College to Split? - Brevia - The Undergraduate: The Tao of Crew - Sports
---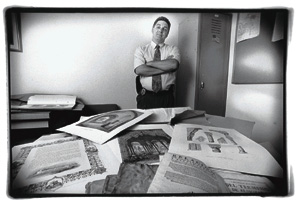 Detective sergeant Richard Mederos of the Harvard police with a bit of the Harvard Library's recovered property. One of Torres's specialties was Islamic architecture. Authorities did not discover during plea-bargaining discussions how Torres managed to remove from the libraries the huge quantity of material, often of large format, that he stole.
Photograph by Flint Born
Book Thief Shelved
On July 1, in a plea-bargain arrangement, José Torres-Carbonnel, the most rapacious thief ever to feed on Harvard's libraries, admitted that he was guilty as charged in 31 indictments to which he had earlier pleaded innocent ("Biblioklepts," March-April, page 38, and May-June, page 66). On 11 counts of larceny and nine of wanton destruction of library materials, Judge Isaac Borenstein of Middlesex Superior Court in Cambridge sentenced Torres to three to four years in prison. He will likely serve three.
Following his imprisonment, Torres, a Spanish national, will be deported; he is never to return to the United States unless ordered to do so. During a probation period of 10 years, he may be returned to this country for parole violation if he is arrested or convicted of any crime anywhere in the world. The prosecution sought no sentences for 11 counts of receiving stolen property, to which Torres pleaded guilty, but he could be sentenced for them in future.
The court ordered Torres to pay restitution of $601,987 to Harvard and of $21,680 to John Wolfe Prints, of Kensington, California. Describing himself as a professor, Torres sold Wolfe 400 plates cut from Harvard library books, most of them relating to Egypt and removed from Widener Library and the Fine Arts Library. Wolfe in turn sold 82 of them, but gave up the remaining 318 plates to the University when detective sergeant Richard Mederos of the Harvard police department discovered the identity of three art dealers who had done business with Torres. The other two are Haley and Steele, of Newbury Street, Boston, from which Mederos recovered three plates, and Gurari Antique Prints, of Brookline, Massachusetts, which had 13.
Torres, 35, who holds a bachelor's degree from a Spanish university, had access to Harvard's libraries because he was the spouse of a graduate student at the time of his depredations, which began in 1994. Mederos arrested him in June of 1996, the day before Torres was booked to leave the country for his family's home in Granada.
The value of the more than 2,000 items--books and pieces of books--Torres stole from Harvard was at first estimated to be $1 million. Assistant district attorney Eliot Green told the court that Harvard is in the process of forming a more precise evaluation and that the sum could reach $5 million. The majority of what Torres laid his hands on has been recovered, but much of it is now seriously damaged.
Nancy Cline, Larsen librarian of Harvard College, sent a letter to the court asking that Torres receive the maximum penalty permissible. "Mr. Torres cut a wide and devastating swath through eighteenth- and nineteenth-century books, excising thousands of plates from books," she wrote. "Among the missing were books on Islamic architecture....Napoleonic materials were also hard hit, especially materials relating to French expeditions to Egypt. There are few such volumes in North America....These engravings and illustrations record the first scientific expedition to Egypt, an exploration that was responsible for unlocking the mysteries of hieroglyphics....
"Even if one were able to recover all of the missing items," wrote Cline, "the time and effort required to restore the mutilated volumes would be extraordinary. Moreover, more than 20 volumes are the only known copies in the world. An additional 200 volumes, because of their fragile condition, are beyond salvage."
Cline detailed other costs of the case, including "the climate of fear and suspicion, the disruption of work, and the effect on morale" it created. "Two members of the library's stack and preservation departments devoted the equivalent of six months full time to shelf-reading, inventorying, and checking bibliographic records to ascertain the extent of this destruction. Additional part-time staff were hired to help in searching and making inventories of the various classes of books for which mutilated volumes were discovered. The process of searching and identifying the volume to which missing plates belong is like a giant jigsaw puzzle. The library also purchased and installed video cameras in areas of the library stacks where book [mutilation]...had been discovered, and the Harvard University police spent an enormous amount of time on this case, including detailing undercover police to patrol the stacks in an effort to apprehend the mutilator." Cline wrote that senior University administrators met weekly for much of an academic year to brainstorm about how to catch the vandal.
Lawrence Dowler, associate librarian of Harvard College for public services, appeared in court to make a victim-impact statement. He thanked Green for his vigorous prosecution of the case.
"Harvard's libraries are not just for Harvard faculty and students," Dowler said. "They are visited by scholars from throughout the world, who come to study the part of the world's cultural heritage preserved in the libraries. There is a reason that the national library in Bosnia was purposefully destroyed. The Bosnians lost their history. We've now lost a part of who we are and, ironically, of who Torres is. We've lost a part of our collective memory. I don't know how to put a value on that."
Torres had been in prison since a February 18 arraignment, after which he did not post bail, and so on July 1 he had already served 134 days of his sentence.
He made a brief statement to the court. "I am very remorseful for what I did," said Torres.
---
Main Menu · Search · Current Issue · Contact · Archives · Centennial · Letters to the Editor · FAQs