Irish Famine Memorialized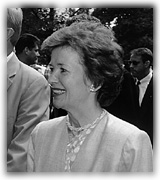 Robinson.
Jane Reed
On a benign summer day, July 23, a throng gathered on the Cambridge Common to listen to uilleann pipes and speeches and to watch Ireland's president, Mary Robinson, LL.M. '68, unveil an Irish Famine Memorial that pays tribute to the million and more people who died or were forced to emigrate during the Great Hunger, An Gorta Mor, that thinned Ireland's population by a quarter from 1845 to 1850. The memorial depicts a woman with hand outstretched, cradling a dying child, as her eldest son, holding another child, extends his arm in a final goodbye to the family and country he must leave behind. The memorial was created by Irish sculptor Maurice Harron in part, he said, to remember "all who continue to suffer from the scandal of hunger in a world of plenty."
"Genius" Grants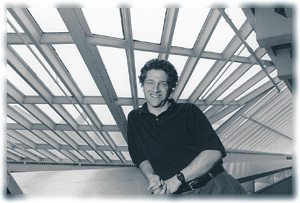 MacArthur Fellow: Physicist and historian of science Peter Galison.
Mary Lee
Harvard alumni are richly represented among the MacArthur Foundation's newest crop of fellows, whose names were announced in June. Five of 23 recipients of the so-called "genius" awards--intended to foster creativity by conferring large grants on often unheralded intellectual and social leaders--have a Crimson connection. Peter Galison '77, Ph.D. '83, Mallinckrodt professor of the history of science and of physics, just published Image and Logic, the second volume in a trilogy exploring the evolution of physics through its experiments and apparatus. Other winners include Mark Harrington '83, an AIDS activist and policy director of the Treatment Action Group in New York City; Eva Harris '87, a biologist now living in San Francisco who has been working to fight infectious diseases in Central and South America; Michael Kremer '85, Ph.D. '92, an assistant professor of economics at MIT, who focuses on developing nations; and Russell Lande, Ph.D. '76, a professor of biology at the University of Oregon who is a specialist in biodiversity.
Building Boomlet Changes Cuisine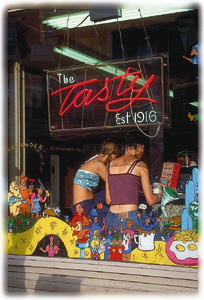 The endangered Tasty.
RODGER KINGSTON
With the Massachusetts economy recovered, retail space around Harvard Square at a premium, and the local vacancy rate for office space approaching zero, three commercial development projects are nearing construction. Two seem likely to redefine the sating of student stomachs. On the Square itself, Cambridge Savings Bank has won approval to redevelop the Read Block, a trio of joined structures that curve around the corner of Kennedy Street opposite the Red Line T stop; among the tenants facing relocation at the end of October is the Tasty restaurant. Next spring, Intercontinental Companies will redo Winthrop Square, south of Mount Auburn Street; Grendel's may be driven from its den. Of less gustatory significance, five stories of office space, to be known as Zero Arrow Street, will rise on a parking lot at the Square's eastern end.
Tapping Toes
In honor of a major gift to the Radcliffe Campaign, the Radcliffe Dance Center, on the second floor of the former gymnasium building, has been renamed the Amelia Tataronis Rieman Center for the Performing Arts. Its namesake donor, an alumna from the Radcliffe class of 1929, intends to support the current use of the space for dance rehearsals and recitals, and for other undergraduate artistic performances.
Moving On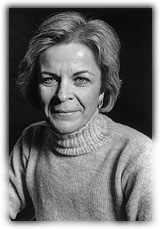 Buchanan.
LAURA WULF
Constance H. Buchanan, associate dean for program development at Harvard Divinity School, and author of the book Choosing to Lead: Women and the Crisis of American Values, will move on to the Ford Foundation in New York City on September 1, where she will develop a new grants initiative on religion in contemporary society. Buchanan was founding director, in 1973, of the women's studies in religion program, second only to Radcliffe's Bunting Institute as the oldest women's-studies program affiliated with the University.