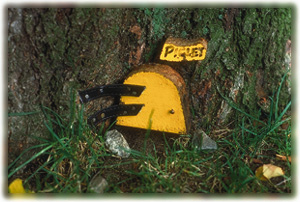 Piglet's place, a modest structure.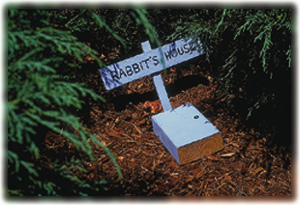 Rabbit is in residence.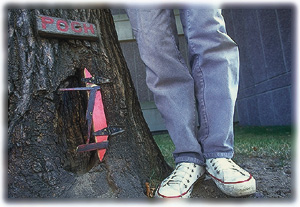 Villainy.
In Pooh's Neighborhood
Winnie-the-Pooh has lived happily in a tree by the Science Center, in a commodious house with a red door, since well before many people were born. No doubt to Pooh's delight, Piglet moved into the neighborhood this June, perhaps for some summer-school brushing up before matriculating with the class of 2001. His house is cramped compared to Pooh's, just across the path, and was at first of excessively humble construction, consisting only of a nameplate and a yellow door propped against a tree. Then the door acquired strap hinges, and inspection revealed a penny behind it. Soon Rabbit moved into a juniper, close by his friends. A cross marks the trapdoor leading down to his warren.
In early July, a cheerless person or persons unknown wrecked Pooh's house, shattering the door and making off with a wooden likeness of Pooh, a hunny pot, and whatever else Pooh may have had on hand at the time. (A similar assault occurred last January; it may be that a Heffalump is at large in the community.) After the most recent outrage, the splintered door hung from its twisted hinges for several days, an offense to the gentleness of bears. On July 15, it vanished. On July 16, a sign appeared tacked to the tree above where the door belonged: "Winnie-the-Pooh's house is currently under construction. Please excuse the current appearance while we renovate...."
By the end of work on that very day, the door was back up, a thrilling sight for passersby. On the next day, a figurine of Pooh, of a material startlingly white, could be seen sitting in the sun just outside the door.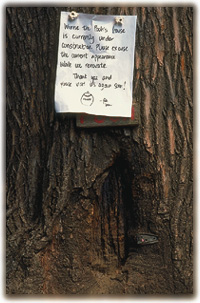 An encouraging notice.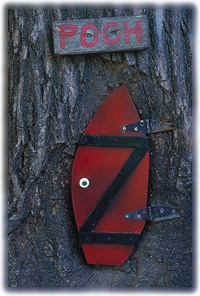 Restoration work complete.
Now, the editors of Harvard Magazine wish to discover, without making prying or unseemly inquiry, who built Pooh's house in the beginning, and just when, and who built Piglet's and Rabbit's houses, and who added Piglet's hinges, and who restored Pooh's door, and when Eeyore is expected. Will someone say?