Main Menu · Search ·Current Issue ·Contact ·Archives ·Centennial ·Letters to the Editor ·FAQs



In this issue's Alumni section:
James Toback's Harvard Trip - Barnabus Rex - Democracy in Action - Comings and Goings - Halcyon Day - Eyes on the Prize - A Special Notice Regarding Commencement Exercises - Local Boys Do Good - Internet Entrepreneur - Yesterday's News
---
For more alumni web resources, check out Harvard Gateways, the Harvard Alumni Association's website
---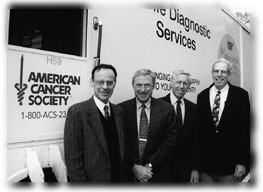 Cancer fighters Yesley, Rosenthal, Keller, and Wolk.
Local Boys Do Good
What do two physicians, a food broker, and the chief financial officer of Earthwatch have in common? The class of '59 and an interest in promoting women's health and combating breast cancer.
In the late 1980s, radiologist Richard Wolk heard about a Maryland initiative that provided on-site mammograms to the employees of large companies by using a mobile, fully equipped van. Wolk knew the statistics--one in nine women, or approximately 180,000 women nationwide, develop breast cancer each year. In Massachusetts alone, yearly breast cancer-related fatalities total 1,400. Wolk decided to try a similar venture in Massachusetts, but knew he lacked the financial resources and business know-how to get the project rolling. Then, he says, he remembered, "I always learned more from my peers in the dining hall than from the professors in the lecture hall." So he contacted classmates Mark Yesley and Robert Keller, employed, respectively, in food distribution and nonprofit management, and together they created Mobile Diagnostic Services (MDS), the only accredited mobile mammography service in Massachusetts.
Their van, like its Maryland model, originally catered to corporations, but with the rise of HMOs, Wolk explains, independent contractors like the Mobile Diagnostic Services fell on rough times. To adapt, the partners decided to become a nonprofit; along the way, they enlisted the help of another classmate, physician David Rosenthal, director of the Harvard University Health Services and an active member (and future president) of the American Cancer Society.
In partnership with the society and the Dana Farber Cancer Institute, and aided by start-up grants from CVS and Zeneca Drug Corporation, MDS has developed an important role in serving the medically underprivileged. MDS offers mammograms at reduced fees ($90, versus a standard fee of $107), and uninsured women are federally funded through grants from the Breast and Cervical Cancer Initiative. Wolk reports that MDS now conducts 70 percent of its examinations in the inner city and is the single largest provider of mammogram services to uninsured women in Massachusetts, screening 3,200 annually and handling 30 percent of all cases under the umbrella of the Breast and Cervical Cancer Initiative. Despite the large work load, the MDS staff consists only of two full-time and four part-time technicians, and four administrators holding down the fort in the Natick office. Wolk reads all of the mammograms--Robert Keller estimates that his college roommate has read more than 40,000 since their project's inception. The partnership's "efforts to advance human well-being" have been recognized by the Massachusetts State Senate.
Mobile Diagnostic Services now runs two vans. The Phoenix replaces an earlier van that crashed on the highway and burst into flames. The second van is perhaps more tellingly named: H59--to honor how and where their project all started. "We've never made a profit," Wolk has noted, "[but] it has been a labor of love and a source of pride."
~ Sara Houghteling
---
Main Menu · Search ·Current Issue ·Contact ·Archives ·Centennial ·Letters to the Editor ·FAQs