Main Menu · Search ·Current Issue ·Contact ·Archives ·Centennial ·Letters to the Editor ·FAQs



In this issue's Alumni section:
James Toback's Harvard Trip - Barnabus Rex - Democracy in Action - Comings and Goings - Halcyon Day - Eyes on the Prize - A Special Notice Regarding Commencement Exercises - Local Boys Do Good - Internet Entrepreneur - Yesterday's News
---
For more alumni web resources, check out Harvard Gateways, the Harvard Alumni Association's website
---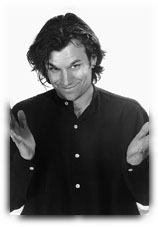 Website developer Butterick. MICHELE ASSELIN
Internet Entrepreneur
"We are entering the next phase in the development of the Internet. The race to build the coolest site is over; the work of proving that the Internet has sustainable business value has begun." Matthew Butterick '92 posts this manifesto prominently on the website of his Internet-services company, Atomic Vision ("www.atomicvision.com"). Butterick is no stranger to revolution--when he was an undergraduate, he and two other students took over space in the Adams House squash courts to display student art. "We renamed [the space] Agitprop," Butterick recalls. "We went out thinking, 'We're going to change the way this is done,' and we wrote to administrators in Visual and Environmental Studies (VES), the director of the University Art Museums, and various House masters demanding certain things, like permanent display space for the students. By and large, they agreed."
Butterick considers that early artistic coup an "exercise in empowerment": training for founding and running his own firm. "It helped teach me to say, 'I don't care what other people are doing; I'm going to start a company because I believe in X, Y, and Z, which are worthy principles to start a company around.'" He is also familiar with innovation: his senior VES project was a first of its kind and a seemingly ironic choice for the future webmaster. "It was a book for which I designed four digital typefaces and chose and set the text," Butterick explains. "It used word as image and explored inventive graphic treatments." Yet the project pointed him less toward Gutenberg and more toward Gates, because after working in both graphic and typeface design, he entered the field of software engineering.
Now, at 28, he is a CEO with a staff of 15 (including Justina Carlson '82, a founding partner and vice president for strategic development). Atomic Vision consults on and helps develop Internet sites for its clients, which include the search engine Excite, an interactive site for girls called Purple Moon, and Planned Parenthood's new website for teens, Teenwire. Signing Planned Parenthood made Butterick realize that his four-year-old firm had gained legitimacy compared to more recent start-ups, but still benefited from its relative youth. "Our competitors were more established," he says, "but part of Planned Parenthood's intention, as a more entrenched organization themselves, was to find someone who would be innovative, come in and shake things up."
How, amid all this creation, does Butterick "sustain business value"? He believes Atomic Vision's success comes from its ability to "limit mission creep"--which occurs when clients' project expectations expand even as their project budgets don't. He also cites Atomic Vision's "path-critical" approach to design. "The website is the fulcrum between the audience and the company's content," he explains. "I think all three of them have to fit well together: it has to be the right content for the right audience, and it has to make sense to present it through the Web." And his economic strategy? "Well," Butterick says, betraying his early life as a mathematics concentrator, "we take in more money than we spend."
~ Kirstin E. Butler
---
Main Menu · Search ·Current Issue ·Contact ·Archives ·Centennial ·Letters to the Editor ·FAQs