Main Menu · Search ·Current Issue ·Contact ·Archives ·Centennial ·Letters to the Editor ·FAQs



In this issue's Alumni section:
James Toback's Harvard Trip - Barnabus Rex - Democracy in Action - Comings and Goings - Halcyon Day - Eyes on the Prize - A Special Notice Regarding Commencement Exercises - Local Boys Do Good - Internet Entrepreneur - Yesterday's News
---
For more alumni web resources, check out Harvard Gateways, the Harvard Alumni Association's website
---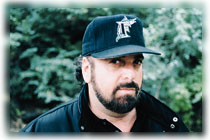 James Toback: making movies on his own channel COURTESY OF PALM PICTURES
James Toback's Harvard Trip
He says he has always been on his own channel, that even those who knew him in his long-ago Harvard days thought he was crazy--that he had a flamboyant life and was famously ill-adjusted. "I didn't fit any one mold. I didn't move in any one world. I was one of those people everyone was always talking about," says James Toback '66.
These days, the 54-year-old's reputation in Hollywood, where he has spent the past 25 years writing and directing, vacillates between "absolute loony" and "genius." He's a bon vivant who relishes hanging out with outsized characters like former football superstar Jim Brown, the late producer Don Simpson, actor Robert Downey Jr. (his self-proclaimed alter ego), and boxer Mike Tyson, who stars in his upcoming film Black and White. But Toback is also an Oscar-winning screenwriter (for Bugsy, in 1991) who gets called in to fix other people's scripts when he's not working on his own projects.
Pacing a downtown Manhattan editing suite that looks like a diner, Toback--in his jeans, sweater, and Yankees cap--comes off more like somebody's lost uncle than anything close to a mad artist. He is in the final stages of Black and White, a fictional hip-hop exposé that made a splash in New York gossip pages when it was filmed in the city last fall. Tyson played himself; the cast includes Downey, Brooke Shields, Ben Stiller, Claudia Schiffer, and the rap group Wu-Tang Clan. The director is rushing to see if he can make it to the Cannes Film Festival in May.
Everything appears to be in order. The film's scenes are neatly cataloged on index cards tacked to the walls--Will loads gun, Terry and Casey shop, Dean considers jail, Jesse chides--and the digitized stock is loaded into the computer, ready to be played with the touch of a button. But there's more to come. Toback has reshoots scheduled for the next day, six scenes in 12 hours, and his producers are nowhere to be found. He takes a call from an agent and casts a part. He fields three more calls to sort out some travel arrangements. The wardrobe department calls to find out what the characters need to wear the next day to match the previous footage, and Toback has to reel off costumes that he hasn't seen for months. Then, inevitably, big news breaks. Downey has had a coming-out of sorts, as a bisexual, thanks to Detour magazine, and Toback has to run down to the newsstand to find out exactly what's going on.
"Downey clearly let himself go, which is what he likes to do anyway. He's very funny and revealing," Toback says later. "I don't think there's a lot of distance between deliberation and action in his personality. Nor is there in mine, which is one of the reasons I like him so much."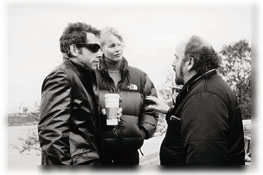 Toback directs actor Ben Stiller and model Claudia Schiffer on location for his new film Black and White.CREDCOURTESY OF PALM PICTURESIT
Toback has made a career and a life of exploring the seamier side of man--the excesses, lunacies, and self-delusions. Even his early career was on an accelerated, out-of-control track. Finishing Harvard a year early, he went straight to a master's program in English at Columbia, then taught at the City University of New York. After marriage ("to the grand-niece of Winston Churchill," he says) and some "hedonistic" years, he was ready to write gritty parts (for James Caan, Paul Sorvino, and James Woods) in his screenwriting debut, Karel Reisz's 1974 film The Gambler, a story about a professor who lives on the edge.
Fingers, his 1978 directorial debut, continued his obsession with obsession, and introduced his quirk of putting sports stars, sometimes playing themselves, into his films: Jim Brown in Fingers, basketball player Darryl Dawkins in a documentary about love, The Big Bang (1989), and now Tyson and Knicks star Allen Houston in Black and White. Toback directed Love and Money and Exposed in the early eighties; he hooked up with Downey in 1987 for The Pick-Up Artist, a quirky romantic comedy with Molly Ringwald. Mainstream critics like Pauline Kael have always treated Toback as a fringe figure, even if they appreciated his work. Although the gangster film Bugsy, directed by Barry Levinson and starring Toback's old pal Warren Beatty, pulled him into the limelight, deadly quiet years followed, with no major work.
Toback is as notorious for the unproduced screenplays of this period as he is for his lifestyle. One, Shrink, was supposed to star Warren Beatty. The other, Harvard Man, is a project that could actually define Toback's whole career. He has talked about it forever. Leonardo DiCaprio was supposed to play the lead at one pre-Titanic time, but the interested studio didn't think the young actor was marketable. Toback's personal legend about the script recounts how he pitched it to producer Don Simpson in a marathon session by reading him the entire thing over the phone and finally securing approval, only to have Simpson drop dead of a cocaine overdose five minutes after hanging up.
The story of Harvard Man is a tale of the Sixties moved forward 30 years: a strung-out student athlete throws a basketball game. "The main character's involved in a deep sexual relationship with his philosophy professor and also with a Boston College cheerleader, who is the daughter of a mobster he owes money," Toback says. It is obsessive, quirky, and drug-addled--so much so that no producer would dare touch it. Like all of his other projects, the script is loosely inspired by his experiences, this one dating back to an LSD trip at Harvard; it's about his flirtation with the brink and how other people reacted to him. "I lost my sanity for eight days," he says. "I had a cataclysmic blow-out and an equally sudden retreat back into the self."
In the end, Toback was fine, except for his lingering insights about insanity. "I was functioning, but I had learned more in those eight days than in any other period," he says. "I have not been high since that episode. I have literally not had even a single near-drug experience since I was 19. And yet that experience remains the seminal emotional, psychological, intellectual experience of my life."
Keeping the faith that Harvard Man will make it to the screen is his current obsession. It is, he says, why he went back to work in 1996, after a fallow period when he thought nobody would ever work with him again because he had been dormant for so long. He got inspired, he says, by watching TV coverage of Downey emerging from a jail cell after being held for a drug violation. Toback wanted to bring Downey back, just as he wanted to revive himself, so he wrote Two Girls and a Guy, a steamy, twisted love triangle that required more than a dozen reviews by the Motion Picture Association of America and various snips to get an R rating. The film made a hit in independent film circles in 1997, and Toback was back in business.
Now the director is trying again with Black and White and his next project, Love in Paris, a romance. But he says he does these so he can build up enough of a reputation to make Harvard Man. "If I can sneak in Harvard Man first, before my next movie, I will," he says. "There's a chance that I might be able to do it between projects."
~ Beth Pinsker
---
Beth Pinsker '93 is a freelance writer based in New York whose work has appeared in Entertainment Weekly and the Dallas Morning News.
---
Main Menu · Search ·Current Issue ·Contact ·Archives ·Centennial ·Letters to the Editor ·FAQs