Main Menu · Search ·Current Issue ·Contact ·Archives ·Centennial ·Letters to the Editor ·FAQs



In this issue's Alumni section:
James Toback's Harvard Trip - Barnabus Rex - Democracy in Action - Comings and Goings - Halcyon Day - Eyes on the Prize - A Special Notice Regarding Commencement Exercises - Local Boys Do Good - Internet Entrepreneur - Yesterday's News
---
For more alumni web resources, check out Harvard Gateways, the Harvard Alumni Association's website
---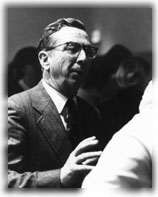 Jack Barnaby: a master of the game HARVARD SPORTS INFORMATION OFFICE
Barnabus Rex
"Every profession is great if greatly pursued," said Oliver Wendell Holmes Jr., A.B. 1861. As a youth, John M. "Jack" Barnaby '32 heard this quotation from his father, and took it to heart. The animated, fast-talking Barnaby began coaching tennis and squash at Harvard in 1932; he stayed until 1976, and during that span, his squash teams won 780 matches and captured more national championships than all other colleges combined. He is the winningest coach in Harvard history.
Jack Barnaby, a recently produced 25-minute video documentary directed by Michael Masland '95 of the Harvard Film Study Center, premiered at the Murr Center dedication last fall, with its subject in attendance. The film zooms in on the living legend; it offers not only a compelling portrait of "Barnabus Rex," but explores the secrets of Barnaby's effectiveness in building teams that dominated a sport for nearly half a century.
Having played squash for the Harvard varsity for four years, Masland can analyze the complexities of a three-wall nick. He interviewed the octogenarian Barnaby and several of his players, including George Plimpton '48 ("He made it seem such fun to learn the intricacies of the game....It became almost like chess") and 10-time national champion Victor Niederhoffer '64 ("Jack was like a piano teacher, breaking the game down into exercises").
A recurrent theme is the importance of identifying the specific talents of each individual and then building a winning game on those strengths--in Barnaby's words, getting each player "to be himself to a very high degree of excellence." Men's tennis coach Dave Fish '72, who has played and coached under Barnaby, observes that the nine athletes on Barnaby's varsity team might call for nine different styles of coaching. This approach was equally successful with women: Barnaby penned a coda to his coaching career by mentoring the Harvard women's squash team, with great success, from 1978 to 1995.
Using archival footage, Masland also traces the evolution of squash at Harvard. Of the early part of this century, when team captains chose the starters, Barnaby observes, "Unless your great-grandfather came over on the Mayflower, you didn't play. It was an Upstairs/Downstairs era. I was definitely downstairs." There is high-camp 1920s footage of 16 Radcliffe students doing a synchronized dance with racquets on the tennis court, and an exciting clip from modern competition that features Daniel Ezra '98 winning a match in 1997 on the way to Harvard's sixth straight national championship. The concluding points in that match demonstrate some of Barnaby's well-known ideas about sportsmanship, which he summarizes simply as, "You play it straight, no matter what the other fellow does."
Jack Barnaby also plays it straight, with solid research and sound documentary technique. Yet the film adds some visual razzle-dazzle, like afterimages of players in motion, and a stop-action frame of a squash ball hitting a wall and compressing. It's a fascinating, vivid biography of one of Harvard's greatest teachers--who used, instead of chalk and blackboard, a racquet and wall.
~Craig Lambert
---
Copies of the video are available from the Film Study Center. Call (617) 496-2714 or e-mail "

[email protected]

" for more information.
---
Main Menu · Search ·Current Issue ·Contact ·Archives ·Centennial ·Letters to the Editor ·FAQs