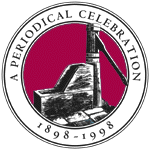 Introduction
100th Anniversary Issue
Centennial Harvests:
Harvard in Epigram
The College Pump
The Readers Write
The Undergraduate
Harvard Portrait
Bulletin Boards
Timelines:
A New Era: 1898-1918
Boom and Bust: 1919-1936
War and Peace: 1937-1953
Baby Boom to Bust: 1953-1971
Century's End: 1971-1998
Other Links:
Century Mark
Centennial Sentiments
Harvard Magazine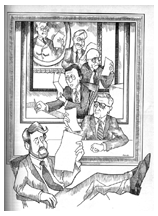 DAVID G. BRAATEN
Celebrating its fiftieth anniversary, the Harvard Alumni Bulletin of November 6, 1948, featured the cartoon at left, depicting its current and former editors considering letters from readers. The caption read, "To the Editor of the Bulletin: It strikes me that this year's football ticket situation is the worst in Harvard history. As a devoted alumnus and a former member of the freshman cross country squad, I don't see why something...." A quarter century later, updated for succeeding editors, the cartoon reappeared (below). Now, during the magazine's centenary, we happily announce that, thanks to your letters (and rising apathy about football), almost anyone can sit almost anywhere at almost any game.
Most Harvard problems do not lend themselves to such swift solution, at least in the eyes of alumni, as is most evident in the magazine's letters column. Is the professorate too dedicated to research, at the expense of College teaching? Hamilton T. Brown '48 argued so, heatedly, in March 1949. Are voices now raised over the foreign-language requirement? Mere whispers they seem compared to the argument over the demise of Latin. Are faculty members too liberal? Back then, the terms were "Communist" and "Fascist"--and they really meant that.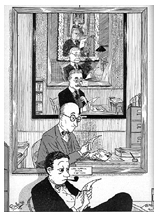 CHARLES HEFLING
Despite the perennial quality of many issues in the University's life, the character of the letters has evolved over time. Where once the training and schedule of the Harvard "eleven" and remembrances of greatly admired teachers filled the columns, the stakes of global war and peace, loyalty oaths, and the changing student body came to the fore toward the middle of the century. The letters excerpted on the following pages capture that transition, in the era when Harvard assumed its modern form as an international research university.
Just at that time, too, when the magazine was redesigned in 1941, the letters moved from the back pages to the front. There they rightly remain, a forum open to all Harvard alumni, mighty and modest, for robust debate about your University and its concerns. For 32 cents--or less, if you use the magazine's website or e-mail--it's a cheap way to let fellow members of the Harvard community hear your two cents' worth.
~ The Editors
See The Readers Write harvest from our May-June '98 issue.