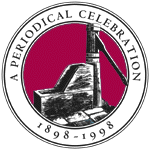 Introduction
100th Anniversary Issue
Centennial Harvests:
Harvard in Epigram
The College Pump
The Readers Write
The Undergraduate
Harvard Portrait
Bulletin Boards
Timelines:
A New Era: 1898-1918
Boom and Bust: 1919-1936
War and Peace: 1937-1953
Baby Boom to Bust: 1953-1971
Century's End: 1971-1998
Other Links:
Century Mark
Centennial Sentiments
Harvard Magazine



All around Harvard, notices on kiosks and bulletin boards daily tell the community about itself: announcing plays and lectures, offering computers for sale, seeking members for choruses and clubs. Harvard Magazine performs the same functions for its alumni readers, now older and presumably wiser, and so sustains the sense of community across space and through time.

After 12 years of publication, the magazine began to run a regular "Alumni Notes" section on October 12, 1910. Of the 17 notes in that issue, two announced weddings and 15 concerned employment--including the early progress of a future president of the New York Stock Exchange (and subsequent felon). The format worked: most class notes still report news of education, weddings, births, professional promotions, publications, and pastimes.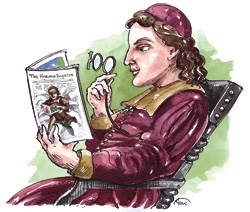 Illustration by Mark Steele
But unlike the ephemeral papers fluttering on kiosks in the Yard, the notes endure in print. Reading them, one can watch history unfold (World War, Depression, World War, McCarthyism, Vietnam) and society change (increasing longevity, wider travel, more frequent divorce, the rise of feminism and born-again Christianity, the spread of e-mail). Those whose names are already well known (Kennedy) appear alongside those whose prospects cannot yet be judged (Ieoh M. Pei, M.Arch. '46) or whose paths lead in directions unforetold (from psychotherapy to blacksmithing). For even though class notes are an elite institution--you have to belong to the club--they are a democratic medium: famous or not, your news appears in the same size type, and about the same number of lines, as your classmates'.
The magazine has also been an advertising medium since its first issue (nine notices--for train tickets to The Game in New Haven, billiard tables, and Brine's, still selling sporting goods in the Square). Through the decades, the display advertisements chronicle the lifestyles of those assumed to be able to clothe, travel, and entertain themselves well. With the advent of classified ads in 1972 (painful to read of waterfront Vineyard rentals for $250 per week in season!), and personals shortly thereafter (yes, marriages have ensued), alumni have found yet another way, through this magazine, to maintain--and make use of--their Harvard ties.
— The Editors