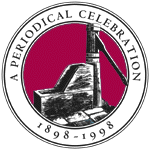 Introduction
100th Anniversary Issue
Centennial Harvests:
Harvard in Epigram
The College Pump
The Readers Write
The Undergraduate
Harvard Portrait
Bulletin Boards
Timelines:
A New Era: 1898-1918
Boom and Bust: 1919-1936
War and Peace: 1937-1953
Baby Boom to Bust: 1953-1971
Century's End: 1971-1998
Other Links:
Century Mark
Centennial Sentiments
Harvard Magazine


| | |
| --- | --- |
| | Boston policemen strike. Lecturer Harold Laski, a political theorist, supports them. The Board of Overseers interrogates Laski. President A. Lawrence Lowell, A.B. 1877, LL. B. 1880, defends him, but Laski departs for the London School of Economics. Photograph UNDERWOOD & UNDERWOOD/CORBIS BETTMAN |
| | |
| --- | --- |
| | In its only Rose Bowl appearance, Harvard edges Oregon, 7-6. The apotheosized Harvard athlete, W. Barry Wood--a football all-American--will graduate summa cum laude in 1932 with 10 varsity letters in four sports and make the cover of Time. ©OLD OREGON MAGAZINE, UNIVERSITY OF OREGON |
| | |
| --- | --- |
| | The Graduate School of Education opens, the first Harvard department to admit women and men on equal terms. Elsewhere, Harvard remains exclusionary. Lowell denies black students equal access to freshman residence halls and maneuvers to impose a College admissions quota on Jews. |
| | |
| --- | --- |
| | Heightened visibility: Daniel Chester French's 1884 John Harvard statue moves from its longtime, lonely site by Memorial Hall to prominence in the Yard, fronting University Hall, where even casual visitors behold it still. |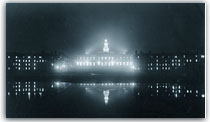 Master builder: Lowell's transforming construction includes the Business School campus (1926); the residential "River Houses" (with three new structures--Dunster, Lowell, and Eliot--funded by Yale alumnus Edward Harkness); and, up the street from the new Fogg Museum, the Biological Laboratories (1931), guarded by Katharine Lane Weems's rhinos.
| | |
| --- | --- |
| | Philip Drinker and Louis A. Shaw '09, of the School of Public Health, devise the iron lung to help polio victims. Six years later George R. Minot '08, M.D. '12, S.D. '28, and William P. Murphy, M.D. '22, of the Medical School, win the Nobel Prize for work on treating anemia with a diet of liver. COURTESY COUNTWAY MEDICAL LIBRARY |
| | |
| --- | --- |
| | Lowell's last building, Memorial Church, honors alumni who died in World War I. Paul Hollister '13 later refers to it as the "Dormitory of the Immortals, with its stout Doric ankles and its tiara of stars" (Emily Dickinson above, but pure Mae West below, says Professor Howard Mumford Jones). The church's oversized portico offsets the massive façade of Widener Library across the Yard, dating from the first years of Lowell's presidency. |
| | |
| --- | --- |
| | James Bryant Conant '14, Ph.D. '16, a chemist like Charles William Eliot, succeeds Lowell. Depression and war curb construction during his 20-year presidency, which begins with efforts to strengthen Harvard's people by raising standards for student applicants and for faculty scholarship. FABIAN BACHRACH |
| | |
| --- | --- |
| | Despite anemic fundraising, Harvard's Tercentenary is a monumental bash, with fireworks on the Charles and an address by Franklin D. Roosevelt '04, LL.D. '29. Commenting on the rainy final exercises, Yale president James Rowland Angell says, "This is evidently Conant's method of soaking the rich." ©PRESIDENT AND FELLOWS OF HARVARD COLLEGE |