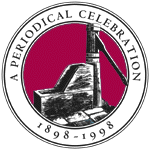 Introduction
100th Anniversary Issue
Centennial Harvests:
Harvard in Epigram
The College Pump
The Readers Write
The Undergraduate
Harvard Portrait
Bulletin Boards
Timelines:
A New Era: 1898-1918
Boom and Bust: 1919-1936
War and Peace: 1937-1953
Baby Boom to Bust: 1953-1971
Century's End: 1971-1998
Other Links:
Century Mark
Centennial Sentiments
Harvard Magazine
Lewis HARVARD YEARBOOK PUBLICATIONS
Samuelson HARVARD YEARBOOK PUBLICATIONS
Fadiman

Perhaps believing it's best to get 'em when they're young, the Harvard Alumni Bulletin first published "The Undergraduate View" in its issue of October 9, 1936--just after reporting on the Tercentenary celebration. Correspondent James B. Hallett '37 wrote of such astonishments as the initial Confidential Guide, with its assessments of professors and courses, and the useful introduction of a University telephone book. The magazine's innovation took. Twelve years later, evaluating the first dozen undergraduate correspondents, Bulletin editor William Bentinck-Smith '37 observed that "one and all contributed something fresh, a new way of telling an old story."
He was right on both counts. A rereading reveals recurring themes: the arrival of green freshmen, housing, football, drinking, sex, the cruel coincidence of spring and exams, cycles of political indifference and activism--even evolving styles of dorm décor, from a moose head mounted over the mantle to the early-1970s "Psychedelic-Iguana School."
Gradually, one also senses change. No longer do students automatically visit Bermuda or Havana over spring break. The political stakes become infinitely more charged during Vietnam. Glacially, it seems, the College moves from being an all-male preserve: Michael J. Halberstam '53 reports the dance where the boys check out the 280 girls of the Radcliffe class of 1956; in 1966, Robert J. Samuelson '67 records the electrifying news that classmate Linda McVeigh has been named the Crimson's "first girl managing editor." J. Anthony Lewis '48--who wrote early and often about the role of women--recalled in 1973 that "It was a tamer column then, less personal, more restricted to the surface of events," reflecting "a more cocooned life--for students and university administrators alike."
The authors of "The Undergraduate" have long since quit the cocoon. They left behind a legacy of youthful prose, enriching in its day, much of which withstands the test of time remarkably well. The following selections, most from the period between the Korean War and Vietnam, vividly reflect Harvard as it shaped, and was shaped by, some of the College's best writers. Fittingly, Harvard Magazine's 1997-1998 "Undergraduates," Sewell Chan '98 and Tara B. Purohit '99, helped choose the excerpts.
~ The Editors
See The Undergraduate harvest from our July-August '98 issue.