Main Menu · Search · Current Issue · Contact · Archives · Centennial · Letters to the Editor · FAQs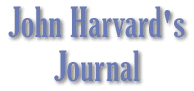 In this issue's John Harvard's Journal:
Mandela and Annan: What the World Needs Now - The Mandela Address: Eradicate the World's Disparities - Annan: Troubling News - The Annan Address: The Politics of Globalization - Autumn Windfall - Harvard Observed - Harvard Portrait: Harley P. Holden - World-Shaping Events: The Top Twenty? - Unlucky Number? - Brevia - The Undergraduate: A Pact with Solitude - Sports
---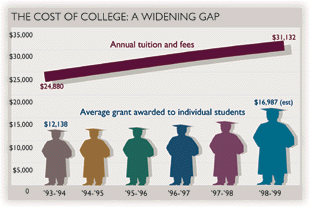 Chart by Stephen Anderson
Autumn Windfall
In an announcement made by Dean of the Faculty of Arts and Sciences Jeremy R. Knowles just as fall-term classes began, Harvard declared an immediate 20 percent increase in outlays for undergraduate financial-aid grants. The College boosted its scholarship budget by $9 million, from $44 million last year to $53 million in 1998-99. For individual students, this means Harvard will increase scholarship grants by $2,000 apiece, enabling a similar decrease in "self-help" aid (loans and work-study jobs). Furthermore, students will now receive the full benefit of outside scholarships; in the past, Harvard has decreased its own grants to students who win such awards, effectively discounting them by 60 percent. The changes will affect more than 3,100 matriculants and are, according to dean of admissions and financial aid William Fitzsimmons '67, Ed.D. '71, "the most important thing that's happened in financial aid since need-blind admissions in the early 1960s."
The initiative aims to ease students' burden of work and debt; it does not affect the overall calculation of family need, or expected contributions from parents. But the self-help component of a Harvard aid package is significant: it might typically be $7,000 per academic year, including a $5,000 loan and $2,000 in work-study employment. Usually, students are expected to add another $2,000 from summer earnings. "Kids have been pushed pretty hard," says Fitzsimmons--both in loan costs and work expectation.
How hard? With Harvard's undergraduate fees now pegged at $31,132 annually, about 60 percent of students graduate with some debt, ordinarily $15,000 to $20,000. This reflects a national trend. "The most visible change in the financing of higher education in the last decade has been the increasing indebtedness of students who graduate both from public and private colleges," says Terry Hartle, senior vice president of the American Council on Education (ACE). He notes that in 1990-91, American college students borrowed $12.7 billion; by 1997-98, that figure had ballooned to $30 billion and Hartle predicts a jump to $35 billion this year. "Tuition has gone up, and in 1992 the federal government increased the amount of money that students could borrow," Hartle explains. "Today, it's not uncommon for seniors to graduate owing $20,000 to $25,000. And compared to a decade ago, banks are practically throwing credit cards at students; often, you can add $4,000 or $5,000 more in credit card debt."
This kind of balance sheet can tilt career choices. "We often heard from students that they wanted to do social-service or nonprofit work, but couldn't afford to," Fitzsimmons says. "They had to do something more lucrative. They had to pass up a job that didn't pay as well but might have provided more useful information about their ultimate career choice."
Furthermore, during college, "Undergraduates on financial aid were getting to have a very different set of opportunities from those who were not," says James Miller, director of financial aid in Harvard and Radcliffe Colleges. "Students were just running from one thing to the next. They didn't have time, for example, to pursue that interesting summer research opportunity. The whole nature of undergraduate extracurricular activity has also changed. Consider the number of hours it takes to be a leader in an activity: working as a Crimson editor might require 35, 45, or even 55 hours a week. It's hard for a financial-aid student to make that kind of commitment. Everyone says the single best thing about the Harvard experience is getting to know your classmates, and a lot of that happens during extracurricular activities."
"We do not want to return to the days of the Gold Coast, when one privileged group had a wonderful college experience, but another group missed those opportunities," Fitzsimmons adds. "This is really redefining access. It's not enough just to get people in the door, you have to ensure access after they are at Harvard. If students feel they had the same opportunities as everyone else, they are going to look at Harvard with greater favor at their twenty-fifth, thirty-fifth, and fiftieth reunions. You really do have to think about the long-term interests of our students, and the important determinants of the quality of experience that undergraduates have here."
Harvard's new policy comes several months after Princeton, Yale, Stanford, and MIT all liberalized aspects of their financial aid (see "Faster Track on Financial Aid," May-June, page 74). Princeton's plan was the most expensive of the lot until Harvard's announcement. Some elements in Harvard's new policy parallel those of others: MIT lowered the self-help component by $1,000 per student; Stanford let students fully cash in outside scholarships. After Harvard's announcement, the Crimson opined that "Harvard simply can't stand to follow its Ivy league peers on any matter of education policy....The institutional embarrassment stemming from this loss of leadership is the only reason Harvard is matching money with need now." Countering this view, the official press release blazoned the fact that the "yield" (percentage of applicants admitted who choose Harvard) for Harvard's freshman class was nearly 80 percent, "a figure unmatched by any comparable institution, and the highest at Harvard in over 25 years," and noted that the yield for financial-aid candidates was the same as for others. Yet, "There is no question the institutional changes made by Yale, Stanford, Princeton, and MIT made a shift in the landscape," President Neil L. Rudenstine admitted in the Crimson. "[The new policy at Harvard] is also competitive; I don't think we should be... disingenuous about that."
To some degree, different colleges are aiming at different targets. "Princeton tried to redress a lack of lower-income and middle-income kids in their student body," Fitzsimmons says. "Yale focused on middle-income students. We don't have those problems. We have exactly the same yield from low-, middle-, and high-income applicants. Instead, we are trying to address the quality of undergraduate life." Supporting this view is the fact that Princeton's new policy exempts home equity up to $90,000 in determining need, and completely eliminates loans for students whose family incomes fall below $40,000; Harvard has no such across-the-board guidelines. On the other hand, Princeton's initiative phases in over four years and currently affects only its class of 2002, suggesting that it is aimed at recruitment; Harvard's plan has immediate impact for all enrolled undergraduates on financial aid.
The new policy on outside scholarships will be especially popular with parents, says Kahn associate professor of economics Caroline Hoxby '88, a specialist in the economics of education who participated in the discussions that helped formulate the new guidelines. "Harvard students are extremely good at competing for outside scholarships and tend to win more of them," she explains. "Now they have an increased incentive to get them. Money-wise, it matters even more for Harvard than it would for others: if you go beyond the five most selective colleges and move to the top 50, as you go down the list, letting students keep outside scholarships matters less and less, since their students will earn fewer and fewer of them."
The initiative also taps the strength of Harvard's $13-billion endowment and ongoing $2.1-billion University Campaign, which set undergraduate financial aid as its top priority, with a goal of $200 million--or nearly 10 percent of the entire campaign. The campaign has reached $167 million of that goal and is predicted to surpass it. Currently the endowment pays out slightly less than 4 percent of its principal annually; on $200 million, that payout would produce yearly revenue of almost $8 million, only about $1 million less than the increase in scholarship outlays. Hence the new initiative essentially achieves a declared purpose of the Campaign, and should increase the College's attractiveness to top applicants.
"Even among the most selective colleges and universities in the world there is a marketplace," says the ACE's Hartle, noting that the dissolution of the "overlap group" of select institutions that formerly met to ensure comparable aid offers means that "students now have access to a much wider range of financial-aid awards than they did before; these days we have a very competitive marketplace in higher education. In fact, the phrase 'financial-aid free-for-all' seems only a slight exaggeration."
---
Main Menu · Search · Current Issue · Contact · Archives · Centennial · Letters to the Editor · FAQs