Main Menu · Search · Current Issue · Contact · Archives · Centennial · Letters to the Editor · FAQs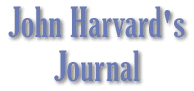 In this issue's John Harvard's Journal:
Mandela and Annan: What the World Needs Now - The Mandela Address: Eradicate the World's Disparities - Annan: Troubling News - The Annan Address: The Politics of Globalization - Autumn Windfall - Harvard Observed - Harvard Portrait: Harley P. Holden - World-Shaping Events: The Top Twenty? - Unlucky Number? - Brevia - The Undergraduate: A Pact with Solitude - Sports
---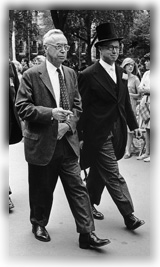 The Professors Schlesinger, cigars in hand, at the 1963 Commencement. Arthur Jr. was a marshal of his twenty-fifth reunion class. Arthur Sr. received an honorary doctor of letters degree. Also honored that year were several prominent shapers of world events, among them UN Secretary General U Thant, the Commencement speaker; U.S. Secretary of State Dean Rusk; Willy Brandt, mayor of West Berlin; and historian George Kennan, then U.S. ambassador to Yugoslavia. WILLIAM H. TOBEY/HARVARD NEWS OFFICE/HARVARD UNIVERSITY ARCHIVES
World-Shaping Events: The Top Twenty?
As the twentieth century neared the halfway mark, an enterprising United Press reporter persuaded the distinguished scholar Arthur M. Schlesinger, Higginson professor of history, to pick the 10 events that had had the greatest impact on world history between 1900 and 1950. The Harvard Alumni Bulletin published his list in its issue of January 14, 1950. With the millennium right around the corner, Harvard Magazine invited Arthur M. Schlesinger Jr. '38, a distinguished historian in his own right, to make up a similar list for the second half-century. He agreed to do so.
Here's the elder Schlesinger's list--not arranged, he emphasized, in order of importance:
The assumption of world responsibility by the United States ("against its own wishes")

World War I ("repaved the way for Fascism and communism with its...depletion of world resources and manpower")

The League of Nations ("a magnificent failure")

The political emancipation of women

The Great Depression ("the greatest challenge to the capitalist system")

World War II ("the greatest challenge democracy ever faced")

The development, for better or worse, of atomic energy

The abandonment of colonial imperialism

The United Nations ("proves there's appeal in the idea of union")

The emergence of the Soviet Union as the second world power ("she has introduced a moral code that violates our understanding of morals developed over the last 500 years")
The younger Schlesinger--professor of history at Harvard from 1946 to 1961, special assistant to President Kennedy, then Schweitzer professor at the City University of New York--chose these as the most important world-shaping events since 1950:
Men on the moon and the start of the exploration of space

The computer revolution

The collapse of communism and the end of the Cold War

The crusade for racial equality

The beginnings of cloning and genetic surgery

The movement to protect and rescue the environment

The resurgence of religious fundamentalism on every continent (including our own)

The rise of the Pacific world (wobbly now, but only for a moment)

The rise of the world market and the increase in economic inequalities both within and among nations

The dominance of television in forming world opinion
These lists leave room for argument, but provide convincing evidence of the unpredictability of human events. None of the developments on the first list could reasonably have been foreseen in 1900. Only the crusade for racial equality would have seemed probable in 1950. "I am confident," says Professor Schlesinger, "that Harvard Magazine's vigilant readership will soon let the magazine know what the Schlesingers have left out!"
---
Main Menu · Search · Current Issue · Contact · Archives · Centennial · Letters to the Editor · FAQs