Main Menu · Search · Current Issue · Contact · Archives · Centennial · Letters to the Editor · FAQs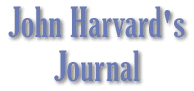 In this issue's John Harvard's Journal:
Mandela and Annan: What the World Needs Now - The Mandela Address: Eradicate the World's Disparities - Annan: Troubling News - The Annan Address: The Politics of Globalization - Autumn Windfall - Harvard Observed - Harvard Portrait: Harley P. Holden - World-Shaping Events: The Top Twenty? - Unlucky Number? - Brevia - The Undergraduate: A Pact with Solitude - Sports
---
Harvard Observed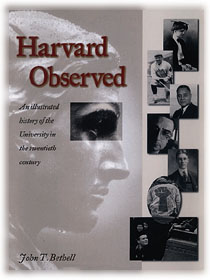 College tuition, boosted from $104 to $150 in the late 1860s, held at that level until 1916. Electronic networking on campus, circa 1900, was limited to Harvard's two telephones--one in the office of the dean of Arts and Sciences, the other under the control of the University's chief engineer. As rain drenched the final day of Harvard's Tercentenary gala, Yale president James R. Angell, LL.D. '21, ad-libbed, "I overheard one of your distinguished graduates, who was exhibiting a condition of complete saturation, remark, 'This is evidently Conant's method of soaking the rich.'"
These are but a few of the rich details provided by John T. Bethell '54 in Harvard Observed: An Illustrated History of the University in the Twentieth Century, just published by Harvard University Press to coincide with Harvard Magazine's centennial. A sweeping narrative, the book vividly traces Harvard's rise to preeminence as a university, its expansion into new areas of scholarship, teaching, and practice (business, design, education, government, and public health), and the role of its faculty members, students, and alumni in expanding the frontiers of knowledge and shaping world affairs. The text draws on Bethell's unsurpassed knowledge of Harvard, accumulated during his 28 years at the helm of this magazine (see "Observant Harvardian," March-April, page 4). It is complemented by more than 300 photographs and illustrations, many of them rare images from magazine and University archives.
Bethell modestly describes his intention as charting "some of the interactions between a leading American university and the larger society." As cultural history, he writes, Harvard Observed "also looks at the academic rites, intellectual arguments, sexual mores, fads, and folklore that became touchstones for succeeding generations." In fact, his book documents as never before the opinionated leaders who shaped Harvard, the events that influenced them and the University, and the hopes and humor and human foibles that give the community its enduring character. Although it is a history, the book's effect is not merely retrospective. Against the backdrop of what he calls "the most violent and complex century in history," Bethell's overarching concern is "how the institution adapted." That it continues to do so, surely, is a promising portent for Harvard--and for those who care about and benefit from the work of universities.
Harvard Observed ($39.95) is available at bookstores or directly from the publisher by telephone, (800) 448-2242, or on the Internet, "www.hup.harvard.edu".
---
Main Menu · Search · Current Issue · Contact · Archives · Centennial · Letters to the Editor · FAQs