Main Menu · Search · Current Issue · Contact · Archives · Centennial · Letters to the Editor · FAQs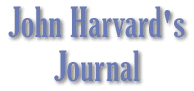 In this issue's John Harvard's Journal:
Mandela and Annan: What the World Needs Now - The Mandela Address: Eradicate the World's Disparities - Annan: Troubling News - The Annan Address: The Politics of Globalization - Autumn Windfall - Harvard Observed - Harvard Portrait: Harley P. Holden - World-Shaping Events: The Top Twenty? - Unlucky Number? - Brevia - The Undergraduate: A Pact with Solitude - Sports
---
Mandela and Annan,
What the World Needs Now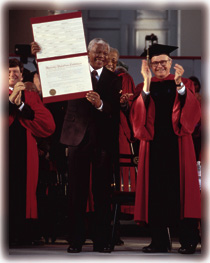 Mandela shows his diploma to the crowd. Flanking him are Professor Jeffrey D. Sachs (left), Professor A. Leon Higginbotham Jr., and University marshal Richard M. Hunt. Photograph by Rose Lincoln/Harvard News Office
The academic year began with two high-intensity visits by world leaders from Africa. Kofi Annan, secretary general of the United Nations, from Ghana, spent Thursday, September 17, at the University. Nelson Mandela, president of the Republic of South Africa, came next day, briefly, to receive an honorary doctor of laws degree and the profound respects of a multitude. Both gave speeches (see "Eradicate the World's Disparities" and "The Politics of Globalization")--Annan in a packed Sanders Theatre, Mandela at a full-scale academic convocation in Tercentenary Theatre. They delivered strong and complementary messages about the world's disparities of wealth, the unsound policies and illiberal politics at the root of the global economic crisis, and the new thinking by intellectuals that now must come.
---
In both 1995 and 1996, Harvard invited Nelson Rolihlahla Mandela to receive an honorary degree and to be the speaker on Commencement day. "Each year he was unable to attend because of the press of business in the Republic," says University marshal Richard M. Hunt. "Then Jeffrey Sachs learned that President Mandela was going to come to the United States in September. The new Center for International Development, of which Sachs is director, was about to unveil its 'Emerging Africa' research program. Following the guidelines about extending invitations, he came to me, and then we went to President Rudenstine and suggested that President Mandela be invited to a ceremony at the Center to launch the project and then to receive an honorary degree at a convocation in the Yard. But his schedule on his visit to the United States was tight, and he could come to Harvard for only two and a half to three hours. So the launching of the program and the awarding of the degree were compressed into one event." Managing the complex logistics for the convocation largely fell to Jacqueline O'Neill, staff director in the president's office.
On the day itself, plastic netting at the sides of University Hall and elsewhere came down at 2:40 p.m. Seniors had priority in the rush for seats. "Everybody was racing--21-year-olds running like elementary-school kids at recess," said Mark McIntosh '99, of Miami and Leverett House. Anyone with a Harvard identification card was welcome, and the University had handed out 7,500 tickets to the public. At least 25,000 souls attended, a host more numerous even than the Commencement-afternoon crowds that heard Aleksandr Solzhenitsyn (1978), or Colin Powell (1993), or Madeleine Albright (1997). As only 7,000 seats were in place, many of the faithful had a rather long wait standing up. The sun shone; the temperature was in the low 60s.
Mandela arrived at Memorial Church by automobile, where a small group of Harvardians received him in basement rooms. He signed the University guest book. Only one photographer was present, and he had been adjured not to use flash; Mandela's eyes were damaged during his 27 years in prison, and he tears badly when flashes go off in his face.
The ceremony was scheduled to start at 4:30 but was delayed; it lasted an hour and a half. At 4:40 the dancers and drummers of the Kiyira Ensemble began to perform. At 4:50 the bell of the church began to sound. Then came the great man, walking onto the stage from the left. Eighty years old. White-haired. Of noble bearing. The throng greeted him as a hero, in a world with very few of them. He waved and beamed.
"He's so old, and he looks so young, and he has such a beautiful smile. And such wisdom," said a senior. "You're lucky to see that in a lifetime, you know?" Next day the Boston Globe editorialized that the applause "was nearly as sustained as the introductory speeches."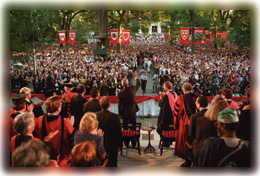 By their presence and with their words, Mandela and Annan straightened Harvard's collective spine. Above, Mandela waves good-bye. The photograph was made by the Harvard News Office with a radio-controlled camera.
Professor Henry Louis Gates Jr., director of the Du Bois Institute for Afro-Ameri-can Research, spoke of how antiwar and civil-rights protesters in the United States had taken up Mandela's cause and later rejoiced when he walked out of prison in 1990. Jeffrey Sachs, Stone professor of international trade, described the need for the "Emerging Africa" research project. Kwesi Botchwey, director of Africa research and programs at the new center, and former finance minister of Ghana, said that "What the times call for is a rigorous rethinking of development theory."
President Neil L. Rudenstine read the citation on Mandela's degree: "Conscience of a people, soul of a nation, he has brought forth freedom from the crucible of oppression and inspired, by his courageous example, the better angels of our nature."
Mandela began and ended his speech with jokes. He said nothing about the moral crisis that gripped the University for years-- whether to sell investments it had in companies doing business in South Africa. Globe columnist Derrick Jackson wrote on September 23, "because of Mandela's gracious silence about Harvard's past, he was presenting the biggest award. It was as if he was granting Harvard absolution." (He must forgive it further, for an error on this occasion. Mandela's office had been told that Harvard had granted honorary degrees to single individuals outside of Commencement only twice-- to George Washington and Winston Churchill--and Mandela made mention of that in his speech. In fact, 12 other people have been so honored, as a letter in the Globe on October 3 made clear.)
In closing remarks, Margaret H. Marshall, born and educated in South Africa, former general counsel of the University, now associate justice of the Massachusetts Supreme Judicial Court, spoke for many when she said, "President Mandela, you grace us with your presence here today."
"The convocation was one of Harvard's memorable moments: a great man before a great audience--diverse in every way," said marshal Hunt. "Those who saw Mandela were attentive, respectful, even awestruck by the solemnity of the occasion."
"For a moment one man was able to transform thousands in this place as he has been able to transform millions in his own country," said Peter J. Gomes, minister in Memorial Church. "For an instant we were able to associate ourselves with a man of such magnificent moral stature that the association elevated us all."
---
Main Menu · Search · Current Issue · Contact · Archives · Centennial · Letters to the Editor · FAQs