Directions and Parking for Friends Events
EVENT VENUES
COLLECTION OF HISTORICAL SCIENTIFIC INSTRUMENTS

The Collection of Historical Scientific Instruments (CHSI) is located in the Science Center at One Oxford Street in Cambridge. The CHSI collection and our special event on April 30, 2014 will be held in the Putnam Gallery (Science Center 136). If you are driving, on-street parking can be difficult to find on Oxford Street. For your convenience, we have reserved a limited number of parking spots at one of Harvard's parking garages at no charge. Please contact Allison Kern via email at allison_kern @harvard.edu or call (617) 496-9780 to secure your space. Arrangements for accessible parking can be made in advance through the contact information above. Public transportation from the Harvard Square Station is a five to ten minute walk through the yard.

The Harvard Art Museums' historic facility is located at 32 Quincy Street. While there are some on-street meters, parking near the museums is mostly restricted to Cambridge residents. Visitors are encouraged to use public transit, particularly the MBTA Red Line, which has inexpensive parking at the Alewife Station.
Limited parking is available in Harvard University's Broadway Garage, at 7 Felton Street. Permits can be purchased online only, through the Harvard Campus Services system, and must be purchased in advance.
Please see the museum's website for more information on where and how to park near the museum. 
THE HARVARD MUSEUM OF NATURAL HISTORY

The Harvard Museum of Natural History is located at 26 Oxford Street in Cambridge. We suggest that you take public transportation—as parking near the museum is very limited. Please see the museum's website for more information on where and how to park near the museum.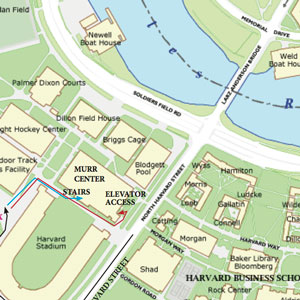 The Murr Center is located across the river from the main campus at 65 North Harvard Street in Allston. The Lounge is on the third floor and overlooks the football stadium. You can access the lounge from stairs located on the outside of the Murr Center building (directly opposite the football stadium). If you wish to use the elevator, you can do so by entering through the main door on the North Harvard Street side of the building.
Limited parkingis available within the athletic complex. Enter at Gate 8 on North Harvard Street and circle around behind the stadium to find metered spaces. Some parking is available on the street. You can also purchase a visitor's parking pass to the Harvard Business School Lot which is located close by at 105 Western Avenue, Allston. Passes cost $5 after 5 p.m. and can be purchased at the guard booth in the lot or through the One-Day Online Permit Purchasing System. Check the Harvard University Parking Services website for more information.