Ledecky Fellowship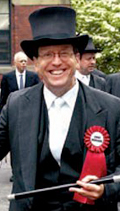 The Berta Greenwald Ledecky Undergraduate Fellowship program, supported by Jonathan J. Ledecky '79, M.B.A. '83, and named in honor of his mother,enables the magazine to appoint two undergraduates to the editorial staff each academic year. The fellows write the "Undergraduate" column that appears in each issue, report and file news stories and short features, contribute to harvardmagazine.com, and learn the workings of a magazine through a broad range of other editorial tasks. Although former fellows have pursued a diverse array of careers, many remain professionally engaged in writing and editing at publications such as The New York Times, The New Yorker, and The Wall Street Journal, in the electronic media, or as authors of books.
Each year, Harvard Magazine offers two Ledecky Fellowships to Harvard undergraduates and one Steiner Fellowship. Use the links below to read brief biographical notes from current and former fellows and to access their articles.
Jonathan Ledecky also funds the Jaromir Ledecky International Journalism Fellowship, which is named for his father and supports overseas summer internships in journalism for Harvard undergraduates. Read those fellows' dispatches from China, South Korea, France (Paris and Nice), and Ghana (text and photographs).